Heart 2020 brings first farmers market to UT Southwestern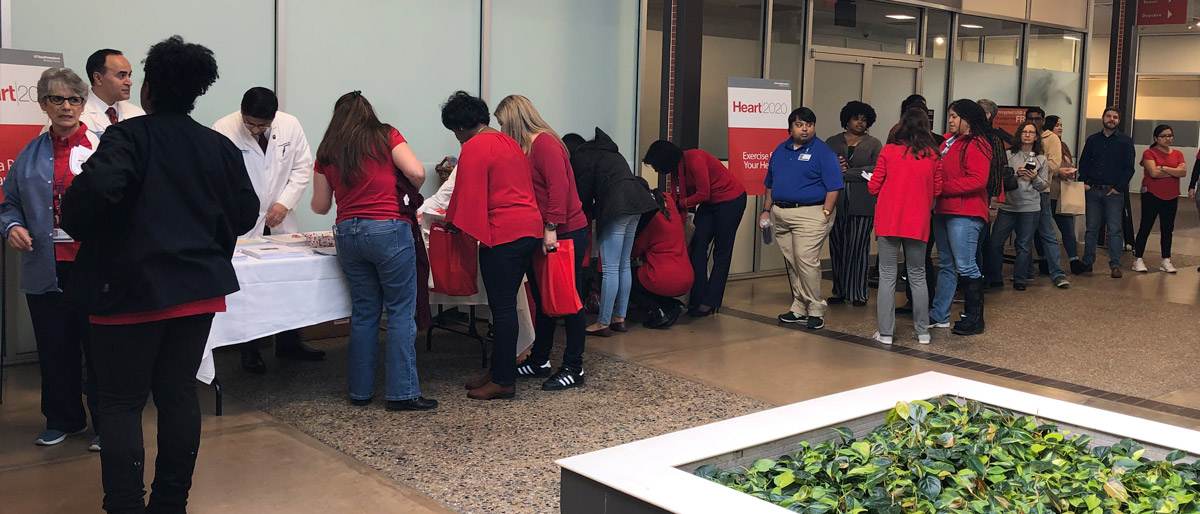 The atrium of Bass Administrative Center filled up the senses as this year's heart health fair offered sights of red, sounds of excitement, tastes of savory food samples, and the pleasant aroma and feel of fresh produce.
Friday, Feb. 7, marked the first of two health fairs for 2020 Heart Month. Employees and students visited various stations designed to educate the campus about wellness, exercise, mindfulness, and overall heart health. The newest attraction, a farmers market, featured local and organic fruits and vegetables from UT Southwestern's own produce vendor.
"We hope to continue to provide healthy produce options that employees are able to buy at their convenience, whether they want to take it home to their families or eat it at their desks," said Greg Engle, Manager of Nutrition Services.
"The farmers market also showcases the fresh produce we use in our cafes," said Brian Rivers, Production Manager for Nutrition Services.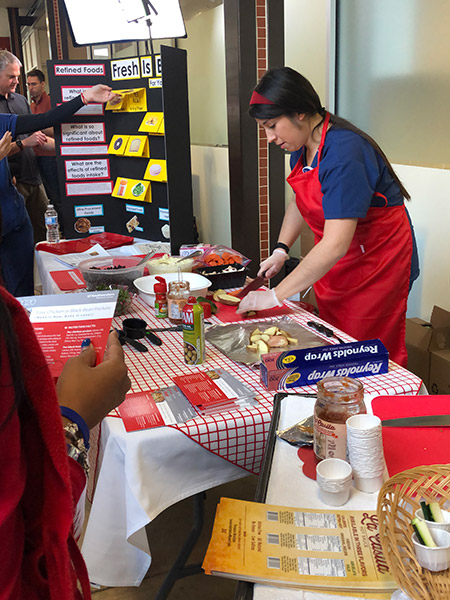 Health fair attendees browsed over an assortment of harvest such as potatoes, apples, berries, avocados, leafy greens, onions, and nuts. The market was a perfect pairing to the heart-healthy cooking demonstrations taking place nearby, prepared by students and staff in the Clinical Nutrition Program.
"I love educating families about small changes that can contribute to a much healthier lifestyle," said Daileen Rodriguez, a first-year Clinical Nutrition student.
Featured recipes promoted more veggies and less calories, like substituting zucchini for chips with salsa and chicken or vegetarian black bean pockets.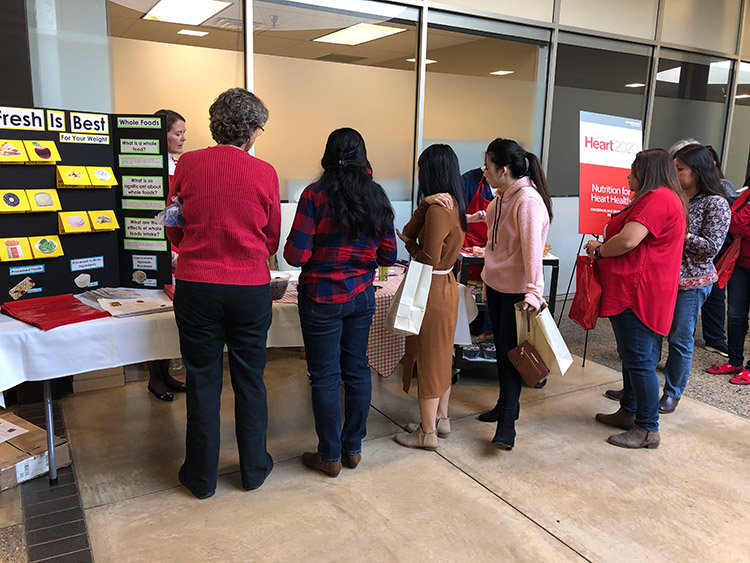 "It is rewarding to know our employees truly engaged in the activities and appreciated our information and encouragement," said Susan Rodder, an Associate Professor of Clinical Nutrition in the School of Health Professions, and a mastermind behind the fair with Dr. Amit Khera, Director of the Preventive Cardiology Program and Professor of Internal Medicine. "Dr. Khera and I always say that we like to do the UTSW heart health fairs to serve our community."
The fair rounded out with giveaways, screenings for blood pressure, body fat measurements, and the popular "Ask a Cardiologist" station.
"This is my first time at one of the health fairs and it is very informative," said Shannon White, an employee in Clinical Laboratory Services. "I'm excited about the farmers market and learning more about my health and how to improve it."