Tagliabracci honored with Hackerman Award for chemical research work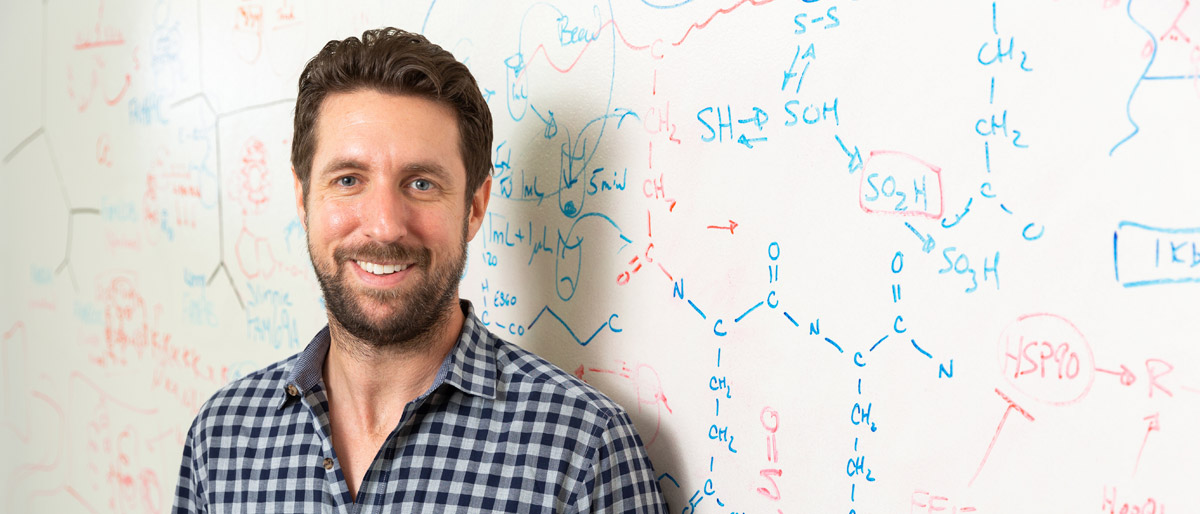 Molecular biologist Dr. Vincent Tagliabracci's significant contributions in the field of biochemistry have led to his receipt of the 2020 Norman Hackerman Award in Chemical Research.
Dr. Tagliabracci, Assistant Professor of Molecular Biology and a Cancer Prevention and Research Institute of Texas (CPRIT) Scholar in Cancer Research, is the eighth UT Southwestern researcher to receive the prestigious prize since its establishment in 2002.
The Welch Foundation, one of the nation's oldest and largest sources of private funding for basic research in chemistry, presents the $100,000 award annually to a rising star at a Texas institution. The award is named after the late Dr. Norman Hackerman, an internationally known chemist, former President of UT Austin and Rice University, and longtime Chair of the foundation's Scientific Advisory Board.
The award recognizes Dr. Tagliabracci's high impact discoveries involving pseudokinases, or zombie enzymes. These enzymes were once thought to be inactive because they lack key amino acid residues needed for phosphorylation, the chemistry that defines the more than 500 known protein kinases in humans. However, his lab showed that some pseudokinases actually work through different kinds of chemistry that can govern the spread of deadly bacteria and have important implications for a number of diseases, including cancer and neurodegenerative disorders.
"I feel truly honored to be selected as this year's Hackerman Award recipient," Dr. Tagliabracci said. "A long list of remarkable scientists are previous recipients, and I am grateful to join this prestigious group."
After receiving a bachelor's degree from the University of Indianapolis, Dr. Tagliabracci went on to earn his Ph.D. in biochemistry and molecular biology from Indiana University. He next joined the laboratory of Dr. Jack Dixon as a postdoctoral fellow at the University of California, San Diego, where he identified a novel family of "secreted" kinases that phosphorylate proteins destined for secretion from the cell. That work included revealing Fam20C as the bona fide Golgi casein kinase, an enzyme that had escaped identification for many years.
In 2015, he joined UT Southwestern. Since then, his honors have included a National Institutes of Health Director's New Innovator Award (2019) and selection as a Searle Scholar (2018).
"The Welch Foundation has been impactful on my career from the early stages," Dr. Tagliabracci said. "The Foundation supported my work when I first started my lab, and so many of the discoveries we have made would not have been possible without that funding."