Out of safety, Medical School makes tough call to hold a virtual Commencement as Graduate School postpones celebration to 2021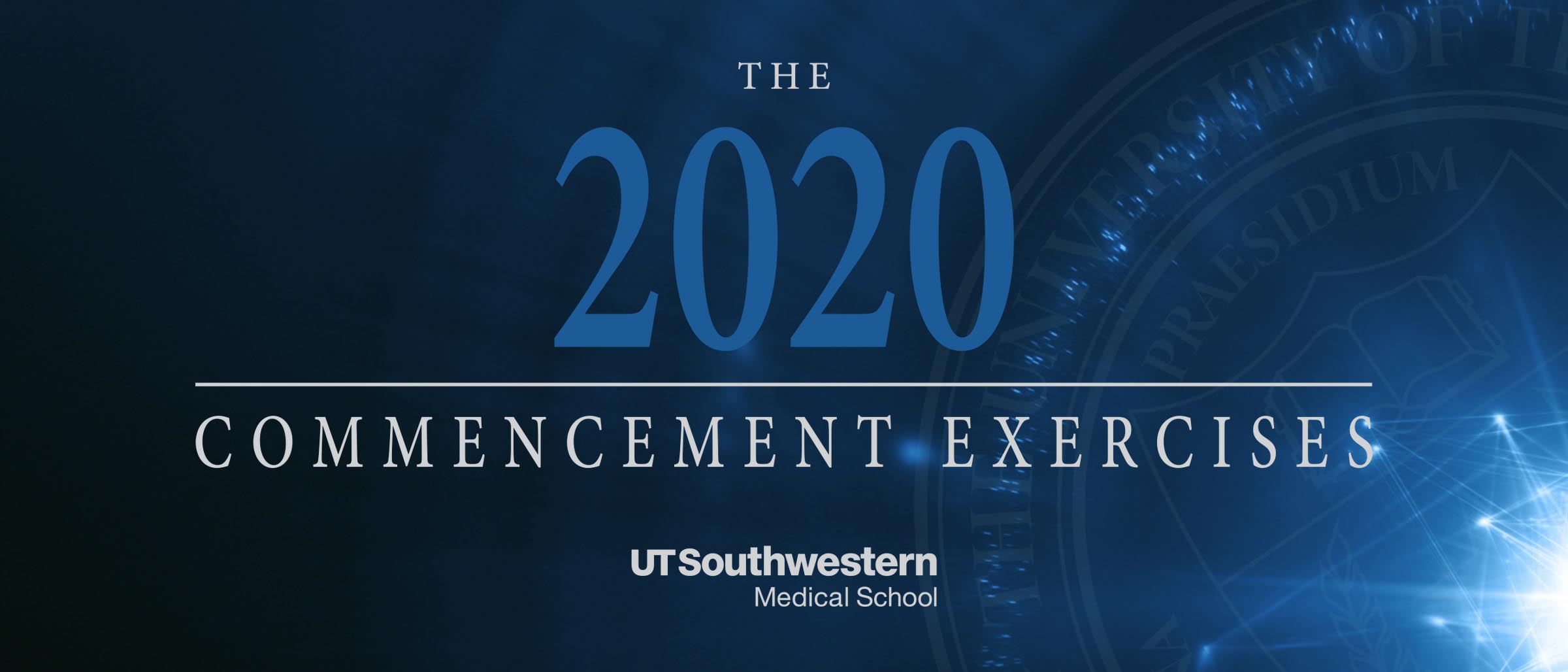 This story was updated on April 27.
Medical School graduation – a milestone for new physicians signifying the completion of four dedicated years of intense learning and clinical experience – will be virtual this year in light of COVID-19.
Because of the ongoing pandemic and Dallas County rules restricting large gatherings, UT Southwestern Medical School leadership made the tough decision to hold a virtual Commencement ceremony for the 226 graduates of the Class of 2020. The virtual ceremony – with the same essence of pomp and circumstance as expected with a live event – will be available to watch online starting Saturday, May 2, at 2 p.m. Family and friends are encouraged to view as well.
"The decision was a difficult one, since Commencement and the activities that surround it are one of the most time-honored traditions at UT Southwestern. It is a milestone meant to be celebrated with applause, cheers, and hugs, in the presence of those we love most. During these unprecedented circumstances, we hope to accomplish this same spirit through virtual means," said Dr. W. P. Andrew Lee, Executive Vice President for Academic Affairs, Provost, and Dean of the Medical School.
Dr. M. Roy Wilson, President of Wayne State University in Detroit, will deliver the keynote address in the prerecorded program. Dr. Daniel K. Podolsky, President of UT Southwestern, will confer degrees on the graduates, followed by presentation of the candidates by Dr. Lee. As each name is called, the graduate's photo will be shown along with their residency placement and any dual degree or graduation distinction. A pause in the program will allow graduates time to recite the Physician's Oath. The traditional Hooding Ceremony will not occur, instead replaced with comments from Hooding speaker Dr. Blake Barker, Associate Dean for Student Affairs.
With the virtual format, significant accomplishments of the graduating class will be honored in creative ways, including showing class photos and video clips. Graduates were invited to submit photos and videos. Diplomas and cords will be mailed to graduates following Commencement.
Once the decision was made for a virtual event, educational leadership and students brainstormed ways to make the event special, similar to the virtual Match Day celebration in March.
"We wanted to make sure that Commencement remained truly celebratory – honoring our graduates who put in four years of hard yet rewarding work to achieve this significant milestone in their educational journeys," said Dr. Angela Mihalic, Dean of Medical Students and Associate Dean for Student Affairs.
Graduates of the Medical School Class of 2020 include 36 students graduating with distinction, a firefighter/EMT, a competitive chess champion, a mom of a special needs child, a violist who has performed at Carnegie Hall, the holder of a third-degree black belt in taekwondo, and a competitive rock climber who also invented medical devices used to counter eye problems resulting from spaceflight.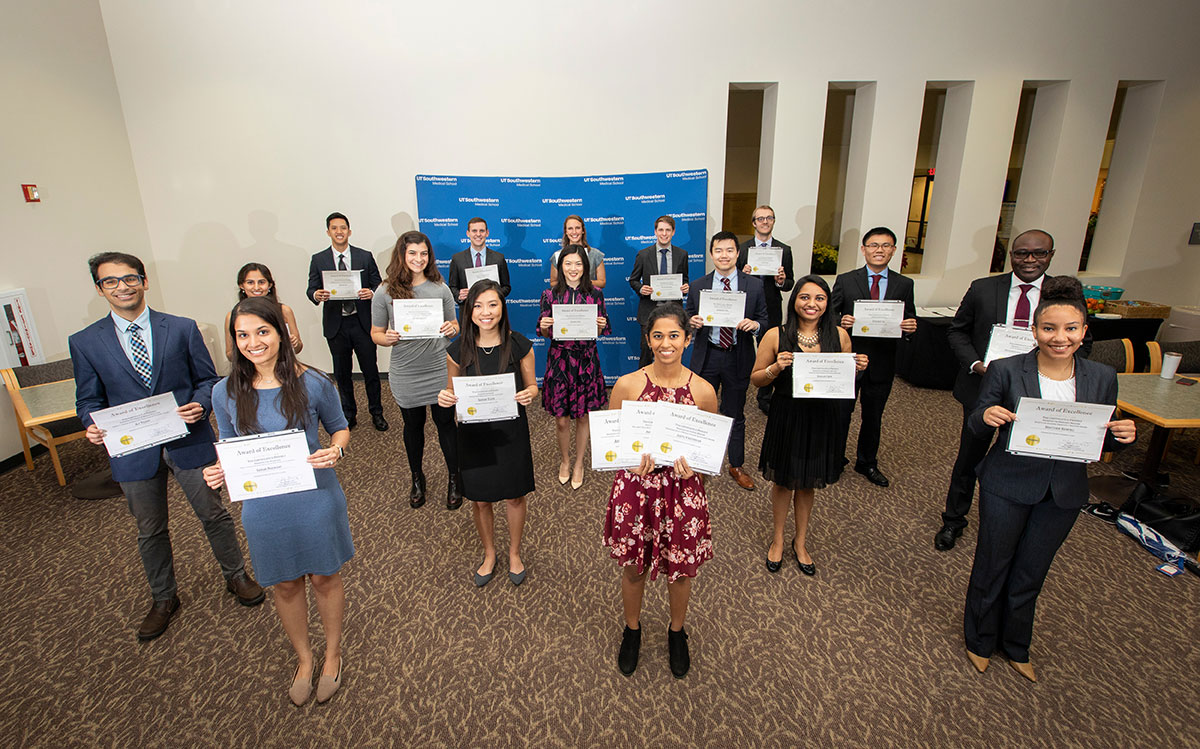 Ceremonies for the 54 graduates of the Graduate School of Biomedical Sciences will be held in May 2021, combined with that year's graduating class. Initially, graduation had been set for May 21, 2020, in the Tom and Lula Gooch Auditorium on campus.
"We offered our graduates the option of a virtual ceremony, but they overwhelmingly preferred a commencement at a later date with traditional regalia and hoodings by mentors," said Dr. Andrew Zinn, Dean of the Graduate School.
The 2020 Graduate School Class includes students who co-founded the Graduate Student/Postdoc Wellness Committee, co-founded the UTSW Science Policy, Education, and Communication group (SPEaC), co-founded the UTSW Chapter of The Association of African American Scientists (TAAAS), co-president of the UTSW Chapter of the Society for the Advancement of Chicanos/Hispanics and Native Americans in Science, and co-developed a graduate student peer mentoring program for writing grants and fellowships.
Dr. Wilson
Dr. Wilson has served as President of Wayne State University since August 2013. Before that, he served as Deputy Director for Strategic Scientific Planning and Program Coordination at the National Institute on Minority Health and Health Disparities of the National Institutes of Health (NIH).
Earlier in his career, Dr. Wilson was Dean of the School of Medicine and Vice President for Health Sciences at Creighton University, President of the Texas Tech University Health Sciences Center, Chancellor of the University of Colorado Denver/Anschutz Medical Campus, and Chair of the Board of Directors of University of Colorado Hospital.
Dr. Wilson's research has focused on glaucoma and blindness. He holds elected memberships in the National Academy of Medicine (formerly the Institute of Medicine), the Glaucoma Research Society, the American Ophthalmological Society, and the Society of Medical Administrators. For 2017-2818, he served as Chair of the Association of American Medical Colleges.
He has also served on the Executive Committee of the NIH-funded Ocular Hypertension Treatment Study and Chaired the Data Monitoring and Oversight Committee of both the NIH-funded Los Angeles Latino Eye Study and the African-American Eye Disease Study. Dr. Wilson also was a member of the advisory councils of the National Institute on Minority Health and Health Disparities and the former National Center for Research Resources. He currently serves on the Advisory Council of the NIH Director as well as the NIH Director's National Advisory Committee on Diversity in the Biomedical Research Workforce (co-Chair).
Dr. Wilson received his undergraduate degree from Allegheny College, an M.S. in epidemiology from the University of California, Los Angeles, and an M.D. from Harvard Medical School.