Byron Davis takes charge of UTSW's information security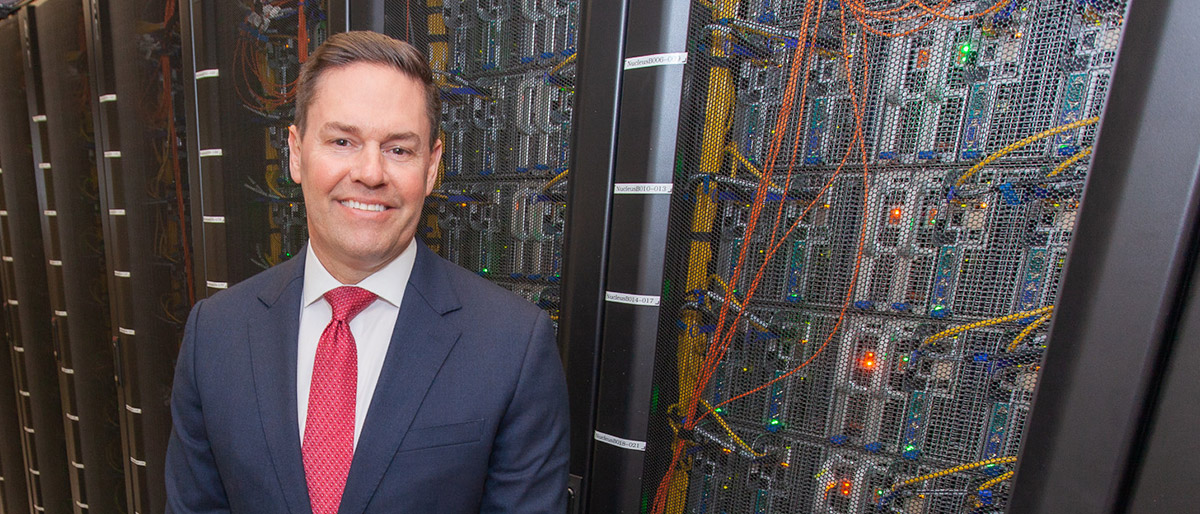 Byron Davis navigated through the chill aisles of server racks in the systems and data center, a critical facility known as the brain of UT Southwestern. More than 2,500 servers processed information in the background while the sound of whirring, cooling fans filled the space with white noise.
Mr. Davis, hired as Associate Vice President of Information Security and Chief Information Security Officer for UT Southwestern in December, paused a few feet away from a handful of security monitors to chat with employees. He has visited with many departments since his arrival to broaden his knowledge of the campus, the staff working behind the scenes, and how information security enables UT Southwestern's core missions.
He moved to Texas from Washington, D.C., in 2015 with his wife and two children after serving in the U.S. intelligence and national security communities for about 17 years. Mr. Davis worked as an Operations Officer in the CIA and was Global Head of Intelligence Collection at the U.S. Department of Energy, where he managed the intelligence and counterintelligence collection program, including oversight of 15 U.S. National Laboratories' intelligence activities.
"At the same time, I was working with various Fortune 500 companies while at the Central Intelligence Agency – their CEOs, their executives – around these public-private partnerships to reduce risks to their companies and intellectual property," he said. "I saw a lot of opportunity to jump into the private sector and really make a difference."
In Texas, he joined State Farm to help run security operations, and then Farmer Brothers, a publicly traded manufacturing and distribution company, where he served as CISO and Senior Director for IT Infrastructure.
With more than two decades of experience in private and government sectors, Mr. Davis is ready to take on the unique challenges that come with a complex institution like UTSW in an ever-changing cybersecurity landscape. The Medical Center integrates health care, education, and research under one roof, and its systems are under constant threat of attack or misuse of data from inside and outside the organization.
"UT Southwestern is really at the cutting edge of three major growth industries – that's one of the things that excites me most about the institution. But it's also the thing that keeps me up at night," Mr. Davis said. "From a cybersecurity perspective, the systems that are largely decentralized and unmanaged by Information Resources introduce additional risks to all of UT Southwestern."
Cybercriminals are becoming more sophisticated, always evolving and adaptive. Mr. Davis said cybersecurity breaches and unauthorized data access are a growing concern among research organizations, higher education institutions, and in the health care industry because those organizations are heavily targeted by attackers.
He said diligence and teamwork are vital to staying ahead of cybercriminals.
"Information security encompasses a variety of different aspects, which involve securing data and computer systems to protect our customers' information, our patients' information, our employees, and our systems at large, which enable the organization to do its business," Mr. Davis said. "One of my initiatives in this coming year is to be able to work closely with the various departments around campus to help reduce risk across decentralized IT systems."
Mr. Davis' analytical nature was fostered through his studies in college. He received an undergraduate degree in materials science and engineering from North Carolina State University, a master's degree in forensic sciences from George Washington University, and completed postgraduate work in international affairs at American University. This educational background enhanced his critical thinking skills.
"There's no one day in the life of a chief information security officer that is the same," Mr. Davis said, and "agility is pretty key to me. I'm able to pivot between different roles, different organizations and among different types of cultures."