Human tumor cell lines developed by UTSW faculty team continue to impact cancer research worldwide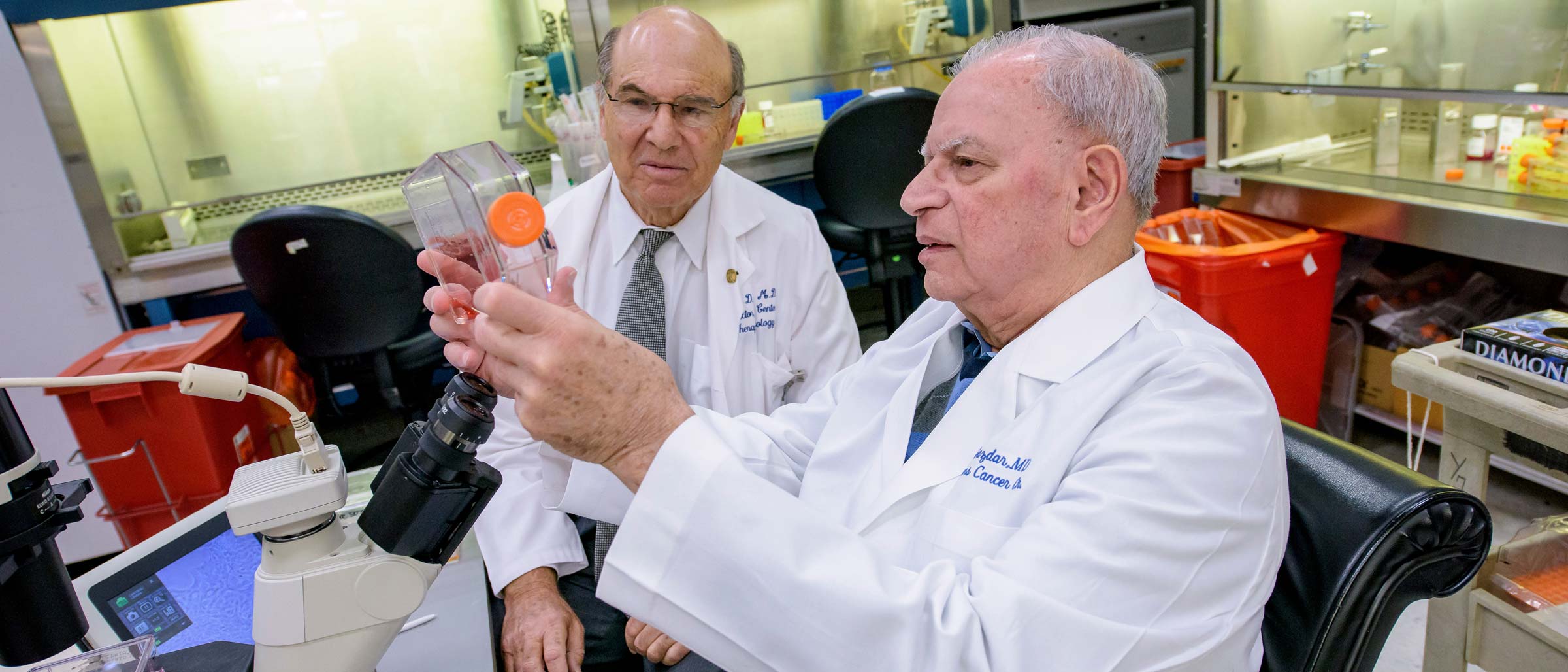 Research begun by two UT Southwestern faculty members earlier in their careers continues to have an enormous ripple effect, positively impacting cancer studies worldwide.
When Dr. John Minna and his longtime research partner, the late Dr. Adi Gazdar, arrived at UT Southwestern from the National Institutes of Health (NIH) in 1991, they brought along about 300 lung cancer cell lines. The collection has since grown to about 600 cell lines, including some from other malignancies and including those producing retroviruses.
An analysis by the NCI Center for Research Strategy of the first 278 cell lines collected by the research partners and their former NIH team published in the Journal of Cellular Biochemistry demonstrates the magnitude of their research effort – more than 14,000 research grant projects and 33,207 published scientific reports have used those cell lines and related products. What's more, that activity resulted in more than 1.2 million scientific citations referencing at least one cell line. Many published studies involved more than one cell line, meaning the lines collectively resulted in 2.9 million citations. They are also cited in 4,700 patents.

"I knew there was an impact, but had no idea how large it was – the numbers even surprised me," said Dr. Minna.
In addition, the published work has been linked to 422 clinical trials of potential anti-cancer therapies and to advances in drug development. All of this originated from patients treated at NIH and military hospitals who consented to have their tumors biopsied and studied to advance medical research.
The American Cancer Society (ACS) recently announced that the cancer death rate fell 29 percent from 1991 to 2017 and took its sharpest annual drop – 2.2 percent – between 2016 and 2017. The ACS credited much of that decline to improved prevention, diagnosis, and treatment of lung cancer.
Creating a cell line from scratch
After training in biochemical genetics at the NIH, Dr. Minna completed a fellowship at the National Cancer Institute (NCI). Lung cancer deaths in the 1970s were high, leading to intense research focus in this area.
"No one at that time had a panel of lung cancer lines to study in the laboratory, so we knew we had to create one," said Dr. Minna, now Director of UTSW's Hamon Center for Therapeutic Oncology Research and Professor of Internal Medicine and Pharmacology at UT Southwestern.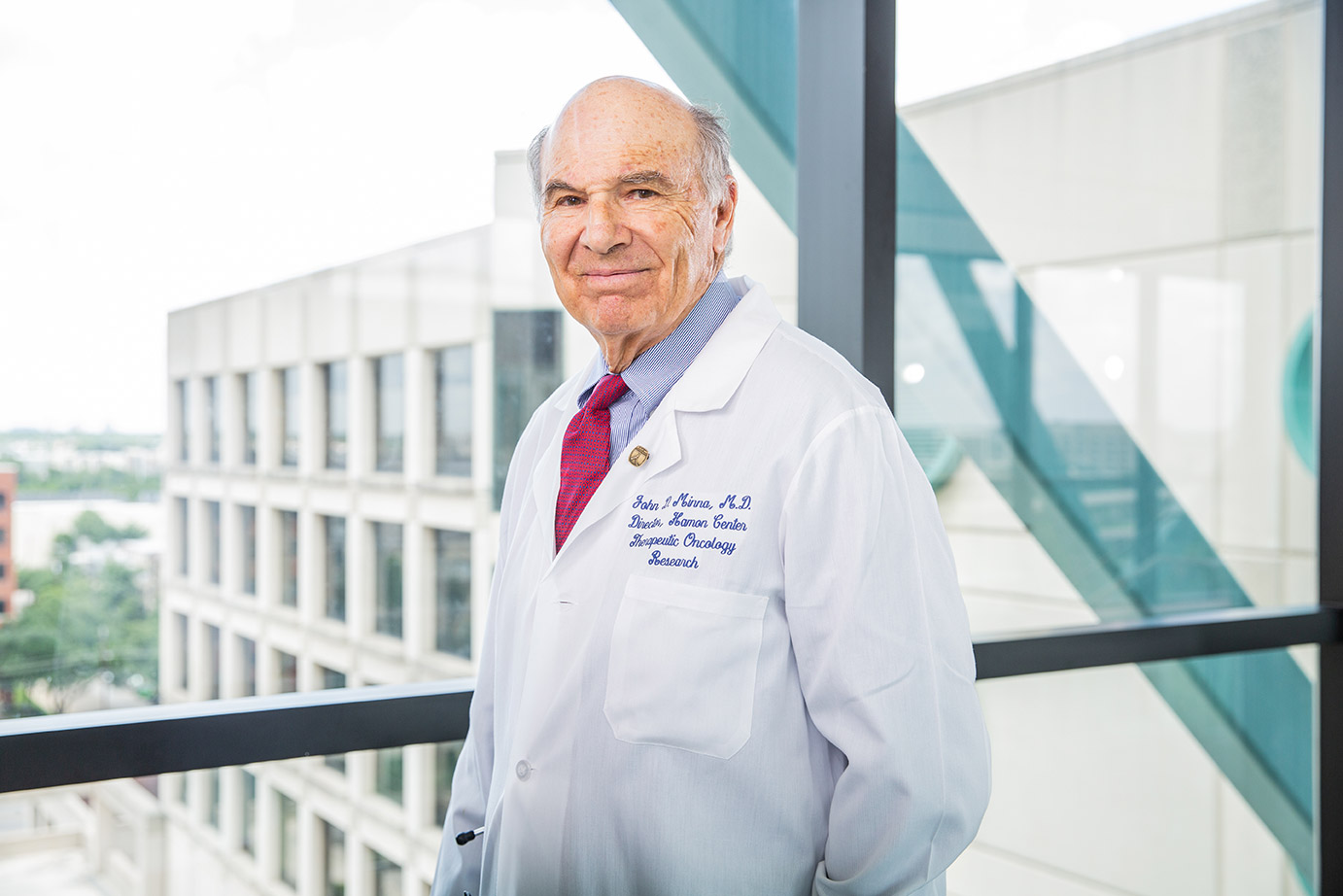 From 1975 to 1981, Dr. Minna worked at the NCI-Veterans Administration Medical Oncology Branch at the Washington, D.C., VA Medical Center and then moved in 1981 to the NCI-Navy Medical Oncology Branch at the National Naval Medical Center (now the Walter Reed National Military Medical Center) in Bethesda, Maryland. Ten years later, he joined UT Southwestern.
"When I went to lead the NCI-VA Medical Oncology Branch, my first recruitment effort was to convince Adi to come along with me to run the laboratory program there. Since so many cancer patients at the Washington, D.C., VA Medical Center had lung cancer, I knew we needed to make that our focus. The NCI then moved us to the National Naval Medical Center in Bethesda and we continued this work. Adi was a great cell biologist. We combined my genetics with his cell biology for our lung cancer studies throughout our long partnership," Dr. Minna said.
Dr. Gazdar, who died in 2018, was hailed as a cell line pioneer who improved the outcomes for countless patients. Dr. Gazdar was a Professor of Pathology and an investigator in the Harold C. Simmons Comprehensive Cancer Center. He held the W. Ray Wallace Distinguished Chair in Molecular Oncology Research.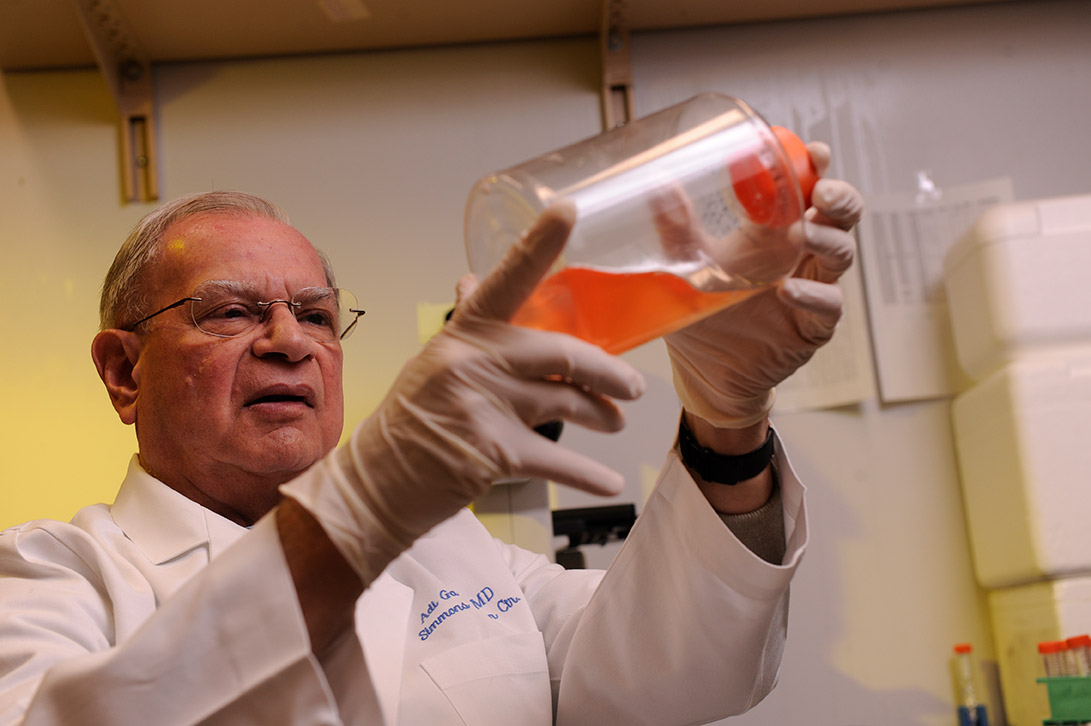 The two first met at the NIH, where Dr. Gazdar had been studying cancer viruses.
"We began our partnership by studying the somatic cell genetics of retroviruses to identify genes responsible for viral receptors and replication in human and mouse cells," Dr. Minna said.
Dr. Gazdar's collection included the first human tumor line producing a human retrovirus, later called HTLV-1, based on a sample from a lymphoma patient the NCI-VA team had treated in 1978. Dr. Gazdar also developed the key T-cell line from another lymphoma patient that was used in the isolation of the HIV/AIDS virus.
Research expands with SPORE grant
At UTSW, the duo joined forces with a team from UT MD Anderson Cancer Center led by Dr. Jack Roth and secured an NCI Specialized Programs of Research Excellence (SPORE) grant in lung cancer. That provided the opportunity to collaborate with other SPORE programs and lung cancer investigators worldwide.
Early in their partnership, the biggest obstacles to their research turned out to be cultural and not scientific, Dr. Minna said.
"People would ask us, 'Why are you studying lung cancer? Everyone is going to die anyway.' Or, 'Why do you want to use genetics to study lung cancer? It is not an inherited disease,'" Dr. Minna recalled.
"Of course, in retrospect these considerations all seem stupid, but they were very real at the time, and, thankfully, Adi Gazdar and I believed in each other and kept working on the problem. Thanks also to the dozens of pathologists, surgeons, oncologists, pulmonary physicians, research nurses, patient advocates, and other team members, many of whom are mentioned in the recent Journal of Cellular Biochemistry article," he said.
In recent years, the tumor cell line database has expanded to include breast, ovarian, colon, and rare tumor cell lines as well as a large panel of immortalized lung epithelial cell lines. Those resources continue to be distributed on a worldwide basis for research that includes creating mouse models to evaluate new immunotherapeutics, such as checkpoint blockade agents, or to study strategies for overcoming drug resistance.
Dr. Minna has received cell line licensing royalties from the NCI and from UTSW. Dr. Roth lists being a consultant and stock owner (including pending patents) in Genprex Inc.
"We have also distributed the UTSW cell lines to thousands of investigators around the world," Dr. Minna said. "The biggest thanks should go to the people dying of lung cancer decades ago who took action that greatly improved the outlook for future generations."