Black History Month speaker urges audience to transform the world through the 'power of one'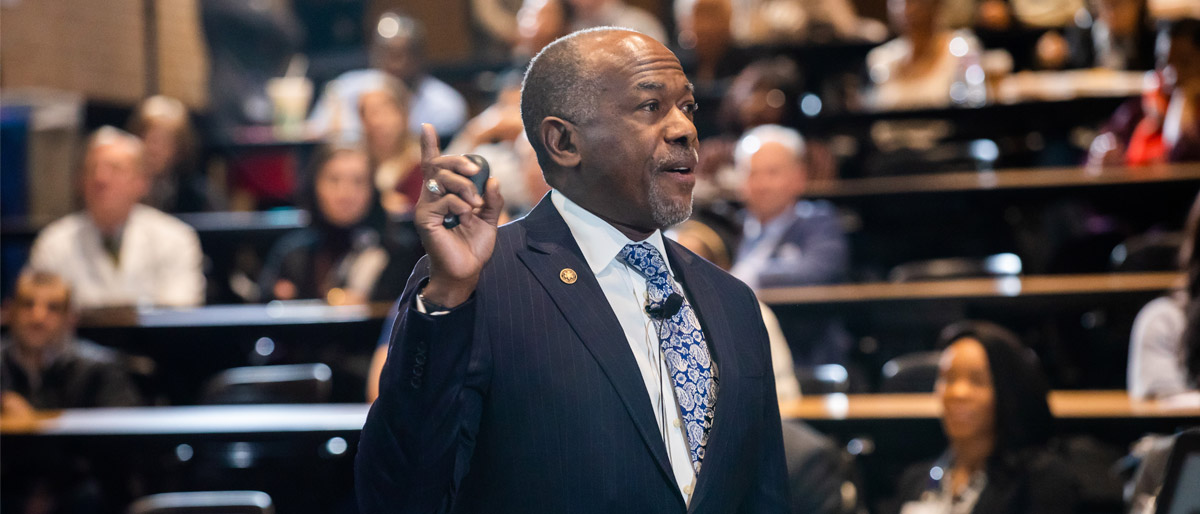 Can one person truly make a difference in our world? Dr. James E.K. Hildreth, M.D., Ph.D., keynote speaker for UT Southwestern's recent Black History Month event, wholeheartedly believes the answer is yes.
Dr. Hildreth is President and CEO of Meharry Medical College in Nashville, Tennessee, a historically black college or university (HBCU). During his guest lecture at UT Southwestern on Feb. 13, he shared several examples of what he calls "The Transformative Power of One," starting with the college that he leads.
Related Video: Listen to Dr. James E.K. Hildreth's full speech

Meharry Medical College began with the story of a young Irish-Scotsman in Kentucky who opposed slavery, Dr. Hildreth said. In the spring of 1826, Samuel Meharry's wagon broke down during a trip. He was taken in for the night by a black family who also repaired his wagon – though they were recently freed and took a risk by helping him. While still just a teen, he promised that one day he would repay their courage and generosity.
Fifty years later, Mr. Meharry and his four brothers kept this promise by donating $30,000 to found a medical school for African Americans – the first of its kind in the American South.
When Dr. Hildreth became President of Meharry in 2015, he set a personal goal based on the origin story of the college. To this day, no one knows the name of the black family that helped Mr. Meharry in 1826. Dr. Hildreth said he is determined to find out, and to honor that family for their deeds.
While the founding of Meharry was a step forward, it took more than a century for African Americans to win the right to attend other medical schools.
In 1949, honors student Esther McCready applied to attend the University of Maryland nursing school and was rejected due to her skin color. Instead of giving up, Dr. Hildreth said, she enlisted help from two lawyers with the NAACP. When they lost their case, they recruited a powerful advocate to join them for the appeal – future Supreme Court Associate Justice Thurgood Marshall. Ms. McCready won her case in 1950 and became another inspiring example of Dr. Hildreth's "transformative power of one." She is now in the Maryland Women's Hall of Fame.
Dr. Hildreth also shared a transformative story of his own that intertwines with the Meharry legacy. He grew up in Camden, Arkansas, and lost his father when he was just 11 years old. Because there was no medical care for African Americans available in their community back then, help did not reach his dad in time. To feed his family, Dr. Hildreth recalled shooting squirrels for dinner with his uncle, who called them "chickens of the trees."
These difficult circumstances inspired Dr. Hildreth to pursue the field of medicine. He began his undergraduate studies in 1975 at Harvard University, and was selected as the first African-American Rhodes Scholar from Arkansas in 1978. He graduated from Harvard magna cum laude in chemistry in 1979. Studies at Oxford University in England and Johns Hopkins University School of Medicine in Baltimore followed. In 1987, he obtained his M.D. from Johns Hopkins and joined its faculty as Assistant Professor.
In 2002, Dr. Hildreth became the first African American in the 125-year history of Johns Hopkins University School of Medicine to earn full professorship with tenure in the basic sciences. In July 2005, Dr. Hildreth became Director of the National Institutes of Health-funded Center for AIDS Health Disparities Research at Meharry, and he was named President of the college in 2015.
Today, more than 80 percent of Meharry graduates practice medicine in underserved areas, and more than 50 percent of them serve in primary care specialties. Under the leadership of Dr. Hildreth, the hardships suffered by African American families continue to inspire progress to eliminate health care disparities.
In his closing remarks, Dr. Hildreth had a powerful message for members of the campus community.
"We need you. We need your energy, your talents, and your transformative power of one," he said.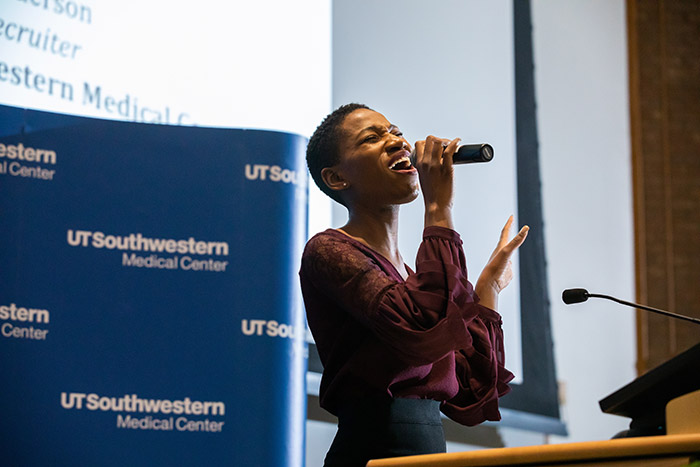 The Black History Month Celebration, described as "Reflecting on the Past and Preparing for the Future," was hosted by UT Southwestern's African-American Employee Business Resource Group. Music was provided by Brittanny Anderson, Executive Recruiter at UT Southwestern, who sang "This Is Me" and later led the crowd in the closing song, "Lift Every Voice and Sing." The event ended with a luncheon reception.