New wayfinding signs light up the Southwestern Medical District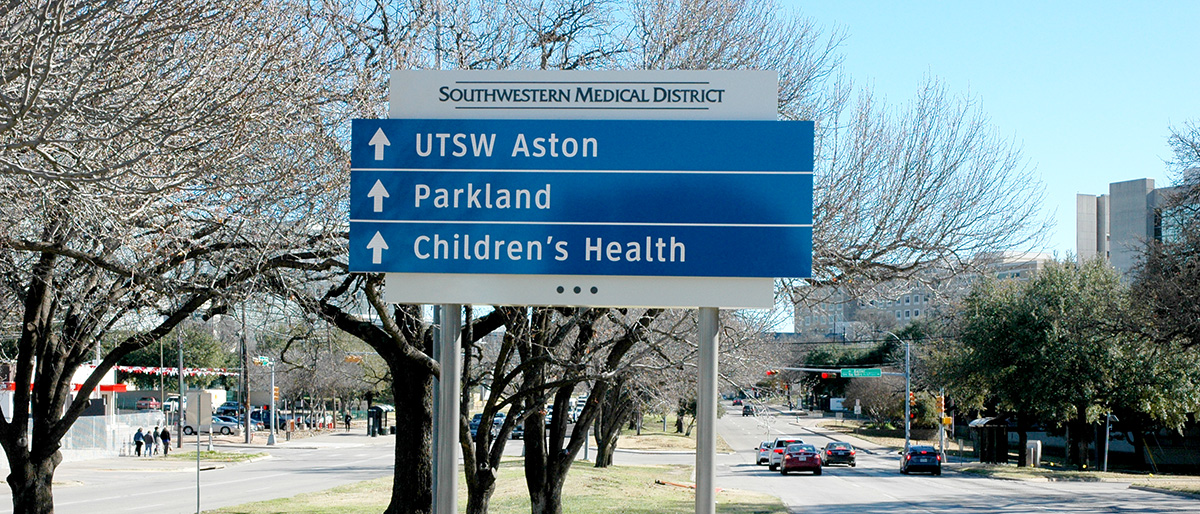 This story was originally posted on Center Times Plus on March 12, 2019.
---
More than 60 bright blue signs now dot the roadside through the Southwestern Medical District (SWMD) and UT Southwestern campus, thanks to years of cooperation between several governmental entities. The system of gateway and wayfinding is designed to help visitors more easily navigate the area, including the UTSW campus, Parkland Hospital, and Children's Medical Center Dallas.
In addition to the blue signs, five white gateway signs are illuminated at night. One sign is installed at each end of Harry Hines Boulevard to welcome patients, guests, employees, students, and those passing through to the SWMD. Three more are located at the intersection of Medical District Drive and Bengal Street, along Inwood Road near Southwestern Medical Avenue, and the final gateway sign is at Inwood and Forest Park roads.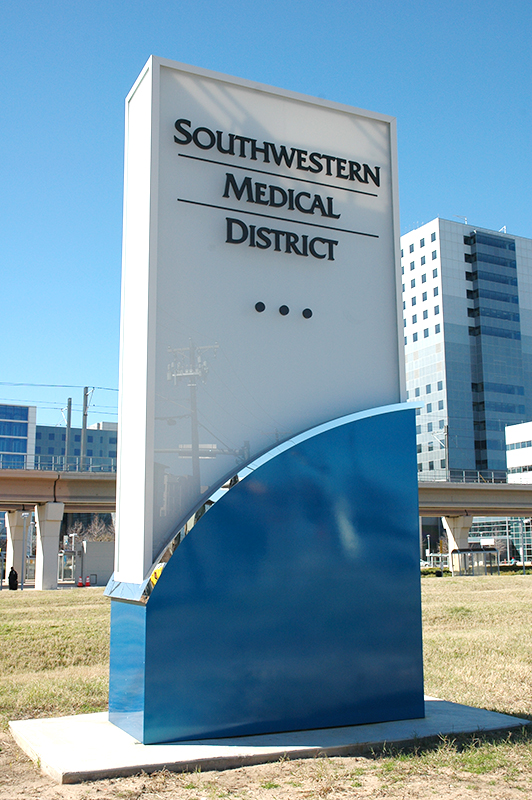 "The gateway and wayfinding signs represent years of efforts to brand the Southwestern Medical District as a distinctive area of the city and to guide patients and visitors to the facilities they need to reach," said Ruben Esquivel, Vice President for Community and Corporate Relations. "The task required UT Southwestern, Children's, and Parkland to agree on uniform signage, with many layers of approvals from the city of Dallas, and the result is a clear mark of a successful collaboration."
Over the next few months, more wayfinding signs will be installed along other Medical District thoroughfares and streets.
Viewers may notice some special markers on the signs. For example, "ER" is clearly marked in red so that those in an emergency can more quickly find their way to care. In addition, "N1" and "N2" designations specify driveways on North Campus: One leads into the Harold C. Simmons Comprehensive Cancer Center (off Inwood) and another leads into North Campus research buildings off Harry Hines, such as NA, NB, and NL. When the campus was built, these were designated North 1 and North 2 to help with patient navigation.

Once the expansion of Medical District Drive is completed in 2020, a sixth gateway sign will be installed at the Interstate 35E service road. Landscaping around the gateway signs will be coordinated with the streetscape design and implementation work spearheaded by the Texas Trees Foundation.
The SWMD is a 501(c)(3) nonprofit corporation consisting of three member institutions – UT Southwestern, Children's Medical Center, and Dallas County Hospital District (Parkland Hospital) – organized collaboratively to further the functions of its member institutions plus while also working with other entities.
"Over the years, the SWMD has successfully worked to bring light rail to the District, widen Medical District Drive, rename streets, coordinate shuttle service, reroute electric power lines, and include infrastructure needs in city of Dallas' bond programs," Mr. Esquivel said. "And there is even more to come – current projects include the SWMD Urban Streetscape Master Plan initiative to enhance mobility, safety, and environmental improvements."