UT Southwestern community honors those who served with Veterans Day tribute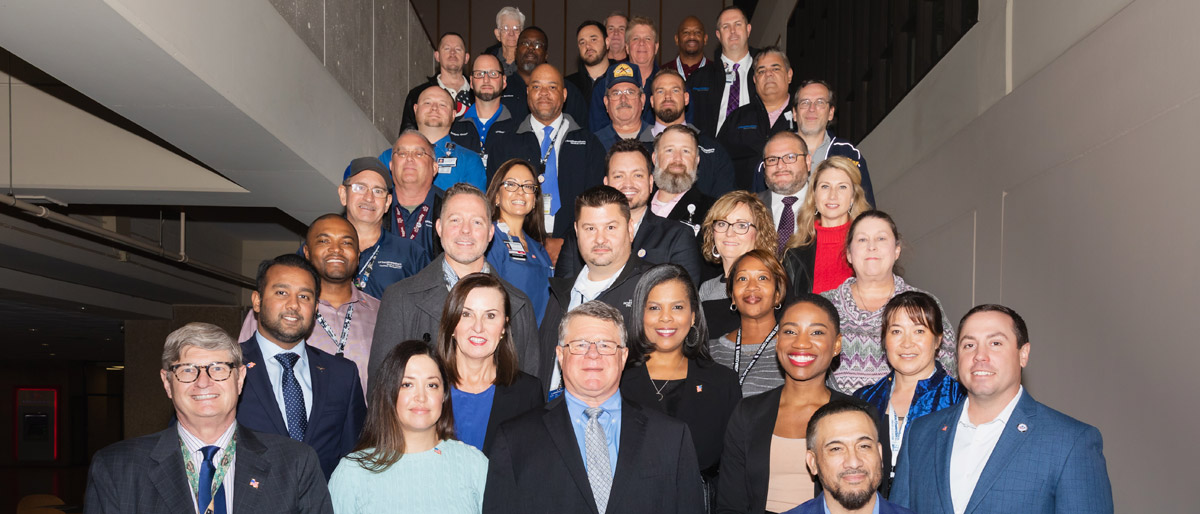 UT Southwestern faculty, employees, and students – including more than 70 veterans –gathered on Veterans Day to celebrate those who have honorably served our country. Inspirational speeches, patriotic songs, and festive food set an uplifting tone for the fifth annual campus event.
"Currently, there are over 20 million veterans in the U.S.," UT Southwestern President Dr. Daniel K. Podolsky told those gathered in a McDermott Lecture Hall for the Tribute to Veterans Celebration. "I am so proud to say that more than 800 of them are members of the UT Southwestern community. We owe each of them a debt of gratitude for their dedication to our country and for protecting our nation's commitment to democratic values here and abroad. Their experience and perspectives enrich UT Southwestern in our commitment to our mission."
Keynote speaker Dr. Richard A. Hersack, a retired Air Force Brigadier General and anesthesiologist, traced the history of the creation of today's U.S. Air Force and the improvements in treatments and medical strategies that now save lives on the battlefield.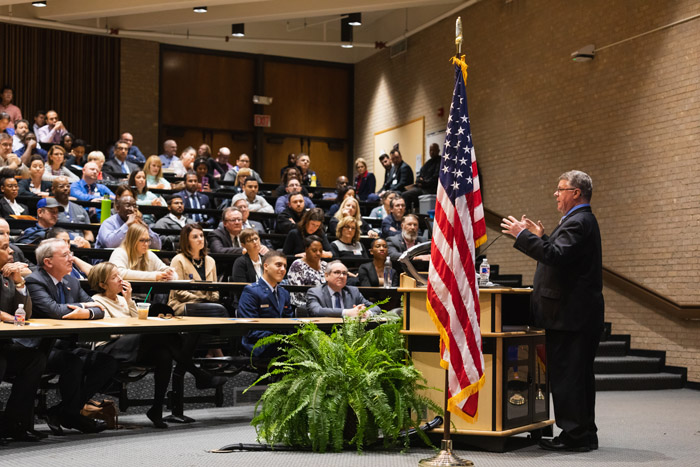 In the 20th century, an American soldier injured during combat had about a 70 to 75 percent chance of surviving, Gen. Hersack said. Today, the survival rate tops 90 percent – in large part due to the military's return to the use of tourniquets to stop bleeding, a common cause of battlefield death, he said.
In fact, that expertise helped civilian athletes survive after the 2013 Boston Marathon bombing, when those with military training rushed to apply tourniquets to the severely injured, he said.
Gen. Hersack retired in 2011, but returned to the Air Force as a civilian. He now serves as Chairman of the Department of Aeromedical Research for the U.S. Air Force School of Aerospace Medicine and Special Assistant to the Commander for Strategic Planning at Wright-Patterson Air Force Base near Dayton, Ohio.
In his address, he told of how the Air Force was preceded by the Army Air Service, founded in 1917 with just 23 pilots. That was 30 years before the creation of the U.S. Air Force, he pointed out.
At that time, soldiers who weren't making it in infantry or elsewhere were sent to the Air Service, Gen. Hersack said, and most fatalities occurred during their training. In 1918, the Army graduated its first flight surgeons to treat them. The School of Aviation created flak vests, which were designed to protect pilots from anti-aircraft fire, he added.
One of the attendees represented the next generation of servicemen, 2nd Lt. Andrew Aboujaoude, a second-year UTSW medical student who joined the Air Force as he finished college and graduated from Officer Training School this past summer.
"I went to Officer Training School this year and I can say that the next generation will not disappoint you folks," he told the crowd. UT Southwestern graduates in particular do well, he added. "We tend to graduate some really good people, specifically in military medicine."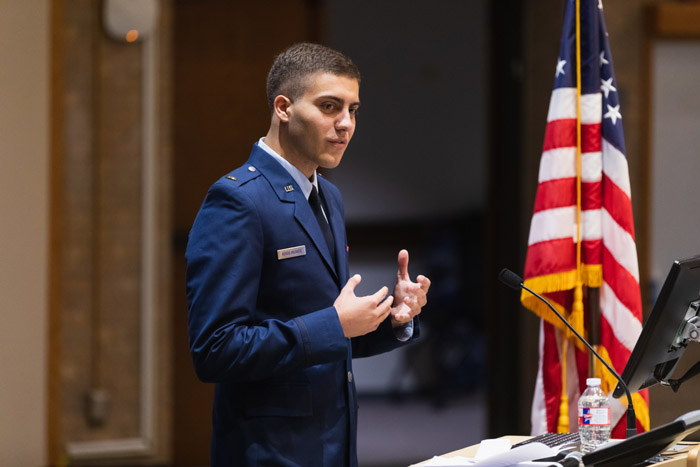 As he prepared to speak at the event, "It got me to thinking," he said. "Why do we go to medical school for 10 to 12 hours a day, then go without seeing our friends over summer break to instead eat our MREs (military rations), sleep three hours, and do the marching?"
He answered his own question: "It really is the tradition of the people who came before us."
Before Gen. Hersack's speech, members of the student cadet corps at a local middle school, W.E. Greiner Exploratory Arts Academy, marched in carrying the American and Texas flags for a presentation of the colors ceremony.
Brittanny Anderson, an Executive Recruiter in Talent Acquisition at UT Southwestern, brilliantly belted out "The Star-Spangled Banner."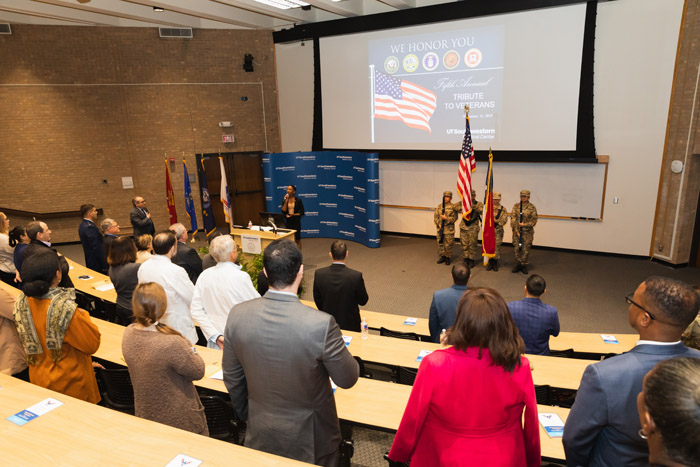 At the end, veterans stood as their armed service branch's song sounded: first Army, then Navy, Marines, Coast Guard, and finally the familiar strains of "The U.S. Air Force" song.
After the event, hosted by the Office of Institutional Equity & Access and the Veterans Business Resource Group, a lunch reception followed that included cupcakes iced in red, white, and blue.