Vandergriff named inaugural holder of Freeman/Cockerell Dermatopathology Chair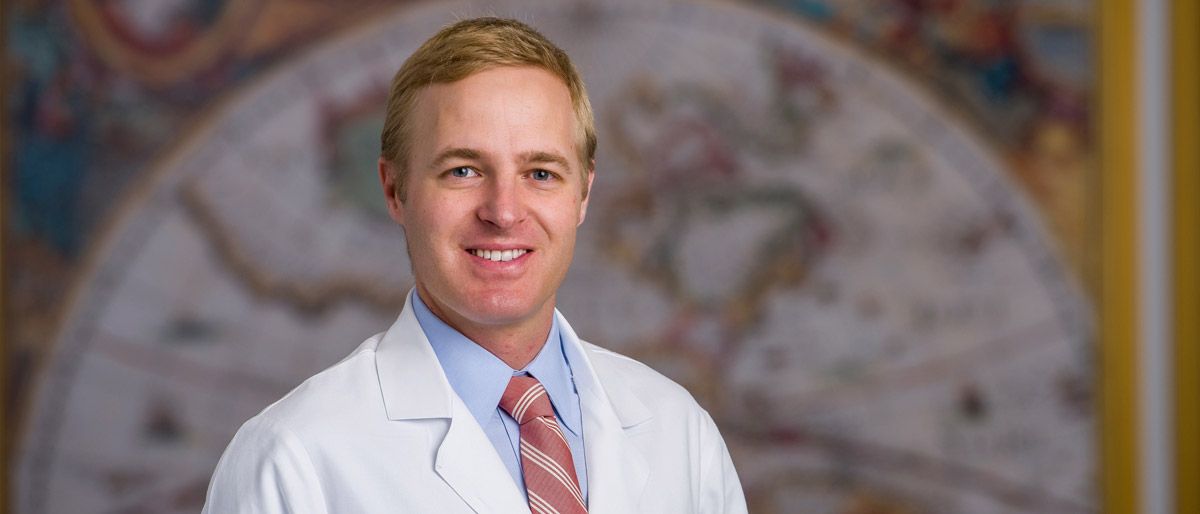 Dermatopathology is a subspecialty focused on diagnosing skin disease by examining tissue samples microscopically and correlating the findings with information gathered from patients during clinical exams.
"It is a unique field because making an accurate diagnosis requires consideration of microscopic and clinical findings together," said Dr. Travis Vandergriff, Associate Professor of Dermatology and Pathology. "We specialize in skin tumors including melanoma and other skin cancers, as well as inflammatory diseases of the skin."
Dr. Vandergriff's unique expertise in this field – along with his contributions to UT Southwestern – led to his appointment recently as the inaugural holder of the Robert G. Freeman, M.D. and Clay J. Cockerell, M.D. Chair in Dermatopathology.
Building UT Southwestern's service from the ground up, Dr. Vandergriff has served as Director of Dermatopathology since 2013 and Co-Director of the Dermatopathology Fellowship Program since 2017. Dermatopathology now provides coverage for UT Southwestern's William P. Clements Jr. University Hospital and Medical Dermatology Ambulatory Clinic, Parkland Health and Hospital System, and Children's Health. Dr. Vandergriff is working to expand services to other ambulatory clinics on campus.
"I have developed a dermatopathology service at UTSW with two main goals: providing our patients with the most accurate and timely diagnoses for skin diseases and providing the best education for dermatologists and dermatopathologists in training," Dr. Vandergriff said. "The UTSW dermatopathology service diagnosed nearly 15,000 skin specimens in 2019 and trained over 30 residents in the subspecialty."
Dr. Kim Yancey, Chair of Dermatology, called Dr. Vandergriff an outstanding clinician, dermatopathologist, and medical educator deserving of the new Chair.
"His innate enthusiasm, kind demeanor, and consistent professionalism have greatly benefited the Department of Dermatology and the greater UT Southwestern community," Dr. Yancey said, adding that Dr. Vandergriff holds leadership positions in local, regional, and national professional organizations.
The endowment was established in 2014 by gifts from the late Dr. Robert Freeman, a pioneer in the field of dermatopathology with his early 1960s research on long-term skin damage from sun exposure, and UTSW Professor of Dermatology Dr. Clay Cockerell, a past President of the American Academy of Dermatology. The two longtime friends and colleagues founded an independent dermatopathology laboratory in Dallas.
"It's really an honor to be named as the holder of this endowed Chair position," Dr. Vandergriff said. "Dr. Cockerell has been a mentor to me since I began my dermatology residency at UTSW in 2008. He is recognized across the country as a leader in both dermatology and dermatopathology, and I have benefited greatly from his teaching. I did my dermatopathology fellowship with Dr. Cockerell and learned how to make accurate, clinically relevant diagnoses. Dr. Cockerell's career has been focused on teaching, and I hope to make a similar impact myself."
Dr. Vandergriff plans to use the endowment funds to attend education-oriented conferences to improve his teaching and mentoring skills and to complete research projects in dermatopathology. A UT Austin graduate, Dr. Vandergriff earned his medical degree from Baylor College of Medicine.