Tragedy, passion inspire UT Southwestern's newest sworn officers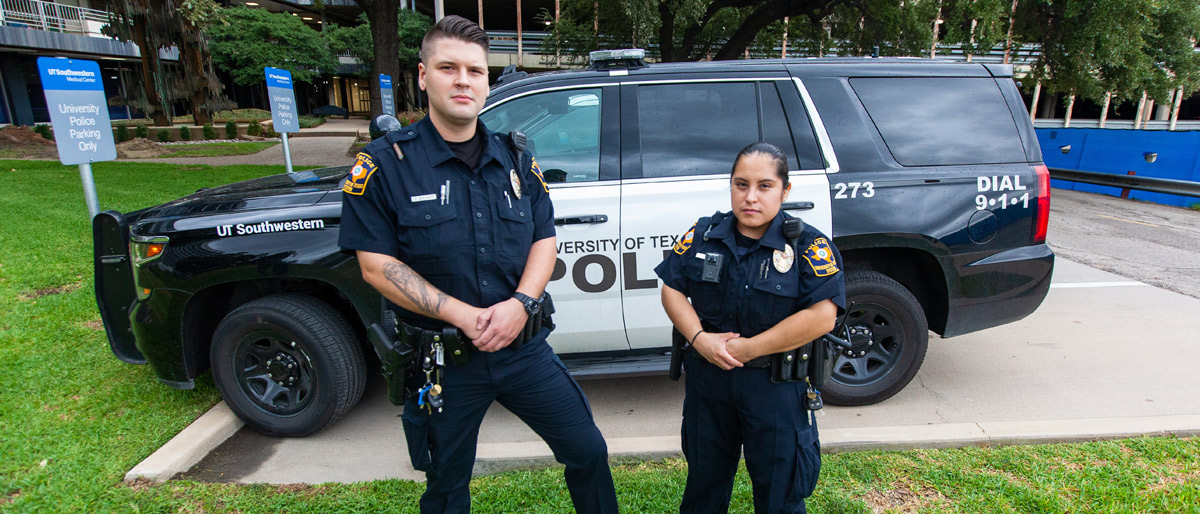 Officer Travis Wright vividly remembers the day when tragedy turned into a catalyst for his law enforcement career. Two longtime friends were killed by a drunken driver while waiting at a crosswalk. At that point, Officer Wright decided to find a way to make an impact to reduce senseless crime.
"They affected so many in the small time they were married," Officer Wright said. "This sudden and tragic death really hit close to my heart and my decision."
And then there was the moment of enlightenment. While taking a two-week road trip one summer, Officer Wright found clarity somewhere between the Grand Canyon and Yellowstone National Park.
"I did some personal searching and talking with God and finally got my answer. I took the first chance I could and contacted my friend, and now fellow officer, who had been an officer here for a few years," he said. "It all just felt right."
After apprenticing at a tattoo parlor and almost 10 years in retail management, he came to UTSW to work as a public safety officer for a year before being promoted to cadet, then graduating from the Basic Police Officer Certification program at Collin College Law Enforcement Academy in March.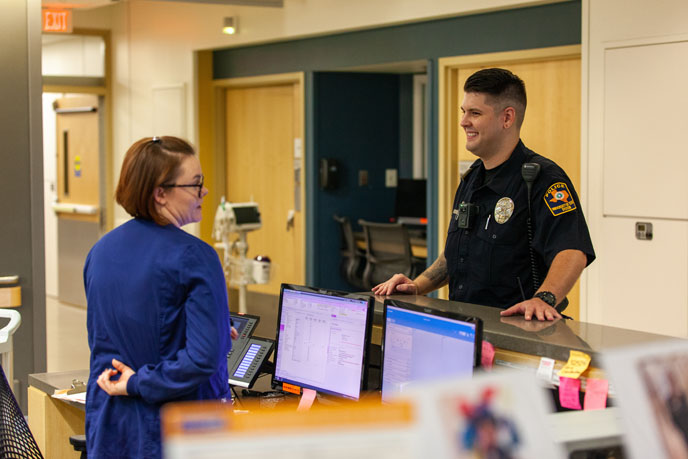 "As a public safety officer, I got to know the community through the different shifts and posts that I worked," Officer Wright said. "Throughout my time here I have really grown to know staff and patients alike and I want to be able to help those that we serve, and to also give back to the community."
Officer Wright was recently sworn in as a new UT Southwestern police officer, along with Officers Michael Horton, Jorge Lizardo, Lira Polanco, and Jacob Watson. The five new officers are a part of the 48-member fully commissioned UTSW police force (in blue uniforms) that also is assisted by 79 nonsworn public safety officers (in white shirts).
Under the Texas Code of Criminal Procedure, University police officers are defined as peace officers who have the same authority to detain and arrest as municipal officers and other state officers. Their jurisdiction includes all counties in which property is owned, leased, or otherwise under the control of the UT System.
Another of the new recruits, Officer Polanco, is one of six UTSW female officers. Small but mighty best describes Ms. Polanco, who proudly owns the title of "the shortest officer in the Department."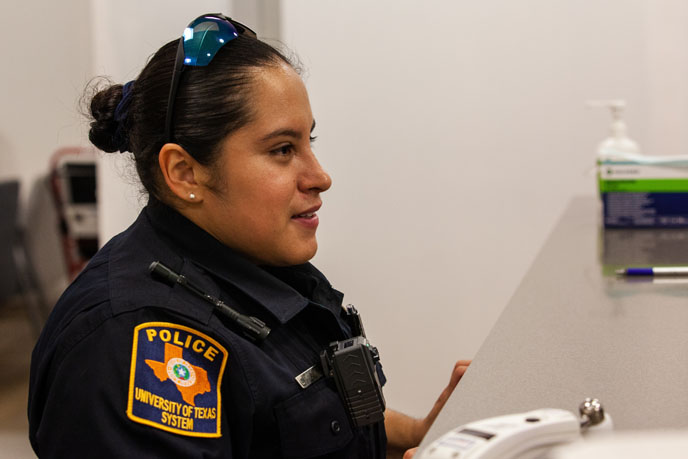 "There are daily challenges, but they drive me to become a better officer and person every day," Officer Polanco said of her new job. "It is an opportunity to show those wanting to become a police officer that there isn't a challenge big enough to keep you from achieving your dreams. If you have heart and dedication, you can achieve what you set your mind to."
After graduating from UT Arlington (UTA) with bachelor's and master's degrees in criminology and criminal justice, Officer Polanco became a public safety officer with the UTA Police Department. This was a far jump from her pre-med/biology beginnings.
"I quickly discovered that my first choice at a college degree wasn't my true calling," she said. "I remember taking 'Introduction to Criminal Justice' and I was hooked."
In 2015, she transferred to UT Southwestern as a public safety officer and became a supervisor within months. In November 2018, she joined the Basic Police Officer Certification program at Collin College Law Enforcement Academy and graduated in March.
Service is at Ms. Polanco's core. Whether it's providing directions or an escort to the hospital, educating someone about the traffic laws, or teaching self-defense and safety techniques, she strives to help at least three people a day to improve the community. The help she gives is not only from the heart, but a way to pay it forward from the support she receives from her work peers.
"The best part of my job is my extended family in blue. A lot of people don't understand the daily sacrifices we make," said Ms. Polanco. "We miss holidays, birthdays, and special occasions, so having that extra support from your extended family is tremendous. People call this a job, but when you love what you do, and do what you love with family, it isn't working – it is living."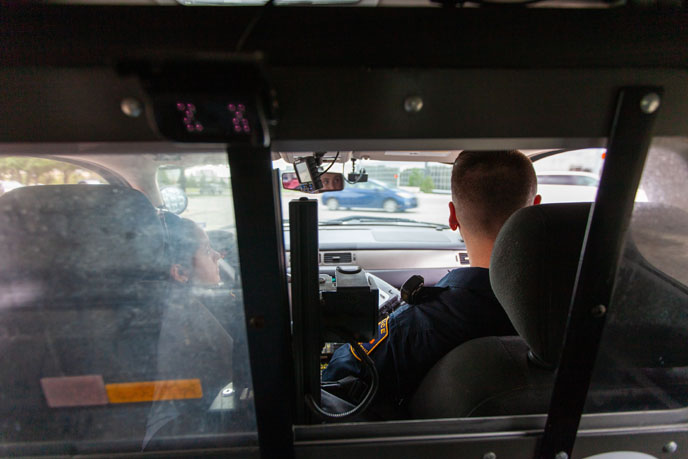 The story of Officer Wright's career journey followed a longer, more circuitous path. The signs were all there – as a career in retail and church lit the way, life experiences propelled him to land at UTSW.
"I come from a whole family who has served, whether in medical or in the military, and I was very involved with missions and outreach in my church during high school," Officer Wright said. "I truly hope to establish and maintain a safe environment for all the staff and patrons here at UT Southwestern."