It's a 3-peat: UTSW ranked No. 1 hospital in Dallas-Fort Worth for third consecutive year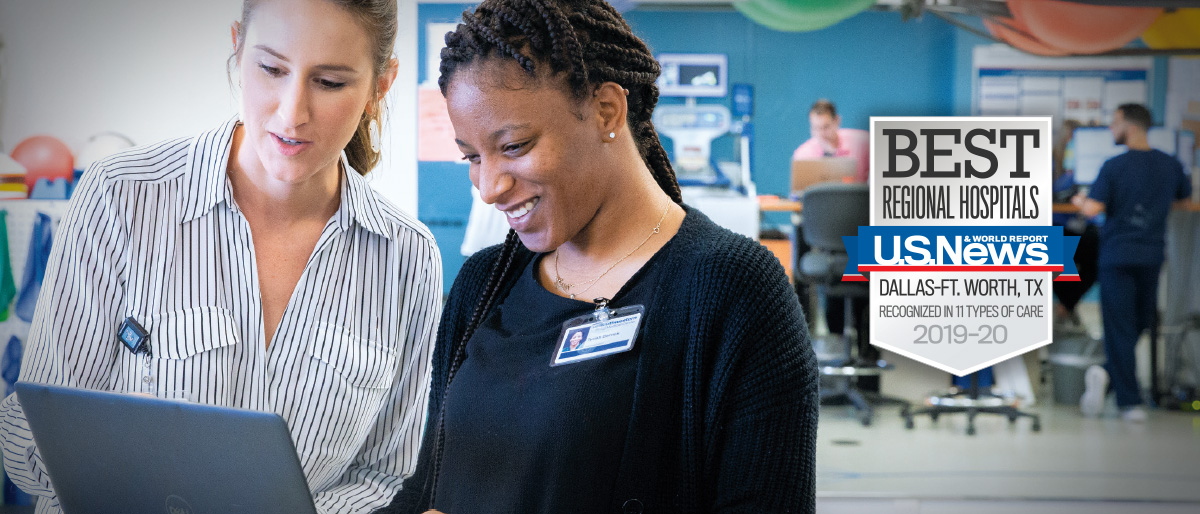 For a third consecutive year, UT Southwestern Medical Center is the No. 1 hospital in Dallas-Fort Worth and No. 2 in Texas, according to U.S. News & World Report's annual Best Hospitals listings released July 30. UT Southwestern also ranked nationally in seven specialties including heart and neurological care, with an additional five rated as high-performing.
The rankings and ratings reflect the work of thousands of dedicated employees, physicians, nurses, and other caregivers, who are guided by UTSW's core values – Excellence, Innovation, Compassion, and Teamwork – to deliver the very best care to patients and their families.
The announcement, which focuses on clinical care, follows recognitions of UT Southwestern earlier in the year from U.S. News & World Report as one of the top medical schools in the country and, for a second consecutive year, from Nature Index as one of the top 10 health care institutions in the world for publishing high-quality scientific research.
In addition to being ranked as the No. 1 hospital in Dallas-Fort Worth and No. 2 hospital in Texas, UT Southwestern received national rankings in the following seven specialties, placing each within the top 50 out of 4,500 medical centers evaluated by U.S. News & World Report for 2019-2020:
Neurology & Neurosurgery
Geriatrics
Nephrology
Diabetes & Endocrinology
Urology
Cardiology & Heart Surgery
Ear, Nose & Throat
The innovative and data-driven care our dedicated physicians, nurses, and staff are able to provide at UT Southwestern University Hospitals continues to be reflected in high levels of patient satisfaction and most importantly in the outcomes we are able to achieve, said Dr. John Warner, Executive Vice President for Health System Affairs, which includes William P. Clements Jr. University Hospital and Zale Lipshy University Hospital, along with its associated networks of clinics and outpatient services.
It's a testament to our exceptional multidisciplinary Health System team that we've received this recognition for three consecutive years, Dr. Warner said. UT Southwestern is dedicated to always putting the patient first. Today as we celebrate this distinction, I know we all take pride in helping to make it happen.
U.S. News & World Report also gave UT Southwestern nationally recognized high-performing ratings in five additional specialties – cancer, gastroenterology and GI surgery, ophthalmology, orthopedics, and pulmonary and lung surgery, as well as for procedures for abdominal aortic aneurysm repair, aortic valve surgery, heart failure, colon cancer surgery, lung cancer surgery, and chronic obstructive pulmonary disease.
Recognition comes as UT Southwestern continues to expand access to its distinctive academic medicine through new facilities and innovative partnerships that improve efficiencies and lower the overall cost of care. Projects include:
A $480 million expansion of its flagship Clements University Hospital will add 300 beds for a total of 760, making it among the largest in the nation. Scheduled to open in 2020, the 12-story third tower will expand Emergency Department care, provide neurological care through the Peter O'Donnell Jr. Brain Institute, and include two floors dedicated to inpatient cancer care for UT Southwestern's Harold C. Simmons Comprehensive Cancer Center, the only National Cancer Institute-designated Comprehensive Cancer Center in North Texas and one of just 50 in the nation.
In late 2019, the four-story UT Southwestern Medical Center at Frisco multispecialty clinic complex will open. It is part of a collaborative 20-acre medical and 132-bed hospital campus with Texas Health Resources. The Frisco initiative complements current off-campus regional medical centers in Richardson/Plano, Park Cities, Las Colinas, and Fort Worth.
The recently opened nine-story West Campus Building 3 holds more than 305,000 square feet of outpatient clinical space, along with a state-of-the-art simulation center for training the health care professionals of tomorrow. Another nine-story tower planned for 2022 will expand outpatient care for the Simmons Cancer Center, along with a new Radiation Oncology Building.
UT Southwestern Medical School also is nationally ranked by U.S. News & World Report, and UT Southwestern is the top institution internationally within the "healthcare" category for publishing high-quality scientific research, according to Nature Index 2019 Annual Tables.
In addition to UT Southwestern's hospitals being ranked No. 1, Southwestern Health Resources, the integrated network formed with its partner Texas Health Resources, encompasses four of the top five ranked hospitals in Dallas-Fort Worth: UT Southwestern, Texas Health Presbyterian Hospital Dallas (No. 3), Texas Health Harris Methodist Hospital Fort Worth (No. 4), and Texas Health Harris Methodist Hospital Southwest Fort Worth (tied for No. 5).