Meet the winners of the Strauss Service Excellence Awards for Q2 and Q3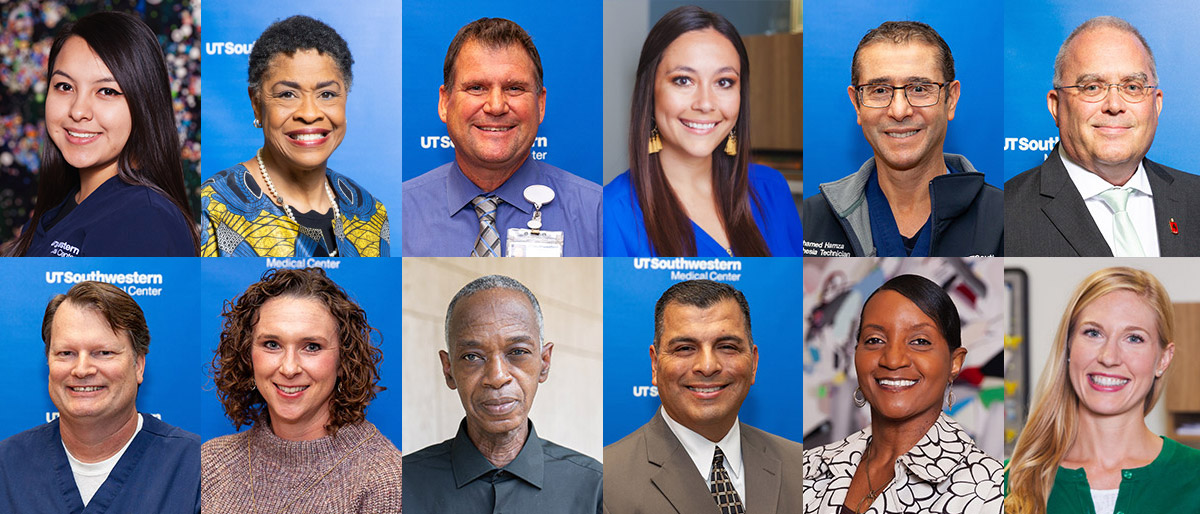 Congratulations to the second- and third-quarter 2019 recipients of the Diana and Richard C. Strauss Service Excellence Award, honoring employees who exemplify excellent care and service, professionalism, a positive attitude, dedication to teamwork, dependability, enthusiasm, and compassion for patients, guests, and co-workers. The awards are presented quarterly throughout the calendar year. The following employees were selected for their outstanding care and service during the fourth quarter.
Q2 2019
HOSPITALS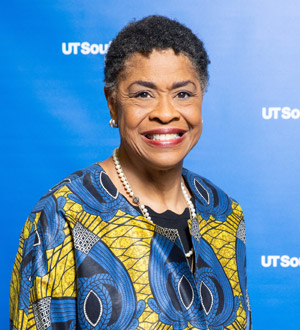 Gina Biddle
Supportive Palliative Care Staff Chaplain
William P. Clements Jr. University Hospital
Hired at UT Southwestern in 2002, Ms. Biddle began her career as a staff chaplain. She felt called to be a chaplain after losing her mother, father, and brother by the age of 30. Ms. Biddle enjoys helping patients by joining them on their journey through the ups and the downs, the good and the bad, and the tears and the joy that life brings. Her colleagues have nothing but wonderful things to say about her: "Our department regularly receives letters of thanks from patients, families, and staff calling out Gina's help. More than 16 cards and letters are on file recognizing that Gina goes the extra mile in service," her nominator says. When Ms. Biddle is not at work, you can find her attending Jazzercise classes, traveling around the world with her husband, serving in her church's adult ministry program, or being a supporter of the Center for Loss and Transition.
---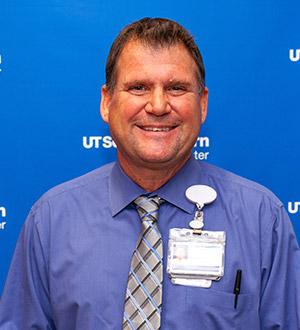 Greg Engle
Operations Manager – Nutrition Services
Clements University Hospital
Mr. Engle was hired at UT Southwestern in January 2014 to fill his current position. What he enjoys most about his job, and working at UTSW, is getting to interact with everyone he crosses paths with – including his customers, employees, and visitors. Mr. Engle also likes working in an environment full of good people who care about everyone around them. He is best known amongst his colleagues as "…the first manager to assist one of his co-workers. He will come in early to ensure that hospital events and large caterings are going smoothly. Greg will chop vegetables and ensure recipe compliance, anything to make Nutrition Services successful." Mr. Engle's hobbies outside of work include giving back to his community by helping with El Centro College's culinary programs, as well as cooking, gardening, fishing, reading, and traveling with his wife and their two children, ages 15 and 11. A popular vacation destination for the family is Cozumel, Mexico.
---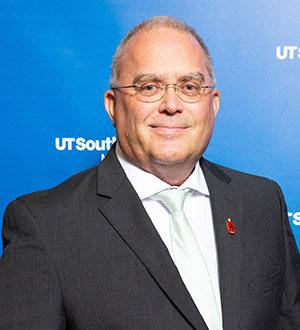 Howard "Bud" Naylor
Senior Carpenter
Clements University Hospital
Howard Naylor, better known as "Bud" by his colleagues, will be celebrating five years at UT Southwestern in September. He began his career as a carpenter at St. Paul Hospital. As a senior carpenter, he is now dedicated to Clements University Hospital, where no two days at work are the same for him. Mr. Naylor is lauded by his colleagues as a model UTSW team member. "He puts others ahead of himself and expects nothing in return for what he does," his nominator wrote. He is also extremely passionate about giving back to the community. When not at work, he is actively involved with Habitat for Humanity, providing carpentry skills to build homes for those in need, and he participates every year in the Toys for Tots drive. He also served as a staff sergeant in the Texas State Guard for almost 11 years, and was recently recalled by his unit and spent more than one month providing relief assistance in Houston following Hurricane Harvey.
---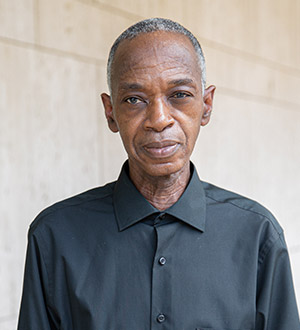 Ray Thomas
Housekeeping Attendant
Zale Lipshy Pavilion
Mr. Thomas was hired at UT Southwestern 19 years ago as an Environmental Services Floor Tech. He enjoys helping wherever he is needed and likes that his job allows him to go to different areas of the hospital. Colleagues say he is a consistently outstanding employee. "He is always at work and is willing to help wherever he is needed," according to his nominator. Mr. Thomas was recently recognized for six months of perfect attendance, and with his excellent work ethic, he has received many PACT cards from his colleagues. When Mr. Thomas is not at work, he enjoys watching basketball, football, or scary movies. He also is an active member of his church, where he is involved in serving others.
---
CLINICS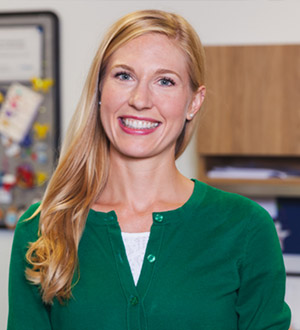 Stephanie Orgass Vanderhill
Patient Safety Coordinator
Ambulatory Nursing Operations Administration
Ms. Vanderhill serves as the Patient Safety Coordinator for Ambulatory Nursing Operations. She has a passion for patients and ensuring safety and quality of care, advocating for process or system improvements that reduce patient safety risks. She also participated in several overseas medical missions and volunteered at a local women's clinic. Ms. Vanderhill's nominator describes her as "a joy to work with; a valuable member of our team who often shoulders more than a fair share of the burden of work."
---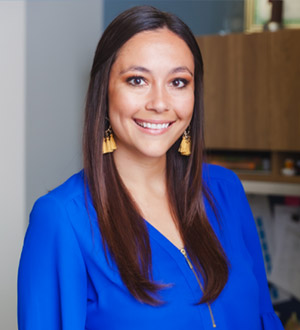 Taylor Price
Administrative Associate
UT Southwestern Medical Center at Frisco
Ms. Price regularly goes above and beyond her assigned duties to ensure quality work. In the words of her nominator, "Taylor Price is an indispensable part of this team, and a key player in our Frisco Project. She works in the background but is a facilitator for all the other processes that take place. She handles pressure with grace and a positive attitude."
---
Q3 2019
HOSPITALS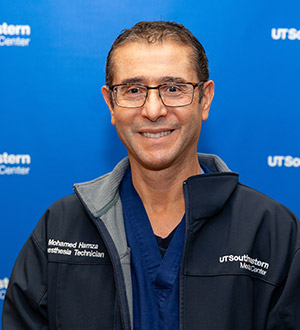 Mohamed Hamza
Chief Anesthesia Technician
Zale Lipshy Pavilion and Clements University Hospital
In 1997, Mr. Hamza first came to UT Southwestern on a scholarship from the Egyptian government as a Ph.D. student. A few years after working as an anesthesiologist in Egypt, he decided to return to UTSW. Mr. Hamza considers everyone at UTSW to be his family and values the opportunities he has to teach and train Anesthesia Technicians. He also enjoys making his patients feel welcome and safe. His nominator wrote: "Mohamed is always pleasant and ready to help. He is a fantastic co-worker and someone the entire Anesthesia Department relies on at Zale Lipshy Pavilion." Mr. Hamza is married and has three children. He regularly delivers lectures and symposia around the country for the American Society of Anesthesia Technologists.
---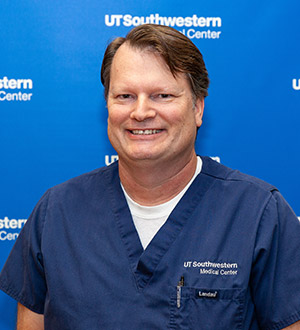 Jeffrey Hartley
Pulmonary Function Technician
Professional Office Building 2
Mr. Hartley began his career at what was then known as Zale Lipshy University Hospital in 2003 as a part-time Respiratory Therapy Technician. He values the one-on-one time he has with patients and enjoys talking to them. His nominator says Mr. Hartley has a positive outlook toward work, exhibits professionalism, and is always ready to help solve problems. He served in the military for four years, working on navigational radar systems. Mr. Hartley enjoys traveling, especially on scuba diving trips. He has long had an interest in marine life and maintains his own saltwater aquarium. Mr. Hartley is planning a Disney trip with his children and grandchildren next November.
---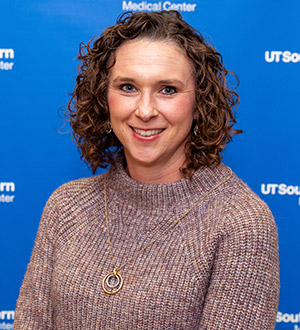 Alexandra Huffman
Manager, Support Services
Simmons Cancer Center
Ms. Huffman was hired at UT Southwestern in 2015 as a social worker in the Malignant Hematology Clinic. Ms. Huffman later was appointed as interim manager for a year before she moved fully into the role. Her favorite part about the job is the phenomenal patients and the opportunity to play an important role at a difficult time. Her colleagues describe her as "…one of the best supervisors I've ever experienced in my career. She has a positive attitude, sense of humor and an eagerness to creatively problem-solve that make her a pleasure to work with." She gives back to her community through volunteering with the Alzheimer's Association and raising money for the organization in honor of her late grandmother. Outside of work, Ms. Huffman loves to spend time with her family. She also enjoys working out, baking, and reading, and participates in a book club.
---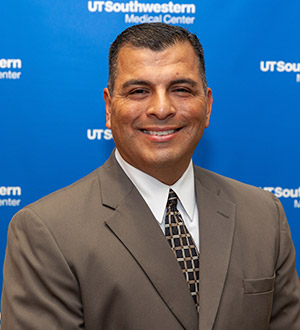 Roman Islas
Emergency Medical Services Liaison
Clements University Hospital
Mr. Islas began his career with UT Southwestern at St. Paul Hospital in 2008 as an Emergency Room Tech. He transitioned to Clements University Hospital's ER in 2016. His favorite things about working at UT Southwestern are the opportunities for growth and interacting with EMS, the nursing staff and the management team of the Emergency Department. His colleagues say he is "…an active listener and communicates clearly and compassionately. When staff approach him with concerns or issues, he acknowledges their concerns, making them feel that their input is valued, and escalates their concerns appropriately." Mr. Islas also is a Lieutenant in the Irving Fire Department, where he has worked for 26 years, and he serves on the North Central Texas Trauma Regional Advisory Council. Outside of work, Mr. Islas enjoys spending time with his wife of 31 years, two daughters and his 4-year-old grandson.
---
CLINICS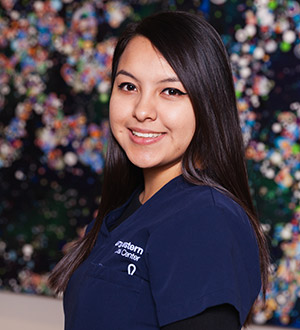 Cherry Aguinaga
Certified Medical Office Assistant
Psychiatry – Clinic Student Wellness
Thanks to an impeccable attitude, ability, and work ethic, Ms. Aguinaga has assumed an informal leadership role within her department as the front desk CMOA. Her cheerful demeanor creates a therapeutic environment for patients and boosts the morale of the entire department. Her nominator added, "She takes the lead without prompting; has a contagious, energetic personality that makes our work area a brighter place and genuinely cares for our patients as well as her colleagues."
---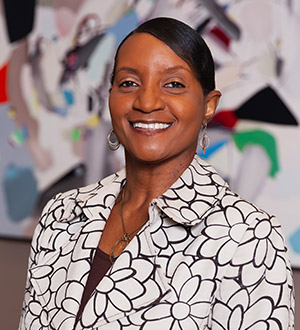 Gloria Smith-Boone
Department Facilities Administrator
Ambulatory Facilities
Ms. Smith-Boone, while exceptional as an individual, loves working as part of a team and works successfully to pull together her teammates and bring out the best from all of them. Her nominator wrote, "She is very personable and while she may be serious and focused when the need arises, everyone in every department is always happy to see her walk through the door, as she has a way of leaving smiles everywhere she goes."