STARS gives students, teachers access to cutting-edge science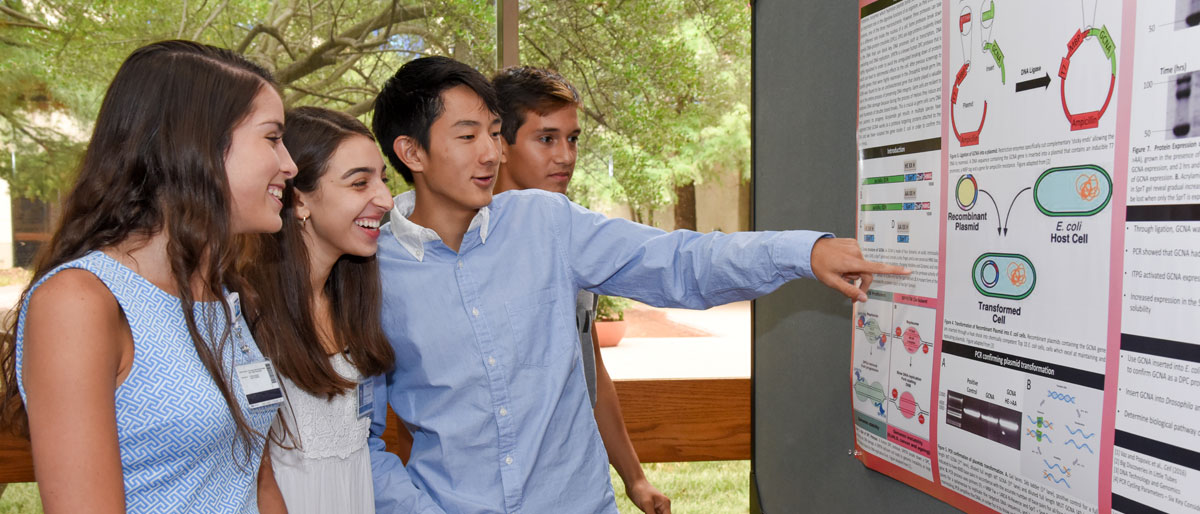 The STARS program recently completed its 27th year of activities, with 51 high school students and a half-dozen teachers participating in the Summer Research Program (SRP) that featured eight weeks of research and learning in UT Southwestern laboratories plus weekly seminars.
STARS, which stands for Science Teacher Access to Resources at Southwestern, also offers four summer science camps and the Governor's Champions program, which brings high school students to campus for a week of research. The combined summer programs attract public and private school students from across Dallas-Fort Worth, providing valuable exposure to academic research.
"I'm so pleased that STARS attracts so many great students and teachers," said Dr. Joel Goodman, Professor of Pharmacology and STARS Director. "We continue to expand our reach across North Texas."
Among this year's STARS SRP participants was 2018 Priddy Award winner Amanda Moon, a senior at Plano East Senior High, who won a first place award at the Dallas Regional Science Fair. Ms. Moon spent the summer working with Eric Hsu, a student in the UT Southwestern Medical Scientist Training Program, in the lab of Dr. Yang-Xin Fu, Professor of Pathology. The Kathryn and Ashley H. Priddy Young Scientist Award annually brings an aspiring scientist to the STARS program.
While SRP participants worked in labs, other teachers and students attended STARS science camps for 2½ weeks. A biotechnology camp was added in 2018, joining other STARS camps in biology, chemistry, and physics. These STARS summer camps are made possible largely through a $66,854 grant from the Texas Workforce Commission (TWC), which enabled 96 high school students from districts across North Texas to attend the four summer camps.
The TWC grant was awarded through the Governor's Summer Merit Program. More than $992,000 in grants from this program were given to universities and community colleges across the state for summer youth camps that focused on science, technology, engineering, and mathematics (STEM) learning.
Since its inception in 1991, the STARS program has grown to serve more than 14,000 teachers and an estimated 65,000 students in 3,500 schools. The scope of STARS has steadily expanded to include more than 20 programs and projects, which are available free to teachers and students in Texas. For more information, visit the STARS page on utsouthwestern.edu.