UTSW is first hospital in Texas to perform single-incision robotic surgery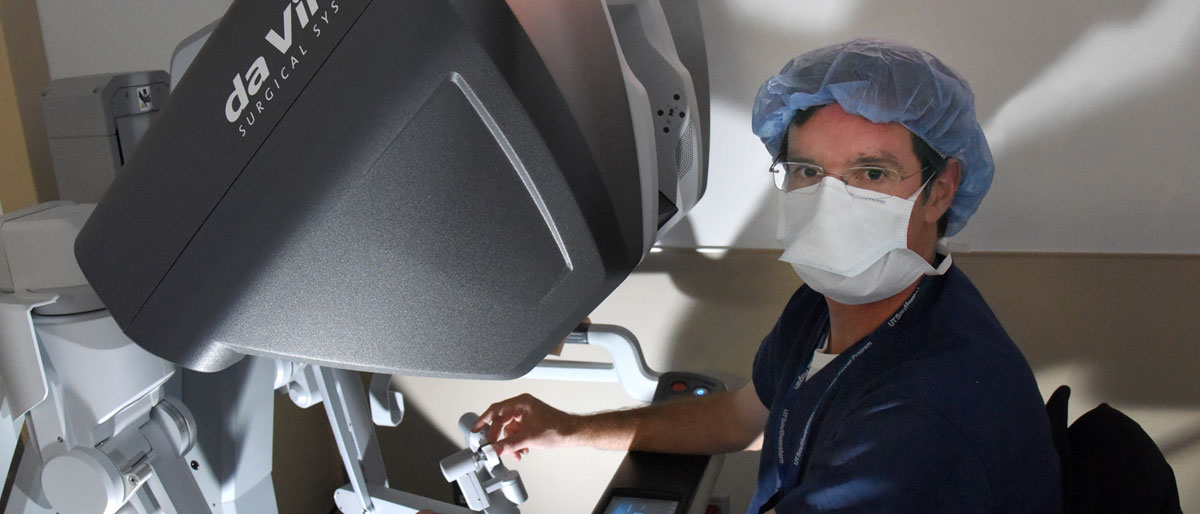 UT Southwestern recently became the first hospital in Texas to perform single-incision robotic surgery.
The technology allows for all of the necessary surgical tools to be inserted through one small hole made in the body rather than several. Dr. Jeffrey Cadeddu, Professor of Urology and Radiology, successfully used the new technique in late November to complete surgery on a ureter, the duct that passes urine from the kidney to the bladder.
The single-incision robotic surgery is a form of laparoscopic surgery, which is surgery performed through small incisions and made possible by the use of a tiny video camera inside the area of surgery. Standard laparoscopic prostate surgery requires five or six small incisions.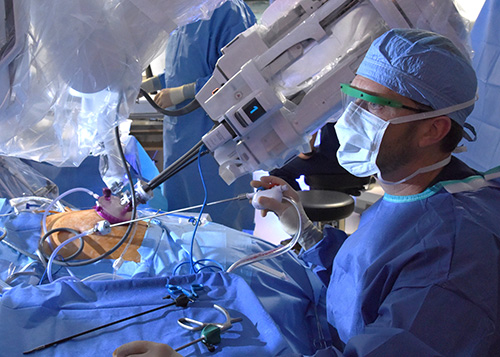 About 10 years ago, the idea arose of reducing the number of incisions. "Every hole you create in a patient has a risk associated with it. Every incision means increased pain, increased risk of hitting a blood vessel," said Dr. Cadeddu, winner of this year's Patricia and William L. Watson Jr., M.D. Award for Excellence in Clinical Medicine.
From an aesthetic standpoint, fewer incisions also mean fewer scars.
The single-incision laparoscopic surgery was performed using a robotic device called the Single Port SP Robot that has four arms that insert through a single hole. Intuitive Surgical Inc., the company that makes the SP Robot, is rolling it out to a handful of medical centers initially, including UT Southwestern, which is one of the leading medical centers in the country in robotic surgeries. Dr. Cadeddu and Dr. Vitaly Margulis, Associate Professor of Urology, are trained to use the device. Both are members of UT Southwestern's Harold C. Simmons Comprehensive Cancer Center.
While the Single Port SP Robot will initially only be used for urological surgeries such as kidney surgeries and prostatectomies, Dr. Cadeddu expects it will eventually be used for other procedures, such as head and neck surgeries.
And Dr. Cadeddu, who also recently performed the first magnet-assisted surgery in Texas, is also performing surgeries using a combination of magnet-controlled tools and the SP Robot.
"We expect this to be the start of a cascade of improved surgical procedures with fewer incisions, meaning less pain and fewer complications for patients," Dr. Cadeddu said.
Intuitive Surgical, the manufacturer of SP Robot, provided travel support for Dr. Cadeddu's training.