Shine Academy inducts three UTSW educators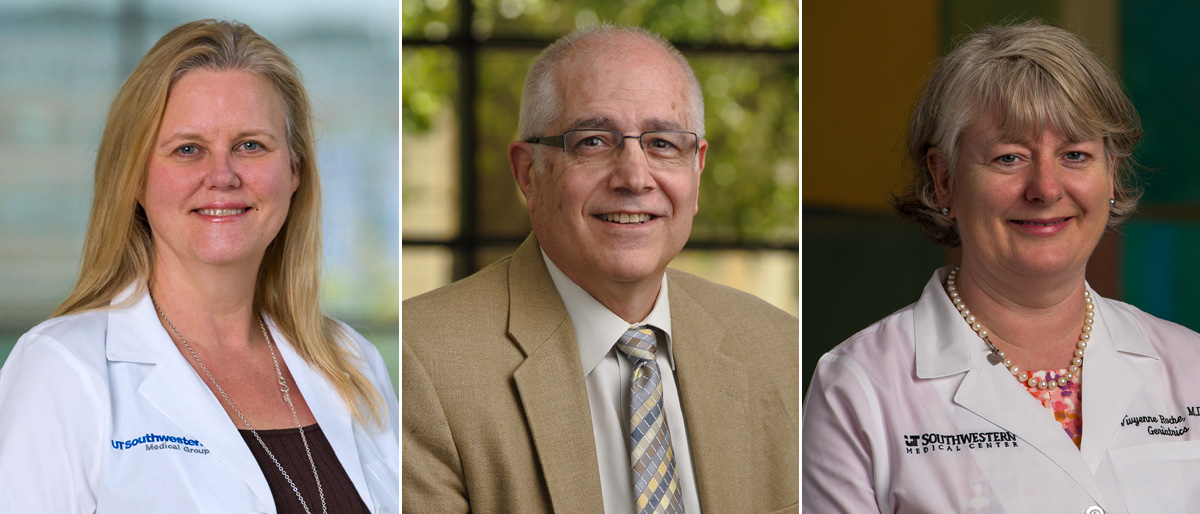 Three UT Southwestern educators were inducted into the UT System's Kenneth I. Shine, M.D., Academy of Health Science Education this month in recognition of their exceptional teaching abilities and leadership.
The designation honors the outstanding health science teaching of Dr. Julie Champine, Professor of Radiology; Dr. Robert Rege, Associate Dean for Undergraduate Medical Education; and Dr. Vivyenne Roche, Professor of Internal Medicine. The inductions took place Feb. 21-22 at the Shine Academy's annual conference in Austin.
A faculty member since 1992, Dr. Champine directs UT Southwestern Medical School's Radiologic Anatomy course and serves on numerous committees. She has been recognized with multiple Outstanding Teacher Awards and was elected to the Southwestern Academy of Teachers (SWAT) in 2017. Her teaching philosophy: "There needs to be flexibility and adaptation of educational methods to meet the needs of different learning styles and evolving environments. In order to achieve this flexibility, I believe in not only being a teacher, but also being an active learner of new educational techniques and technologies as well."
Dr. Rege is a laparoscopic specialist who chaired the Department of Surgery from 2001 to 2013, and later served in an interim role from September 2016 to April 2018. He joined the faculty in 1998. His educational leadership philosophy: "The challenge for undergraduate medical education is defining the specific skills expected of a graduating medical student in core competencies and developing strategies to reliably assess those skills. It is my goal to use state-of-the-art technology, novel teaching methodology such as active learning and simulation-based education, and innovative performance assessments to meet these challenges."
Dr. Roche, who joined the faculty in 1999, specializes in geriatrics and leads the Division of Geriatric Medicine's fellowship program. Elected to SWAT in 2016, her clinical interests include patient outcomes and quality metrics. Her teaching philosophy: "So many times I have found that teaching educates me as much as the student. It is a privilege for me to have the opportunity to teach such gifted, talented, and diverse students. There is a great energy, openness, and enthusiasm from learners that motivates me to continue to teach."
Dr. Don Molony, the Academy's 2018-2019 President who completed an internal medicine residency and a nephrology fellowship at UT Southwestern, noted the high educational standards the inductees set and follow. Nominations for membership may come from the President, Dean, Vice Dean, or Faculty Senate at any of the six health institutions in the UT System.
"Selection to the Shine Academy represents the highest honor for health science educators bestowed by the UT System," said Dr. Molony, a Professor of Renal Diseases and Hypertension at UT Health Science Center at Houston.
Established in 2005, the Academy is named after Dr. Kenneth I. Shine, former UT System Executive Vice Chancellor of Health Affairs. Dr. Shine, who retired in 2013, championed many UT System-led enhancements in health care education and research, and served as interim Chancellor for the UT System in 2008.
The three UTSW honorees join 33 current and former faculty members previously inducted into the Academy.