Turning compassion into action: UTSW celebration kicks off SECC campaign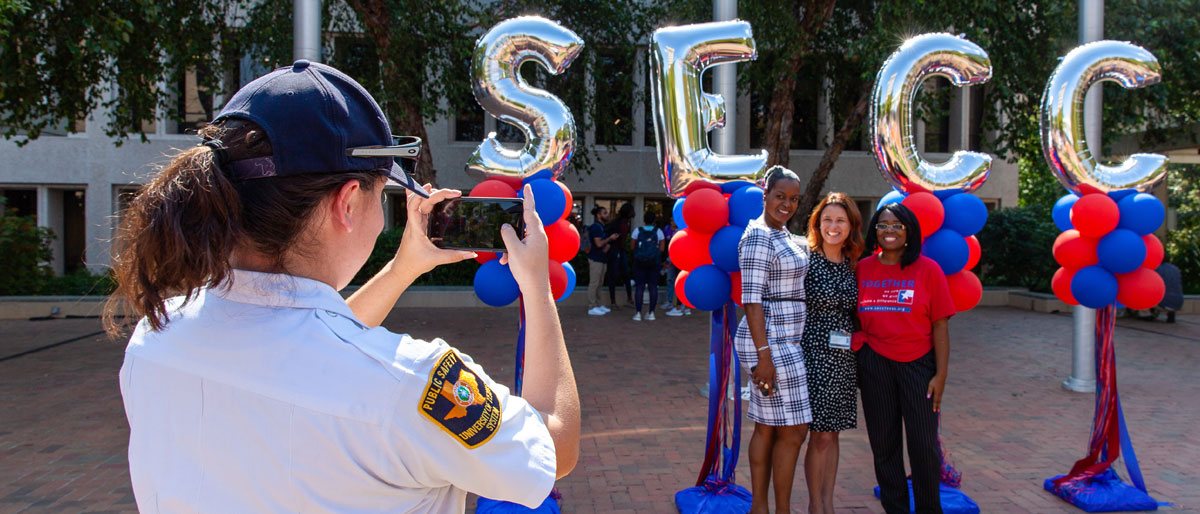 On Oct. 3, the UT Southwestern campus community kicked off the 2019 State Employee Charitable Campaign (SECC) with a goal of raising $400,000 for hundreds of charities.
The annual campaign, now in its 26th year, provides UTSW faculty and employees the unique opportunity to participate in a workplace giving campaign – the only statutorily authorized campaign of its kind for state and higher education agencies. Giving through the SECC is easy, effective, and cost-efficient. Contributions help improve the quality of life for people locally, nationally, and worldwide. Employees can select from more 500 state-vetted charities.
"I came to the area today to see what charities might be helping people with special needs," said Daphne Fuerte from the Department of Ophthalmology. "I have some friends and family members with special needs, and I hope to find a charity to give to. It's nice that there's so much information brought right here to campus for us."
The SECC campaign runs Oct. 3-Nov. 30, with a statewide theme this year of "Texas Strong."
"Texas Strong is pulling together. We give because we care," said DeWotta Gossett, Chair of the State of Texas' SECC Local Employee Committee and a member of UT Southwestern's SECC Committee. "UT Southwestern's State Employee Charitable Campaign is a great platform for employees to come together and give back.
The kickoff event on Eugene McDermott Plaza offered free food, giveaways, and a chance to meet some of the charities involved in the SECC. Additional traveling kickoff events will happen throughout the campaign, and departments on campus will hold fundraising activities of their own.
See updates here including department participation rates, prize drawings, and employee testimonies.