Donors establish Reata Distinguished Professorship in Molecular Medicine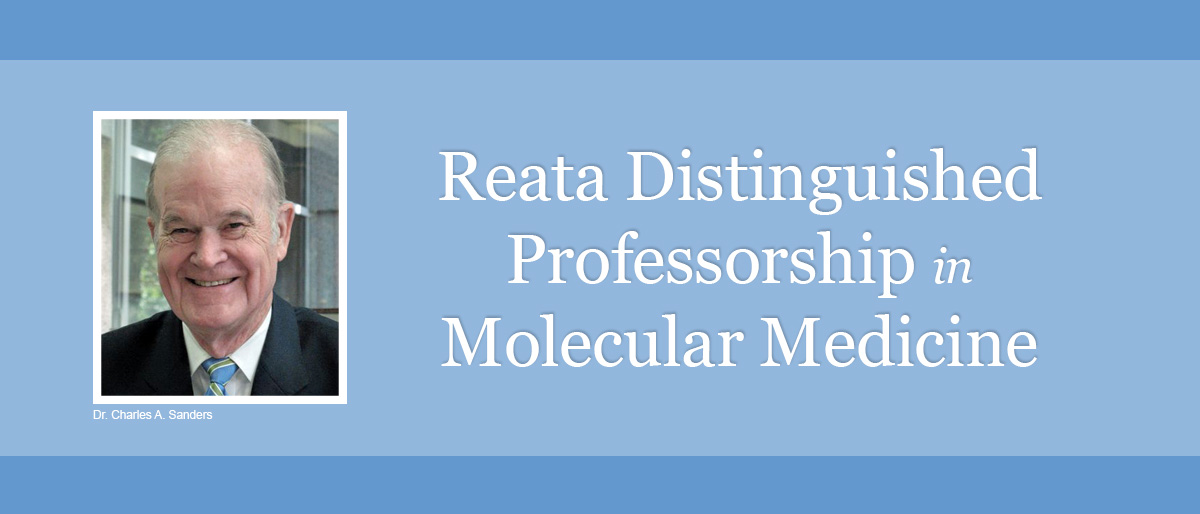 Through a generous $250,000 gift, Charles A. Sanders, M.D., and his wife Ann have established the Reata Distinguished Professorship in Molecular Medicine to support efforts in molecular medicine with an emphasis on biotechnology in the private sector.
As a graduate of Southwestern Medical School, Dr. Sanders credits his educational experience at UT Southwestern for his success and the wonderful opportunities it afforded him, including his association with Reata Pharmaceuticals. A Dallas native, he was inspired by the work and example of his visionary father, Harold "Barefoot" Sanders Sr., who helped organize Southwestern Medical Foundation in 1939 as a way to collect and disburse funds for medical education and research. He then assisted the Foundation in forming the new Southwestern Medical College in 1943.
Dr. Sanders was grateful to attend the very medical school his father helped to form, which was renamed Southwestern Medical School in 1949 and eventually UT Southwestern Medical School. He and Mrs. Sanders have been longtime supporters of UT Southwestern, with gifts totaling more than $1.3 million.
All medicine has a molecular basis, and this allows us to emphasize the potential relationship, Dr. Sanders said. UT Southwestern has been particularly successful in using biotechnology as a research tool, and the Nobel Laureates have been remarkably successful using that technology.
Dr. Sanders studied pre-med at UT Austin before being accepted to Southwestern Medical School. After graduating in 1955, he completed an internship on the Harvard Medical Service at Boston City Hospital, trained in cardiology at Massachusetts General Hospital, and became a leading academic cardiologist after serving as the first director of the MGH Cardiac Catheterization Laboratory. He ultimately became a Professor of Medicine at Harvard Medical School and General Director of Massachusetts General Hospital.
After 26 years in medicine, Dr. Sanders switched careers, taking a leadership role in the pharmaceutical industry. In 1981, he was appointed head of research and development at Squibb Corp. in Princeton, N.J. Eight years later he joined Glaxo, where he served as CEO until 1994 and Chairman of the Board from 1992 to 1995. In 2005, he was named the first Chairman of the North Carolina Education Lottery Commission and started that state's lottery during his one-year appointment. He is Chairman Emeritus of Project Hope, a nonprofit organization that trains health care workers, equips hospitals, and provides humanitarian assistance to people around the world. In addition, he has been Chairman of the Board for the Foundation for the National Institutes of Health and past Chairman of The New York Academy of Sciences and The Commonwealth Fund.
Since its founding as Southwestern Medical School, UT Southwestern has been committed to preparing future physicians and researchers for success in academia and beyond, said Dr. Daniel K. Podolsky, President of UT Southwestern. Charles' remarkable accomplishments throughout his distinguished career personify the achievement one can realize when following a passion. We are grateful and proud that the Sanders have chosen to create a professorship with this meaningful gift, one that could make a tangible impact on the future of medicine.