School of Health Professions study to evaluate best materials for prosthetic feet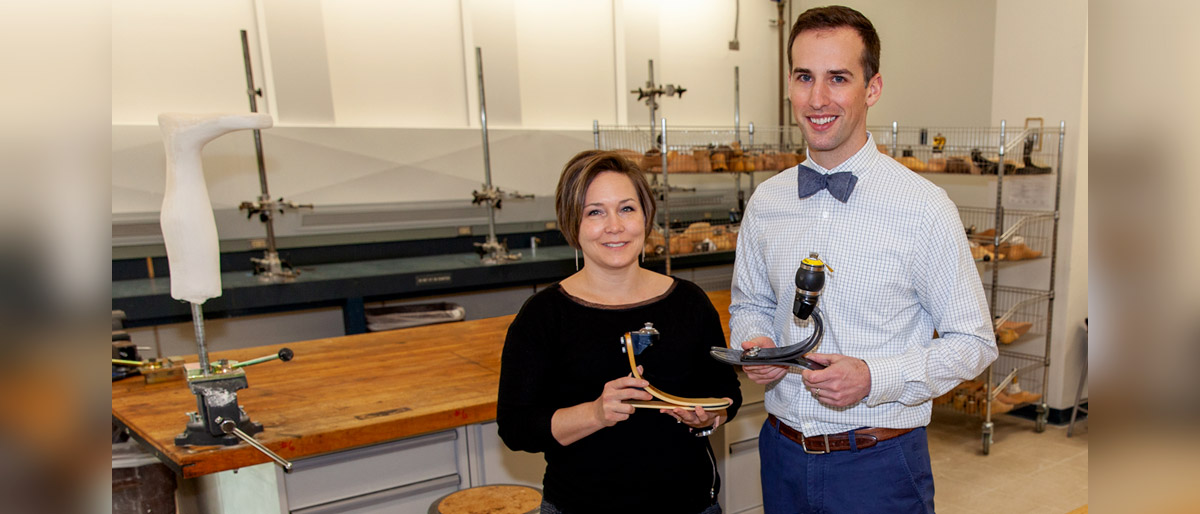 Faculty members in the UT Southwestern School of Health Professions' prosthetics-orthotics program hope to undertake one of the first comprehensive investigations of the properties of carbon fiber and fiberglass in prosthetic feet.
Although both material types have been used for years, Leslie Gray and David Wilson found scant comparative studies available. Fiberglass became a material option within the past decade.
"As prosthetists, we were curious if there was more quantitative evidence in the literature that could be used to assist in making clinical decisions between carbon fiber and fiberglass prosthetic feet," said Ms. Gray, who leads the School of Health Professions' program."​We were surprised just how little research has been done directly comparing the different composite prosthetic feet."
Employing databases PubMed, Ovid, ScienceDirect, Google Scholar, and ResearchGate as well as oandp.org, the UTSW team searched through nearly 20 years (2000-present) of peer-reviewed papers written in English and found only five published works. That dearth of information potentially can impact patient care but also offers research opportunities, said Ms. Gray and Mr. Wilson, both Assistant Professors.
"Each particular material has unique properties like weight, strength, durability, brittleness, the storage and transference of kinetic energy, as well as the longevity of prosthetic components, so we want to be able to best advise our patients on the optimum models for their needs and lifestyles," Mr. Wilson said.
Health care professionals rely largely on their experience with prosthetic models and patient lifestyles to help amputees make the best choice. Approximately 2 million people in the U.S. are living with a lower-limb amputation, with that number expected to increase to 3.6 million by 2050, according to recent studies. The majority of these patients, Mr. Wilson said, are dealing with the results of diabetes or vascular diseases.
"But unless they are in a wheelchair, it's much less in the public eye," he said. "For the majority, the lifelike prosthesis provides functionality but also veils the fact that these patients are still dealing with their conditions and circumstances."
Ms. Gray added, "There is not one best material for all situations. Prosthetists and orthotists must understand these material properties so we can design the best artificial limb or brace. The goal of prosthetic design is to mimic natural human function. In the case of prosthetic feet, advancements that make feet lighter, more durable, return more energy, and are adaptable for activities beyond basic walking and on a variety of terrain are having increasingly positive impacts on patients' lives."
Coverage of athletic competitions has shown amputees performing at extremely high levels using the blade design. But most amputees, the UTSW faculty members said, want daily functionality and performance using rubber-sleeved models that mimic the human foot.
"We do a physical exam to see how much of the limb remains, determine how strong the patient is, and assess their activities and hobbies," Mr. Wilson explained. "Over the months following amputation, we'll see the patient as we cast the residual limb, recheck for fittings, select and become familiar with the prosthesis, and work with patients as they relearn to walk. The human body is incredible, and I think it's exciting for all of us when you see a little of that light coming back on when patients realize they can regain functionality and independence."