DOCS Program Scholars share insights, goals for improved patient care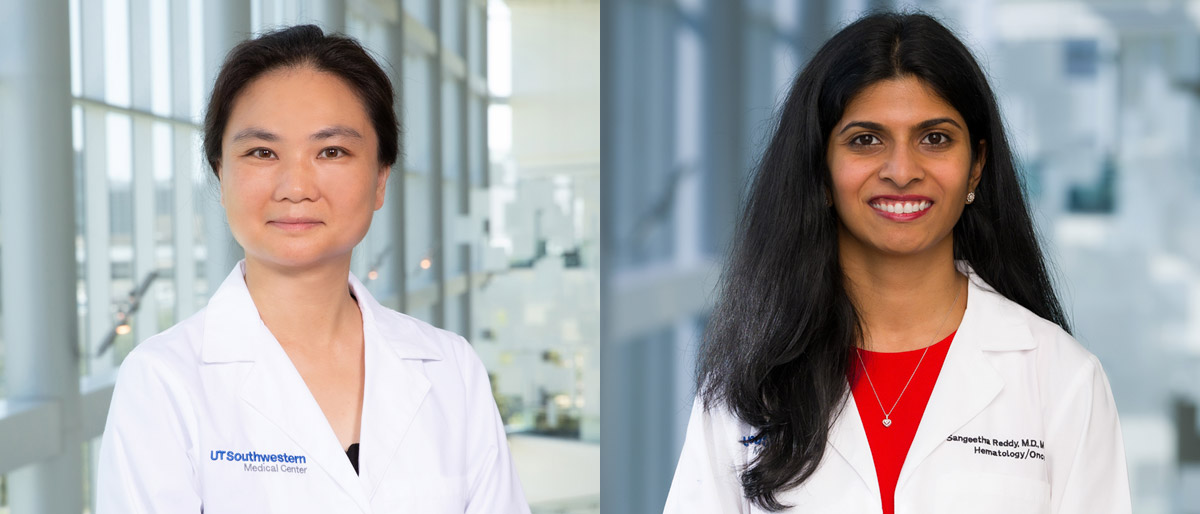 Dr. Sangeetha Reddy investigates how to improve breast cancer patient outcomes through immunotherapy. Dr. Lenette Lu's research largely revolves around studying tuberculosis, the leading cause of infectious disease deaths globally. Their commitment to advancing patient care has led to their selection as 2019 UT Southwestern Disease-Oriented Clinical Scholars (DOCS).
The goal of the DOCS Program is to grow clinical research. Scholars – who can receive as much as $1 million in support over four years – must have held the rank of Assistant Professor for less than three years and devote at least half of their time to research. UT Southwestern currently has 21 DOCS.
Dr. Reddy, an Assistant Professor of Internal Medicine who was recruited to UTSW through Cancer Prevention and Research Institute of Texas (CPRIT) support earlier this year, specializes in treating patients who have the highest risk and special circumstances, including those with metastatic disease, triple negative breast cancer, and inflammatory breast cancer.
A Harvard College graduate, she earned her medical degree at the David Geffen School of Medicine at UCLA and completed a residency in internal medicine as well as a Master of Science in clinical investigation at Northwestern University, where she also served as Chief Resident. She then received advanced training in hematology-oncology through an MD Anderson Cancer Center fellowship before joining its faculty in 2017.
Dr. Lu, also an Assistant Professor of Internal Medicine, is an infectious disease physician-scientist interested in antibodies, an important part of our immune system that protects us from infections. She earned both her medical and doctoral degrees at Case Western Reserve University in Cleveland, Ohio, before completing her internal medicine residency at New York Presbyterian Hospital, Cornell Campus, and an infectious diseases fellowship at Massachusetts General Hospital.
As UTSW's newest DOCS, Drs. Reddy and Lu recently shared some insights into their backgrounds, perspectives, and plans:
When did your interest in medicine and research begin?
Dr. Reddy: I've been interested in helping people since high school, when I was actively involved in community service. At the same time, I love problem-solving and trying to improve on current situations. As I grew older, medicine and more specifically cancer care seemed like the best way for me to help people in a truly comprehensive manner where I am treating them medically, socially, and emotionally. In addition, research is an important component of cancer treatment, so this field allowed me to embed my scientific interests into my patient care.
Dr. Lu: My grandparents were doctors and my parents were lab technicians. My grandmother was a short but fierce left-handed surgeon – no one could be more intimidating standing on a step stool than her. My mother had the ability to be equally intense, especially when scrutinizing solutions I made for her in the lab after school. But the most important way these women impacted my life was to let me be. I felt I had the freedom to be whomever I wanted, and that has led me here today.
Why are your areas of investigation important to you?
Dr. Lu: I get the opportunity to make basic science discoveries about how different beings and organisms relate to each other with the potential to have meaningful clinical impact. Antibodies provide a viewpoint that is fundamentally a critical component of how our bodies see microbes, yet there is so much we don't know about how they function. That's the exciting part – the unknown – because that's where the possibilities are endless.
Dr. Reddy: As a doctor, I am there to provide the best care possible for my cancer patients and help them and their family through this difficult time. I want to give patients treatments that are better than what we currently have available. Immunotherapy is a type of cancer therapy that has significantly improved cancer outcomes in other tumor types, but we are only beginning to scratch the surface of this in breast cancers. I am therefore invested in figuring out how to get this type of therapy to work effectively in breast cancer.
What does the DOCS Program mean to your research?
Dr. Reddy: There is the highest caliber of basic science here at UT Southwestern, excellent clinical care, and a supportive administration to help me build a "translational" research program that bridges advances in science to clinical care so our patients can get the highest quality of care possible. CPRIT funding and opportunities like the DOCS give me the time and resources necessary to support my efforts.
Dr. Lu: Antibodies are exciting for the field of tuberculosis because they represent an area of research that could explain a lot of what we don't understand about the immune response to infection. One in 4 individuals worldwide is infected with Mycobacterium tuberculosis, the bacteria that causes tuberculosis. By improving our understanding of the relationship between us and Mtb through the lens of antibodies, we can begin to develop better tools to fight the disease.
Tell us more about yourselves.
Dr. Lu: I was born in Shanghai and immigrated to the United States when I was 4 years old. I grew up in San Francisco, then moved to the East Coast for college, the Midwest for medical and graduate school, and then back to the East Coast for residency, fellowship, and my initial postgraduate years.
Dr. Reddy: I was born in Baltimore, but grew up in Southern California. I am married with two little ones and enjoy spending any available free time with them. Outside of taking care of my patients, doing research, and spending time with family, I absolutely love hiking. My husband and I tend to take an international hiking trip every couple of years to experience nature in its most beautiful form.