Rogers is appointed Professor Emeritus of Pediatrics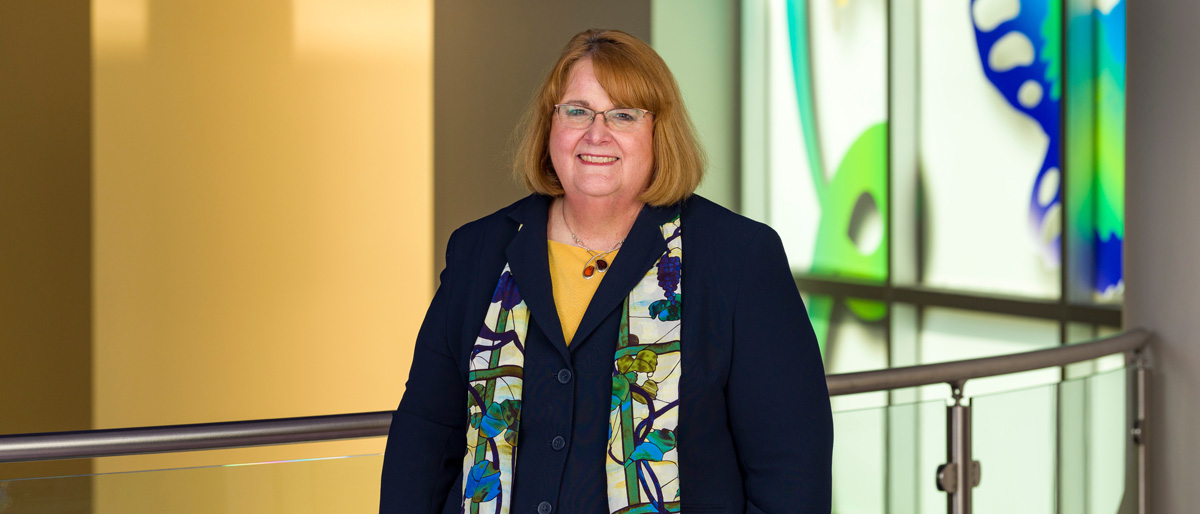 In 1987, just a week into beginning a fellowship at UT Southwestern, pediatric hematologist-oncologist Dr. Zora Rogers received news of two major surprises – she was pregnant with twins.
It's not something I would recommend as a career choice, Dr. Rogers said with a laugh.
As a young female physician in the 1980s, pregnancy might have dramatically redirected – or ended – her career. Instead, her then-Division Director and later mentor Dr. George Buchanan, Professor Emeritus of Pediatrics, accommodated this challenge, adjusting call schedules and training calendars to allow her to continue doing her job. That experience taught her about making unexpected life challenges work – a lesson that has carried her throughout her time at UT Southwestern.
I was a fellow and a new mother with two kids, with a husband starting a urology practice, but in an exciting place doing the kind of medicine I wanted to do. We decided to just see how it would work, and then it was 30 years later, Dr. Rogers said. It's always worked out, somehow.
Since navigating that unanticipated life event and building a successful medical and research career at UTSW, Dr. Rogers is now ready to scale back professionally. A faculty member since 1990, she retired in June and has been appointed Professor Emeritus of Pediatrics. The appointment will allow her to continue to contribute nationally to her specialty by publication of research and advocacy through professional organizations. (She is now in her second term as Chair of the American Academy of Pediatrics' Section on Hematology/Oncology.)
One of her research focus areas is sickle cell disease, a blood disorder that in the United States most commonly occurs in African Americans. From 1983-1987, she trained at the Los Angeles County-University of Southern California Medical Center, where the largest group of patients in hematology had sickle cell disease.
Sickle cell disease patients needed care and organized research to drive that care. For me it was a field that was intellectually interesting, had a clear community service commitment, and offered the challenge of publishing my own research, Dr. Rogers said.
UT Southwestern had a developing clinical and research program in sickle cell disease at the time. Dr. Rogers and her husband moved to Dallas so she could finish her fellowship at UTSW.
One of her most significant research contributions has been the use of the medication hydroxyurea – commonly used to treat certain types of cancer – to treat children with sickle cell disease. In 1996, she participated in a four-institution pilot to test treating young children with this medication before they developed significant symptoms. This led to the 15-year-long National Institutes of Health-funded BABY HUG study that demonstrated the safety and benefits of this approach.
I am proud that I have data to back up my belief that hydroxyurea is a good option for all young children with sickle cell disease. The risks – while small – can be managed, and the benefit is potentially substantial, Dr. Rogers said.
Her commitment to this research has been critically important to UT Southwestern's significant contributions in the field.
Dr. Rogers is an international expert in sickle cell disease and bone marrow failure in children. As a Professor Emeritus, she will continue to be a valuable mentor for our trainees and junior faculty members, said Dr. Stephen Skapek, Chief of the Division of Pediatric Hematology and Oncology. Additionally, Dr. Rogers' experience guiding clinical research in children with sickle cell disease has helped to position UT Southwestern as a leader in the field.
Besides continuing her research work, Dr. Rogers is looking forward to the personal impact of retirement, including spending quality time with her husband and visiting her twins, who live on opposite coasts. Her daughter, a 2014 UT Southwestern Medical School graduate, is an infectious disease fellow at the Children's Hospital of Philadelphia. Her son is pursuing his doctorate in political science at the University of California, Berkeley, which is Dr. Rogers' undergraduate alma mater.
Looking back, Dr. Rogers said her goal was to be the best mother and doctor she could be, and that each role informed the other.
As a mother I could understand what patients' parents were going through, but also it helped me understand that parents needed someone to lead the way, not just cry with them, Dr. Rogers said. As a clinician I am proud that my patients' parents listened to me and knew I only cared about the best interests of their child.