Punaro is appointed Professor Emeritus of Pediatrics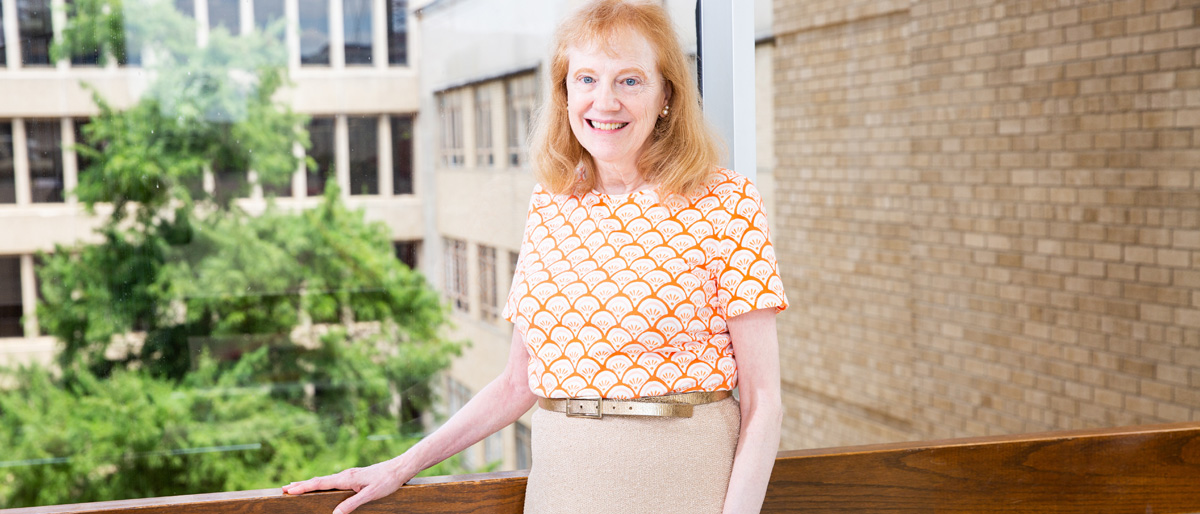 This winter, pediatric rheumatologist Dr. Marilynn Punaro is looking forward to taking a long cruise to Antarctica. It's a well-deserved break after 40-plus years as an esteemed clinician, researcher, and mentor at UT Southwestern.
After so many years it's simultaneously hard to believe it's really happening, finally, Dr. Punaro said about her retirement in July. It's a little bit terrifying, but I think the fact that I will be a Professor Emeritus is reassuring because it lets me continue to have a link to some of the work that I enjoy the most.
Indeed, Dr. Punaro's longtime dedicated service and contributions to UT Southwestern across all three of its missions have earned her the recent appointment as Professor Emeritus of Pediatrics.
Dr. Punaro is an extraordinary clinician. Her career has been defined not only by her impeccable diagnostic skills, bedside grace, and compassion and loyalty to her patients, but also by the scientific rigor with which she has approached all clinical problems, from the mundane to the esoteric, said Dr. Julio Pérez-Fontán, Chair of Pediatrics.
Initially interested in nursing, Dr. Punaro volunteered as a hospital candy striper in middle school – an experience that influenced her to become a doctor instead. Mystery was part of her attraction to medicine.
I always liked solving mysteries. I liked the diagnostic process, and so I think that partly attracted me to rheumatology because this is a subspecialty where we see a lot of patients who are difficult to diagnose, she said.
As a researcher, Dr. Punaro's primary focus has been pediatric lupus and autoinflammatory diseases. She is particularly proud of contributing to the discovery of an improved treatment for systemic arthritis, a disease that had higher mortality rates for children in the past.
It was formerly treated with corticosteroids, which have toxic side effects. But in 2003, a UTSW research team that included Dr. Punaro discovered a connection between the gene interleukin 1 and systemic arthritis. A medication that blocked interleukin 1 was already on the market at the time – anakinra – to treat another condition. This new discovery made it possible to prescribe the medication to children with systemic arthritis.
You could take a child and give them an injection of this medication and an hour later they'd be in the playroom, and you could just turn it off almost like a light switch in most patients. And that has profoundly changed how we treat that disease, which was one of the more serious diseases in our field, she said.
Dr. Punaro joined the UT Southwestern faculty in 1996 and was named Chief of the Division of Pediatric Rheumatology in 2004. In 2014, UT Southwestern honored Dr. Punaro with the Patricia and William L. Watson Jr., M.D. Award for Excellence in Clinical Medicine, which is given to a faculty member each year to recognize outstanding work as a clinician.
In 2018, she received the American College of Rheumatology's Distinguished Clinician Scholar Award, which recognizes a physician's clinical care, research, and scholarly activity. She also served as a Master of UT Southwestern's Fashena College starting in 2013, leading to her later appointment holding the Nadine and Tom Craddick Professorship in Medical Education.
One of her interests is mentoring early career faculty members and trainees, especially women. Dr. Punaro graduated from Tulane University Medical School in 1977 in a class of just 15 women out of 175 students. Reflecting on starting her career at a time when gender diversity was scarce among physicians, she said she's pleased to see the medical industry become more gender inclusive.
It's so different now when half of medical students are female, and in pediatrics it's three-quarters. In my field, at least three-quarters of pediatric rheumatologists are women, Dr. Punaro said. It's very encouraging that trend is starting to be more representational.