Nobel Laureate Deisenhofer is appointed Professor Emeritus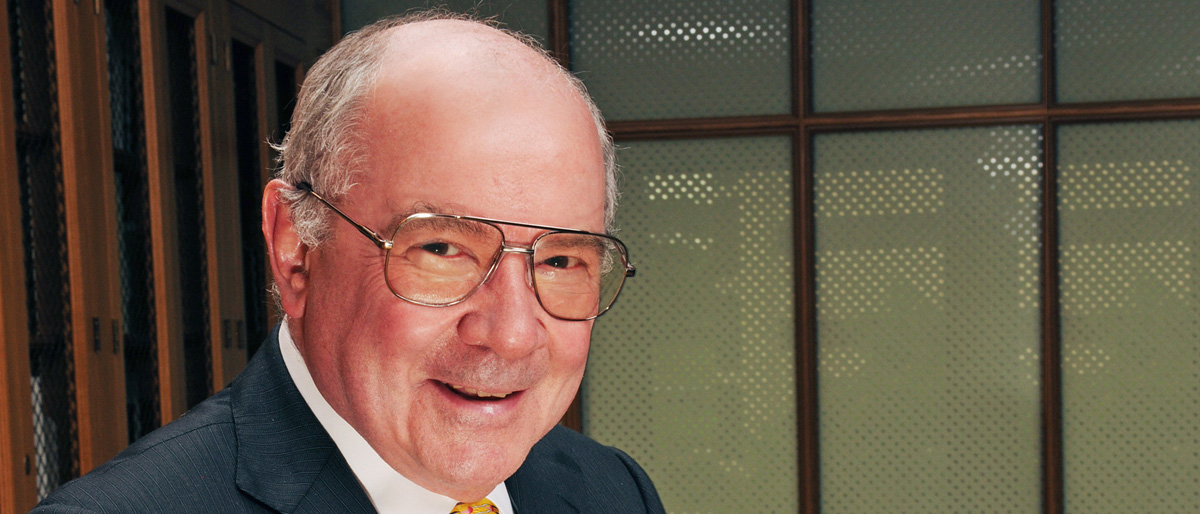 Dr. Johann Deisenhofer, winner of the 1988 Nobel Prize in Chemistry for using X-ray crystallography to determine the first 3D atomic structure of a large membrane-bound protein molecule, has been named Professor Emeritus.
The Nobel Prize-winning research that he shared with two collaborators helped explain photosynthesis – the process by which sunlight is converted to chemical energy. The Royal Swedish Academy of Sciences describes this process as "the most important chemical reaction on earth."
Dr. Deisenhofer, now a Professor Emeritus of Biophysics and in the Cecil H. and Ida Green Comprehensive Center for Molecular, Computational, and Systems Biology, began his scientific journey by avoiding the career that he was expected to follow. "I was born during World War II on a farm in Southern Bavaria. According to local tradition, I was destined to take over the farm from my parents. However, I never showed any interest in farming, and when I was 13, my parents and teachers helped me to get into middle school and high school," said Dr. Deisenhofer, a Regental Professor whose colleagues often call him Hans.
He studied physics at the Technical University of Munich, then pursued his Ph.D. in biophysics at the Max Planck Institute for Biochemistry near Munich. There, Dr. Deisenhofer worked in Dr. Robert Huber's laboratory, studying the 3D structure of proteins using X-ray crystallography. From 1982 to 1985, he analyzed the structure of crystals created by Dr. Hartmut Michel, who worked in another laboratory there. Drs. Deisenhofer, Huber, and Michel were awarded the Nobel Prize for this work.
The same year he won the Nobel, Dr. Deisenhofer joined UT Southwestern's Department of Biochemistry and became a Howard Hughes Medical Institute (HHMI) Investigator.
Nobel Laureate Dr. Michael Brown, Director of the Erik Jonsson Center for Research in Molecular Genetics and Human Disease, remembers Dr. Deisenhofer's UTSW arrival and his receipt of the Nobel eight months later. In 1985, Dr. Brown and Dr. Joseph Goldstein became the University's first Nobel Laureates for their discovery of the underlying mechanisms of cholesterol metabolism.
"Hans is a brilliant scientist who has been a valued collaborator with Joe and me. He was recruited to Dallas by Dr. Joe Sambrook, Dr. Steve McKnight's predecessor as former Chair of Biochemistry. At the time, X-ray crystallography was beginning to reveal the structures of important proteins.
"Our school had little expertise in this field. Dr. Sambrook remedied this deficit by recruiting one of the most brilliant crystallographers in the world. Trained as a physicist, Hans had already devised novel methods to solve the structure of the most complex membrane protein ever analyzed. His recruitment to Dallas was a brilliant stroke," Dr. Brown recalled. "Hans says he came because of the weather, but I believe he came because he appreciated the depth of the biology that was being explored at UT Southwestern. He realized this would be a rich substrate for his skill in deciphering protein structures."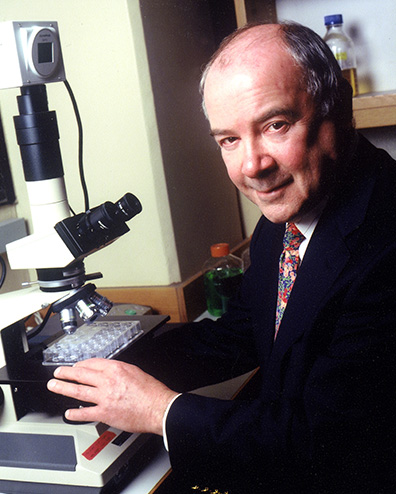 Dr. Deisenhofer found more than good biology at UT Southwestern; he found a life partner – Dr. Kirsten Fischer-Lindahl, a Professor Emeritus of Immunology and the University's first HHMI Investigator, whom he met during his initial recruitment visit in 1986. They married in 1989.
"Kirsten had moved to Dallas from Switzerland in 1985 to join the faculty of the Department of Microbiology, with a secondary appointment in Biochemistry. Joe Sambrook asked her to show me around in Dallas during my first visit. After my move to Dallas in 1988, we fell in love," Dr. Deisenhofer said. The couple enjoys dividing time between Dallas and their home in Jackson Hole, Wyoming. Their hobbies include downhill skiing, listening to classical music, and taking walks.
Dr. Brown remembers one very specific reaction to Dr. Deisenhofer's Nobel win.
"When Hans' Nobel Prize was announced, Joe and I rejoiced. It proved that our own prize was not a fluke, and that UT Southwestern was indeed a place that could turn out Nobel Prize winners," he said.
Dr. Deisenhofer is the kind of Laureate Dr. Goldstein most admires.
"In the 25 years after winning the Nobel, Hans and his colleagues solved the three-dimensional crystal structures of many proteins that had not heretofore been studied – a truly remarkable achievement," said Dr. Goldstein, Chair of the Department of Molecular Genetics. "Seven of his structures involved proteins in cholesterol metabolism. Hans' structures of the LDL receptor, HMG-CoA reductase, NPC1, and PCSK9 are now textbook classics that helped inform the biopharmaceutical industry in drug design. Mike Brown and I found him to be the ideal collaborator and always the quintessential gentleman and scholar."
An active member of the UT Southwestern community, Dr. Deisenhofer helped establish the Structural Biology Laboratory (SBL) core facility in 2000.
"It was clear to many investigators on campus that 3D structural information on proteins was critical for understanding biological function, and Hans had the foresight to lobby for the creation of the SBL that year," said Dr. Diana Tomchick, Professor of Biophysics and Biochemistry and Director of the SBL. "At that time, there was no other university core lab quite like it in the United States."
Critical to the success of the SBL, she added, was Dr. Deisenhofer's requirement that all staff had the right mix of scientific and people skills to work independently, due to the collaborative nature of the core lab mission.
Dr. Michael Rosen, Chair of Biophysics, called Dr. Deisenhofer the backbone of UT Southwestern's biophysics community for more than 30 years.
"He has provided scientific excellence, enthusiastic collaboration, thoughtful advice, delightful humor, and deep wisdom to scientists across our campus," Dr. Rosen said. "We all owe Hans a great debt, and hope to continue interacting with him professionally and personally for many years to come."