PRC selects Infante, Newton for Distinguished Researcher Awards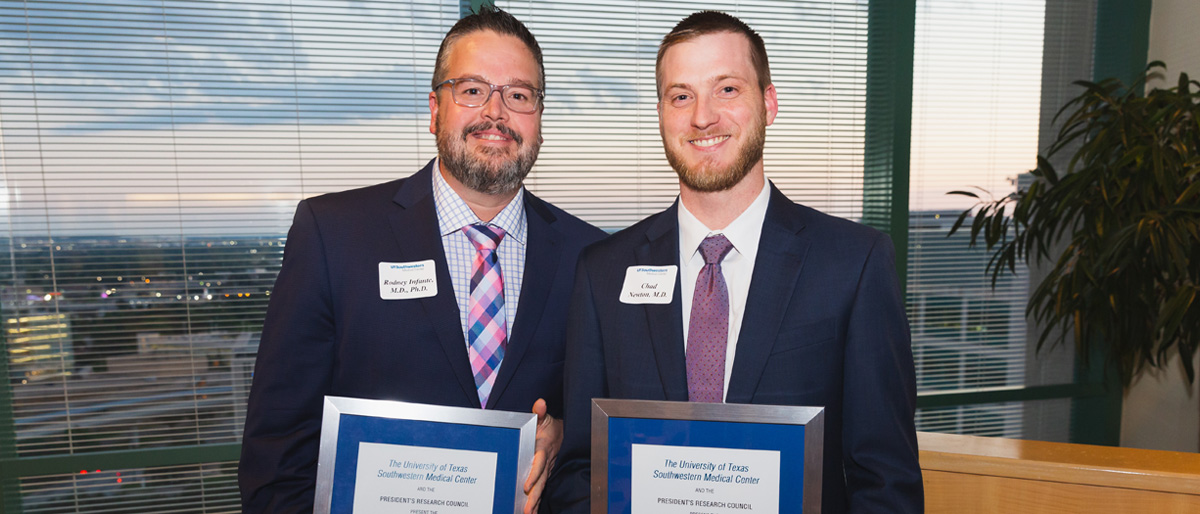 The UT Southwestern President's Research Council (PRC), a group of community members committed to learning about and advancing medical research at UT Southwestern, annually contributes funding to support the work of early career faculty. This year, the PRC selected two former trainees who are now faculty members – Dr. Rodney Infante and Dr. Chad Newton – to receive Distinguished Researcher Awards.
The awards will support their work aimed at discovering new therapies for cancer patients with cachexia and identifying unique molecular signatures in pulmonary fibrosis.
The annual awards provide research funding of $75,000 to each recipient and are designed to honor and help further the work of early career researchers who are emerging leaders in their fields.
We are grateful to the President's Research Council for its support of promising laboratory work aimed at benefiting patients that Dr. Infante is pursuing to advance treatment options for cancer patients and the research that Dr. Newton is conducting to better understand and ultimately treat those with pulmonary fibrosis, said Dr. Daniel K. Podolsky, President of UT Southwestern.
Dr. Infante, Assistant Professor in the Center for Human Nutrition, studies body fat regulation in cachexia and obesity. Cancer cachexia is a form of metabolic mutiny – a devastating wasting syndrome consisting of severe weight, fat, and muscle loss that is responsible for one-third of all cancer-related deaths while shortening by half the lifespans of those so affected.
I am extremely honored that I was selected by the PRC, said Dr. Infante, who has a secondary appointment in Internal Medicine. The PRC's support allows for aggressive approaches to solving a syndrome with no current effective interventions.
Dr. Newton, Assistant Professor of Internal Medicine, has discovered that underlying genomic markers may help physicians understand which pulmonary fibrosis patients are at high risk for poor outcomes. Pulmonary fibrosis, also called interstitial lung disease, is a disorder that has more than 200 potential causes, including exposure to mold, asbestos, radiation, and certain medications, as well as systemic diseases such as rheumatoid arthritis or lupus. Dr. Newton aims to define a novel and consistent classification of these diseases.
I am absolutely honored to receive such prestigious recognition and generous support from the President's Research Council, Dr. Newton said. These funds will allow me to exponentially grow my patient cohort in order to accelerate the discovery of informative and impactful predictive markers. Currently, clinicians are unable to predict which patients will experience rapid disease progression and who may benefit from earlier and aggressive intervention.
Dr. Rodney Infante
Dr. Infante wants to better understand how cancers can cause cachexia wasting syndrome. Not only do these patients experience poor quality of life, but cachexia can hinder response to cancer care. Because no effective treatments exist, doctors often use nonapproved medications of limited benefit.
Factors leading to cachexia could also be used to study body fat regulation in obesity, Dr. Infante said. His long-term goal is to discover new therapeutic targets to treat both conditions.
I have great expectations for Dr. Infante as a physician-scientist and I anticipate that with the proper support he will carry out innovative research that will have a major impact in his field, Dr. Jay Horton, Director of the Center for Human Nutrition, wrote in his endorsement to the PRC.
A Medical Scientist Training Program alumnus, Dr. Infante did his predoctoral work in the lab of Nobel Laureates Drs. Michael Brown and Joseph Goldstein and received his M.D. and Ph.D. degrees in 2012 before completing an internal medicine residency at Massachusetts General Hospital. He returned to UT Southwestern for a digestive and liver disease fellowship before joining the faculty in late 2017.
Dr. Chad Newton
A faculty member since 2017, Dr. Newton earned his medical degree and completed his internal medicine residency and pulmonary and critical care fellowship at UTSW. During his fellowship, he worked in the laboratory of former faculty member Dr. Christine Garcia, developing expertise in the biology and genetics of pulmonary fibrosis.
Pulmonary fibrosis has many potential causes, but in more than half of cases doctors are unable to pinpoint a specific cause. Symptoms can be easily misdiagnosed, and for many patients that means rapid, irreversible loss of lung function before the right treatment is found.
PRC support will allow Dr. Newton to use blood lymphocytes to discover unique molecular signatures that differentiate subtypes of the condition; study molecular markers that predict rate of lung function decline across subtypes; and investigate molecular markers for lung function deterioration.
Dr. Newton's outstanding training and research experience form a foundation of clinical and translational research skills that he can use to build upon as he incorporates these innovative techniques to discover informative and impactful clinical markers, said Dr. David Johnson, Chairman of Internal Medicine, in his nominating correspondence to the PRC.