Pfeiffer earns Pew award to further innate immunity discoveries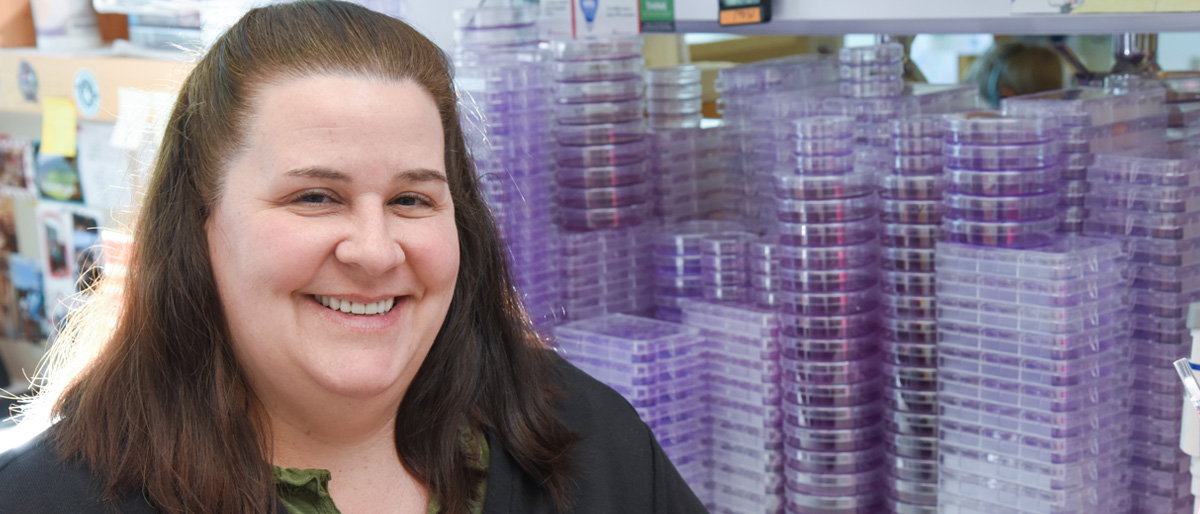 UT Southwestern virologist Dr. Julie Pfeiffer has been selected to join the Pew Charitable Trusts' 2019 class of Innovation Fund investigators to launch a joint research project on innate immunity.
Dr. Pfeiffer, Professor of Microbiology, will partner with Dr. Nicole King, Professor of Molecular and Cell Biology at the University of California, Berkeley, to pursue research as one of six pairs of investigators this year. The Pew program, open to alumni of Pew's biomedical programs in the United States, pairs researchers from multiple disciplines to advance scientific discovery and improve human health. The Pfeiffer-King collaboration will receive $200,000 over two years.
Dr. Pfeiffer, a 2007 Pew biomedical scholar and a Howard Hughes Medical Institute (HHMI) Faculty Scholar, and Dr. King, a 2004 Pew biomedical scholar and an HHMI Investigator, will further their biological studies of aquatic, unicellular organisms called choanoflagellates.
"We will examine innate immune responses in choanoflagellates – unicellular protozoa that are the closest living relatives of animals. Choanoflagellates do not have genes required for known pathogen response pathways, so we hope to discover new pathways that may also be operative but undiscovered in animals," Dr. Pfeiffer said. "This award allows us to take some real risks with 'swing for the fences' experiments."
Chair of Microbiology Dr. Michael Norgard said the Pew Charitable Trusts honor is another instance in which Dr. Pfeiffer's bold and progressive research program has garnered recognition from a very distinguished funding organization.
"Her imaginative research continues to hold exciting promise for all kinds of unforeseen discoveries in cell and molecular biology," Dr. Norgard said.
Dr. Pfeiffer met Dr. King at her first Pew Scholars meeting in Aruba in 2008. "She spoke about her work with choanoflagellates and it was amazing. We kept up with each other over the years at occasional conferences and seminar visits, but I never thought I would enter the choanoflagellate field."
Dr. Pfeiffer described Dr. Arielle Woznica, a postdoctoral researcher in her lab and an HHMI 2018 Hanna Gray Fellow, as a driving force behind the collaboration. While working on her Ph.D. in molecular and cell biology at UC Berkeley, Dr. Woznica did her thesis work on choanoflagellates in Dr. King's lab. She joined Dr. Pfeiffer's lab as a postdoctoral fellow to learn virology and study virus-bacterial interactions in mammalian systems. However, she retained an interest in choanoflagellates – and found a readily available supply to study in a campus stream adjacent to their UTSW research building.
One day she wondered whether choanoflagellates are infected by viruses, and if so, how they respond, Dr. Pfeiffer said. We discussed several ideas and thought it was a great system to explore the origins of innate immunity. Nicole was a familiar and supportive collaborator from the start.
Now the Innovation Fund collaborators hope to make fundamental discoveries in immunity by leveraging the combined expertise of their labs – viruses, bacteria, and innate immunity in Dr. Pfeiffer's lab and choanoflagellates, evolution, and cell biology in Dr. King's lab.
This project is focused on understanding very basic, fundamental biology. However, insights from studies with model organisms like these have led to important discoveries such as RNA interference, Dr. Pfeiffer said.
Dr. Pfeiffer will host Dr. King at a University Lecture Series presentation, "Choanoflagellates: Bacteria and the Origin of Animals" on Oct. 9 from 4 p.m. to 5 p.m. in Zale Lecture Hall, D1.600, on South Campus.