Making life easier for those who serve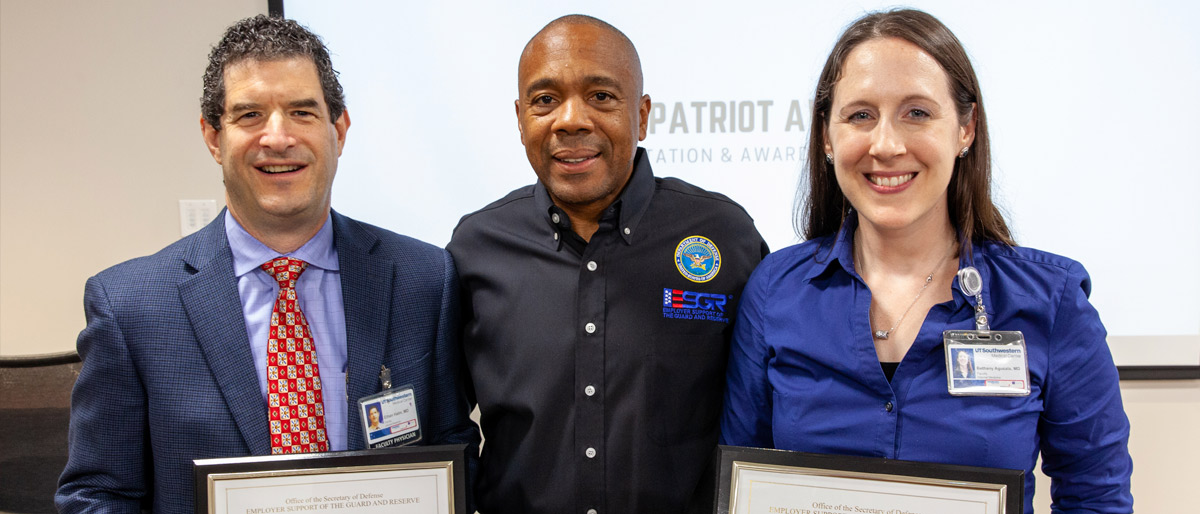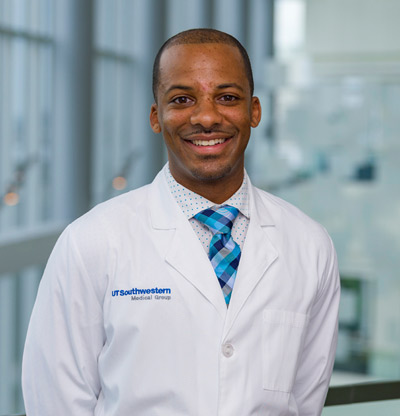 Mandell Butler Jr. doesn't just support his patients as a nurse practitioner; he also serves his country as a lieutenant in the United States Navy Reserve. Because his supervisors at UT Southwestern make that combination easier, he nominated two of them to receive Patriot Awards.
The awards, given by the Department of Defense, recognize supervisors who support those who volunteer for the National Guard and Reserve, said retired Lt. Col. Russell Hooper, an Army veteran who presented the awards to two UT Southwestern faculty members. A member of the Guard or Reserve, or the spouse of one, can nominate a supervisor for the award that is given as part of the DOD's Employer Support of the Guard and Reserve program.
Dr. Ethan Halm, Professor of Internal Medicine and Population and Data Sciences, and Dr. Bethany Agusala, Assistant Professor of Internal Medicine, each received a 2019 Patriot Award – which included a framed certificate and a lapel pin – at a Sept. 24 ceremony in Professional Outpatient Building 2.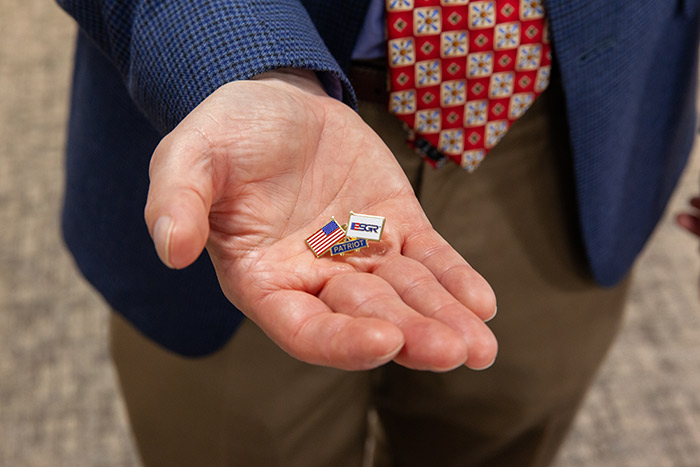 "We depend a whole lot on our citizen soldiers," said Lt. Col. Hooper, and the backing of the supervisors they work for is important as they leave work for training or, sometimes, active duty. "If you're worried about your job or you're worried about your family, you can't concentrate on what you're doing."
Lt. Butler, who holds a Doctor of Nursing Practice (DNP) as well as the FNP-C as a Certified Family Nurse Practitioner, said his supervisors in the William T. and Gay F. Solomon General Internal Medicine Clinic at UT Southwestern always step up. "When I have to go away for two weeks for annual training, they make sure my patients are taken care of. Even my messages are answered," he said. As an added perk, UT Southwestern continues paying his salary while he is gone. Lt. Butler is also an Advanced Practice Registered Nurse, or APRN.
"It was a great honor," Dr. Agusala said of her award. "I'm always so proud to support our veterans and our guardsmen and reservists."
"My dad and my father-in-law were both Korean War vets," Dr. Halm said. "We're supportive of Mr. Butler's service. We have a great team in the General Internal Medicine Clinic, which deserves a big thank-you for providing coverage when needed."
Lt. Butler is a "fantastic" employee – "smart, positive, team-oriented," Dr. Halm added.
The Navy Reserve lieutenant returned the compliment, saying the way his UT Southwestern supervisors treat him "makes me feel great, makes me feel appreciated. It's just being respected for the service provided."