UTSW palliative care team fulfills cancer patient's dying wishes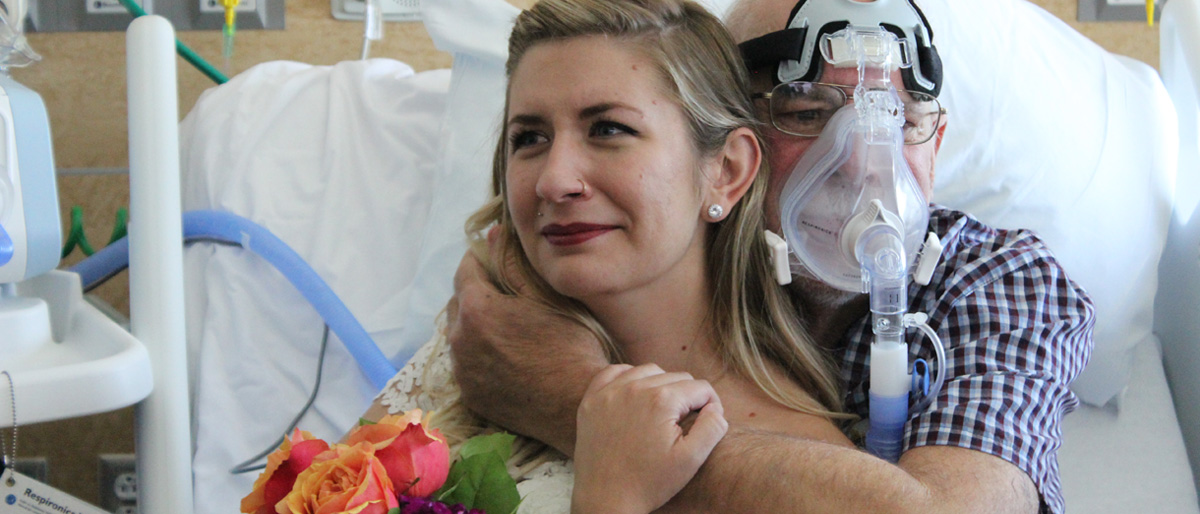 This story was originally posted on Center Times Plus on March 22, 2019.
---
Room 1154 seemed an unlikely venue for nuptials – the sounds of hospital monitors and a breathing machine replaced wedding bells, a chaplain coordinated catering for the reception, two Neonatal Intensive Care Unit (NICU) rooms became temporary dressing rooms, and a nurse director captured it all with her camera. But one day last August, father of the bride Thomas William "Bill" Hays gave his only daughter away from his hospital bed, one of his last wishes before dying of lung cancer.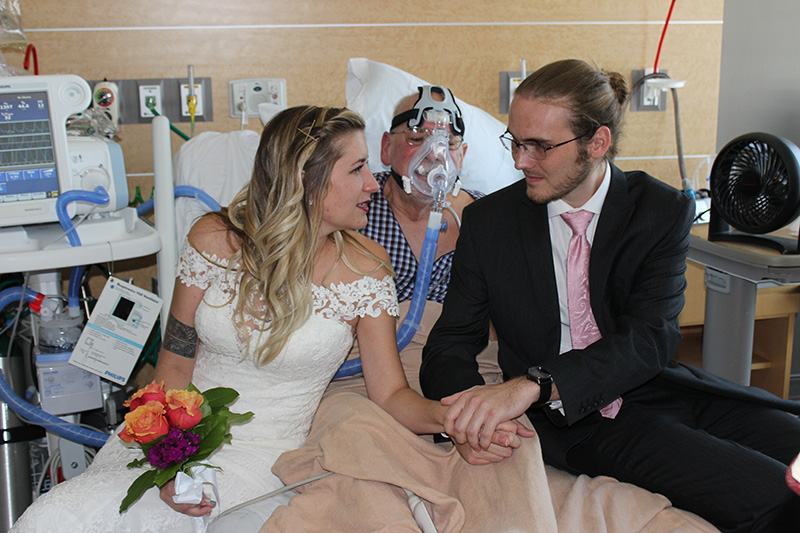 "The joy in the father's eyes as his daughter entered the room was a beautiful example of how our team keeps heart at the center of the care we provide."
His wife, Lisa Hays, still wears her wedding ring. Mrs. Hays, a staff nurse in the NICU at William P. Clements Jr. University Hospital, remembers her husband for his dry sense of humor and kindness. She appreciates how UT Southwestern staff went out of their way to make his last days meaningful.
Their difficult journey began when Mr. Hays went to UT Southwestern's Sleep and Breathing Disorders Clinic in April 2017 for a routine follow-up appointment. After he complained of shortness of breath, his lungs were examined and doctors admitted Mr. Hays to Clements University Hospital for what turned out to be an 11-night stay.
"He was diagnosed with incurable stage 4a adenocarcinoma lung cancer, and palliative care staff introduced themselves immediately," Mrs. Hays said. "I wish everyone who was facing a struggle that is likely to end in death would seek palliative care. He had excellent care and treatment here at UTSW the entire time."
Commonly confused with hospice, palliative care is specialized care for patients with serious illnesses. The care aims to manage symptoms and relieve physical and mental stress, which can result in living longer with a higher quality of life.
Before Mr. Hays began chemotherapy, palliative care staff first helped control his chronic back pain, which had developed after years of manual labor. Over a year later, on Aug. 8, 2018, he was admitted to Clements University Hospital again for shortness of breath and a cough. His family assumed it was pneumonia. Instead, this hospital stay was due to complications from his lung cancer.
Then real-life genies appeared.
Mr. Hays wanted to go home, but the equipment needed to sustain his breathing was too complex for home health care. He could die on the ride home. Instead of only explaining why he could not leave, Dr. Caitlin Holt Siropaides asked Mr. Hays what he wanted to do outside of the hospital. He wanted to see Tobey, his beloved canine of over 13 years, and attend his daughter's wedding.
"It broke my heart knowing that we couldn't get Mr. Hays home because of how sick he was. So the next best thing was to bring home to the hospital," said Dr. Siropaides, Assistant Professor of Internal Medicine, Supportive and Palliative Care Clinic. "For Mr. Hays, his family and his dog were such an important part of his life, and he had told me he wanted to die at home, with his dog at his side, watching TV as loud as he wanted. I still smile thinking about it."
Making dreams come true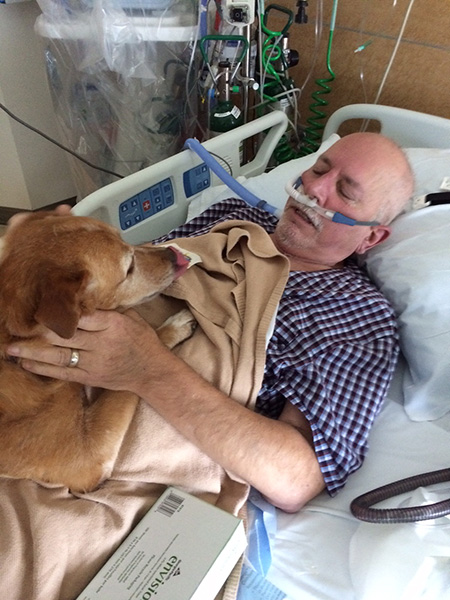 That same August, Clements University Hospital staff welcomed Tobey as Mrs. Hays brought him in through private passageways and winding corridors, thanks to the coordination of Gina Biddle, Staff Chaplain for Supportive/Palliative Care. The well-groomed, well-behaved, mixed pedigree pup got one last chance to love on his companion. For a moment, in his hospital bed, Mr. Hays was at home.
"I was so focused on Bill and his well-being that I can't remember how it all happened," Mrs. Hays said. "Everything just snowballed. The team was very good to our family."
About the same time, Mr. Hays' daughter, Micaela Hays-Brewer, arrived from Georgia to spend time with her ailing father – with no intentions of moving up her Oct. 20 wedding date. But quickly she changed her mind, and a judge signed off on paperwork granting a license for an Aug. 17 ceremony at the hospital. Her fiancé boarded a flight from Georgia to Texas, with her wedding dress in tow.
"Once things looked as though they were coming toward the end for my dad, the staff helped me and my now-husband put together a wedding ceremony right there in the hospital so my dad was able to give me away," said Mrs. Hays-Brewer.
Wedding day
"The ceremony was spectacular! The staff really made us feel loved like we were all family. It was a truly magical moment, and I couldn't thank everyone who helped make the day come together so perfectly enough," she said.
Aziza Larkin Young, RN, a Manager in the NICU where Mrs. Hays works, not only provided spaces for the bride and groom to get ready, she scrambled to get together a bouquet.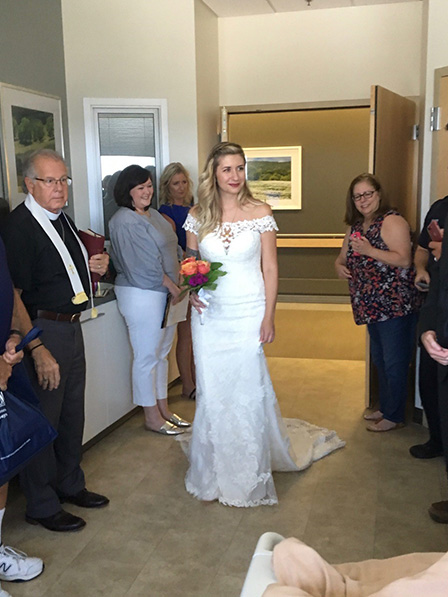 "In the process of the couple changing into their gown and tuxedo, we realized the bride did not have a bouquet. Many thanks to Judy Bowen of Lori's Gifts at Clements University Hospital for quickly taking some flowers out of a vase and making a beautiful bridal bouquet," Ms. Young said. "We just wanted this journey to be memorable for all."
The wedding cake was provided by Dietary Services, a labor of love for complete strangers.
"The chefs brought the cake to the room and were able to meet Mr. Hays, shake his hand, and tell him they were proud to offer this gift," said Chaplain Biddle. "This was a great day all around for everyone and a true blessing."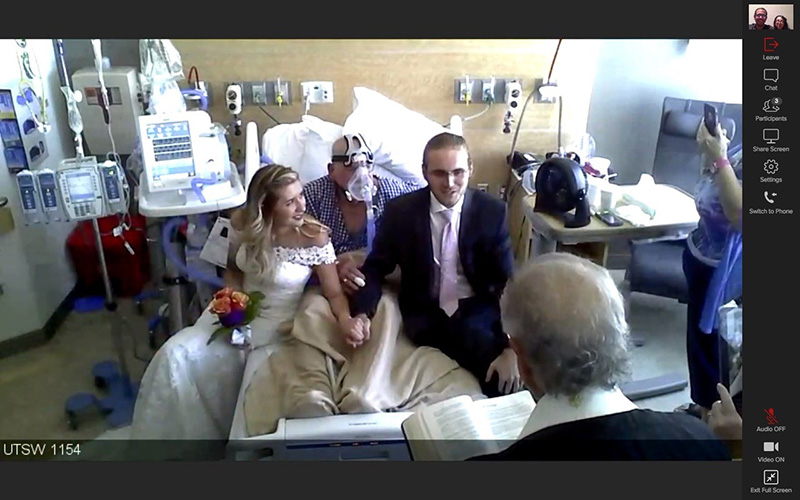 When everything was in place, the bride walked down the hospital hallway "aisle" and into her father's room. As her stepbrother watched from Spain via webcam, Mrs. Hays-Brewer sat on her father's hospital bed and the ceremony began. Amanda Truelove, Director of Nursing, Women's Services, documented the moment. With each click of her camera, the nurse and photography professional immortalized a smile, a tear, a hug, a kiss, and memories to last a lifetime.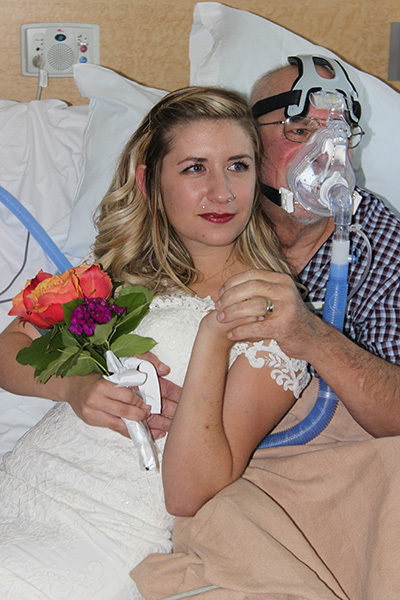 "It was such an honor to be able to participate and capture photos of such a special occasion," Ms. Truelove said. "The joy in the father's eyes as his daughter entered the room was a beautiful example of how our team keeps heart at the center of the care we provide."
Just three days later, on Aug. 20, Mr. Hays passed away. His face was serene, which brought immense comfort to Mrs. Hays, as the burden of cancer lifted from his body.
In October, Mrs. Hays-Brewer held her formal wedding in Georgia, her father at her side in a way – a photo charm of her and her daddy circling her bouquet.
"I wish everyone who was facing a struggle that is likely to end in death seek palliative care. He had excellent care and treatment here at UTSW the entire time."