UT Southwestern community celebrates artistic achievement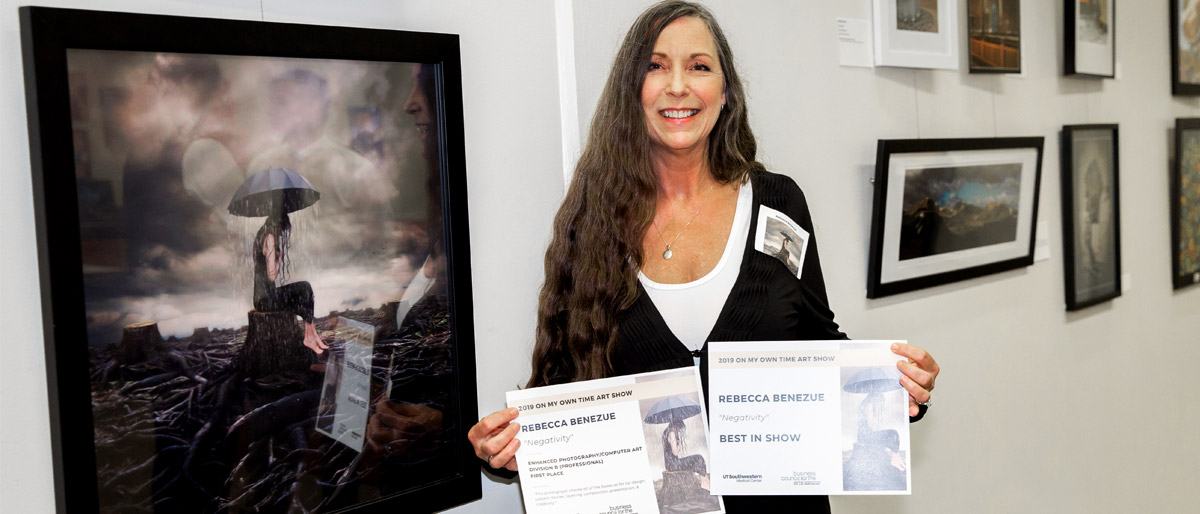 UT Southwestern is a place where an ultrasound technologist and a registered nurse, among others, can be recognized not only for their daily work, but also for their creative endeavors – imagine strawberries splashing, Hindu mythological characters, and a rain-producing umbrella. The annual regional On My Own Time (OMOT) art exhibit and competition provides such an opportunity for the UT Southwestern community to share these inspired images.
This year marks the 19th anniversary of UT Southwestern's participation in OMOT, sponsored by the North Texas Business Council for the Arts (NTBCA). In these 19 years, UT Southwestern's participation has highlighted the creative talents of more than 1,000 employees, whose artworks are temporarily displayed in the Health Sciences Digital Library and Learning Center to be enjoyed and voted on by the campus community.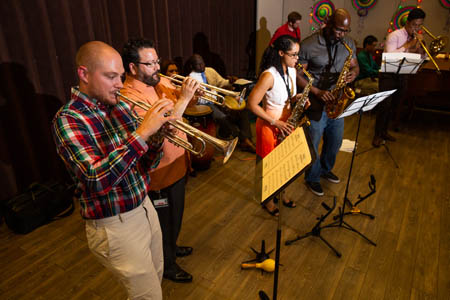 In August, the University hosted an awards reception honoring the artists for their work, as well as recognizing winners and honorable mentions in upwards of 15 categories of visual art. There were more than 89 visual art entries this year. For the event, presenters and honorees were joined by the UT Southwestern community jazz band, the M-Cats, and salsa dancers.
Best in Show, People's Choice, and First Place winners from all participating organizations will be displayed in the east wing of NorthPark Center, between Macy's and Dillard's, Oct. 3-19.
"The show gets better and better each year, and this year is no exception," said UT Southwestern Art Curator Courtney Crothers. "Congratulations to all of the artists who participated."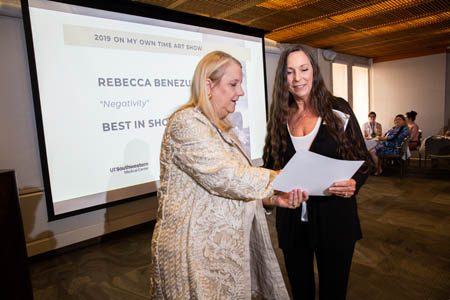 Best in Show: Negativity
This year's Best in Show winner, as selected by NTBCA judges, was Rebecca Benezue, for her computer-enhanced photography entry titled Negativity.
Ms. Benezue is an ultrasound technologist in Maternal-Fetal Medicine research, also often working with data analysts on various projects, so she's "either in the clinic or in the office, depending on the day of the week."
"I really enjoy doing both, so it's a nice mix for me," Ms. Benezue said.
Outside of her day job, Ms. Benezue's passion lies in her photographic art.
"I've always had a love of photography, but I really became passionate about it when I learned compositing," Ms. Benezue said. "I find it amazing to be able to combine elements of different images together and create something new – it's a wonderful artistic outlet. I get inspired by asking, 'What if?' And then giving my imagination free rein."
Her winning entry, Negativity, features herself as the model, sitting under an umbrella, which pours its own rain on top of her head.
"Negativity is an image depicting the way it feels for us (and others) when we are constantly negative – we 'rain' on ourselves," Ms. Benezue said. "Once I found the background I wanted to use, I then shot the image of the woman (myself) on my patio, soaked and holding an umbrella. I cut it out and composited it into the background image in Photoshop, then added the rain and did some adjustments to blend it all together."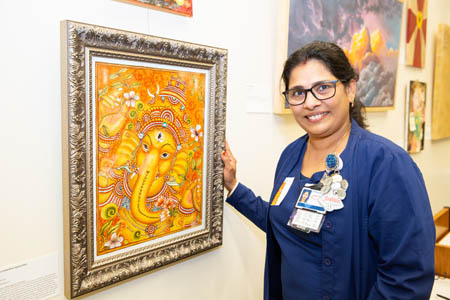 People's Choice: Ganesha
Joshila Muraleedharapanicker, a registered nurse at William P. Clements Jr. University Hospital in the Surgery unit, works the evening shift.
"It is a fast-moving place," Ms. Muraleedharapanicker said. "I normally admit and discharge patients who are coming for surgeries. My duties include bedside nursing care, patient education, being a patient advocate, and providing emotional support for the patients and their loved ones who are stressed out about their upcoming procedure."
Her work on canvas, Ganesha, garnered the most votes from the UT Southwestern community to earn her the People's Choice honor.
Since childhood, she has had passion for all kinds of art, but "never got the chance to pursue my passion until my daughter grew up. Now that she's grown, I have more free time."
She learned the art of Kerala mural paintings (frescos depicting Hindu mythology and legends that are drawn on the walls of temples and churches in South India).
"In 2012, I started learning mural painting from my first guru, and last year I studied under a second guru in mural painting," she said. "I grew up seeing these paintings on temple walls which are made of natural colors. In this type of painting, you only use five basic colors. That inspired me to learn this special art. Mythological stories are well explained in this form of art."
Ganesha is one of the Hindu mythological characters.
"Symbolically, the large elephant head of Ganesha symbolizes wisdom, understanding, and discriminatory intellect that one must possess to attain perfection in life," Ms. Muraleedharapanicker said.