With a sea of scrubs, nursing runs in Huckaby family's blood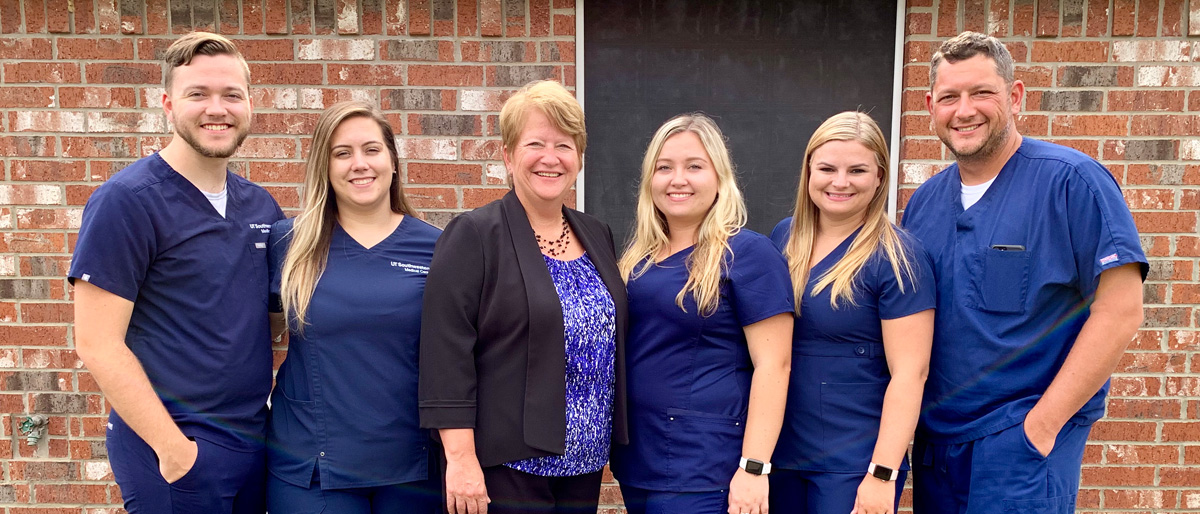 When Stephanie Huckaby looks into the future, to all the lives her children will touch, she feels proud.
Mrs. Huckaby is Director of Nursing, Inpatient Surgical Specialty Services at UT Southwestern. Carrying on the family tradition she started, all three of her children became nurses. On top of that, two of them (sons) married nurses. You might say nursing runs in their blood.
Her daughter, Kaley, is the last one still single. "I told her she has to get a nurse husband. That would be pretty impressive, I think," Mrs. Huckaby said.
In reality, Mrs. Huckaby never pressured her children to become nurses. "You have to want to be a nurse," she said. "Nursing's very stressful. It's a life-and-death situation every day."
"As they were growing up, I didn't try to persuade them into one career or another," said Mrs. Huckaby, whose own mother was a stay-at-home mom married to an electrical engineer. "I told them they could do whatever they wanted; you just have to put your mind to it."
But she is clearly pleased. "To have six of us in one family all turn out to be registered nurses just blows my mind. I am so proud of my children and the thousands of lives that they're going to touch over their lifetime," she said.
Start of a family legacy
Mrs. Huckaby, who lives in Red Oak with her husband, has been a nurse for almost 27 years now. She graduated from Navarro College in Corsicana, Texas, in 1993, came to UT Southwestern as a Nurse Manager at Zale Lipshy Pavilion – William P. Clements Jr. University Hospital in 2001, and earned a promotion to Nursing Director, Inpatient Surgical Specialty Services in 2009.
The next year, her oldest son, Jeremy Cronin, became the first to follow in her footsteps. His wife, Chelsea, is also a nurse. Both work at Methodist Charlton Medical Center in Dallas.
Then came Hayden in 2018. He is now a pulmonary/telemetry nurse at UT Southwestern's Clements University Hospital and is married to Courtney, also a nurse there. Together, they and Mrs. Huckaby make up a family trio at UTSW.
The most recent recruit to the Huckaby nursing team achieved a milestone in May, as the last of Mrs. Huckaby's children, daughter Kaley, graduated from college and became a registered nurse. She is working on a medical-surgical nursing residency at Methodist Charlton.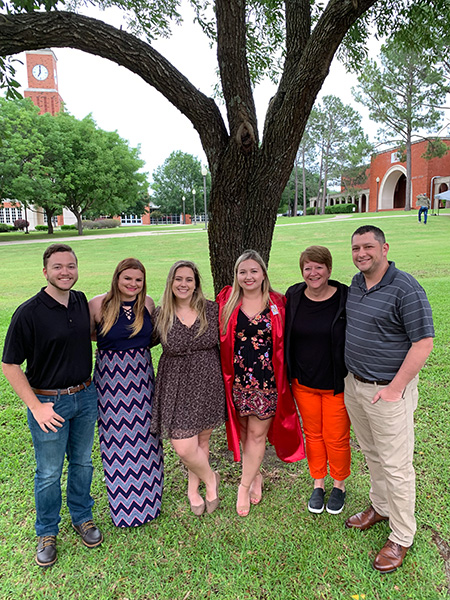 In a family clearly unafraid of tradition, Kaley joined her mother, two brothers, and both sisters-in-law as a Navarro College alum.
"When my daughter became the last one to complete a nursing degree, I was really blown away," Mrs. Huckaby said.
Detours before nursing
It didn't always look like this would happen.
Kaley worked as a diet clerk in UTSW's Department of Clinical Nutrition for three years before returning to school.
Brother Hayden initially pursued a bachelor's degree in computer programming.
"As a child my main hobby was playing video games, so I thought when I grew up I wanted to be somebody that made games," he explained. "I decided not to continue with it after learning how completely disengaging that line of work is."
But Hayden continued to juggle college classes while putting in hours at a grocery store. His mom recommended a patient transporter position at UT Southwestern, thinking it would offer more flexibility.
"Spending a year in transport was a very telling experience," Hayden said. "Getting to interact with the nurses daily, the patients, and just seeing how everyone worked together in the units was great. The firsthand experience of what actually happens is very different compared to listening to your family members describe it."
Now, Hayden said, "It's great to have so many close family members to turn to in order to vent or complain, and even work through some of that special nursing humor."
More Huckaby nurses?
The next generation of Huckabys may get even more of that special humor. Mrs. Huckaby has four grandchildren, and two have already expressed interest in the field. "My mother has been such a big influence on all of us. To see her start as a medical-surgical floor nurse and work her way into a leadership position is an inspiration," Kaley said. "She has worked incredibly hard in her career and has shown us growing up how much becoming a nurse has a huge impact on your life.
"We couldn't help but follow in her footsteps."