A foot bridge in Frisco: UT Southwestern reaches farther to offer specialized care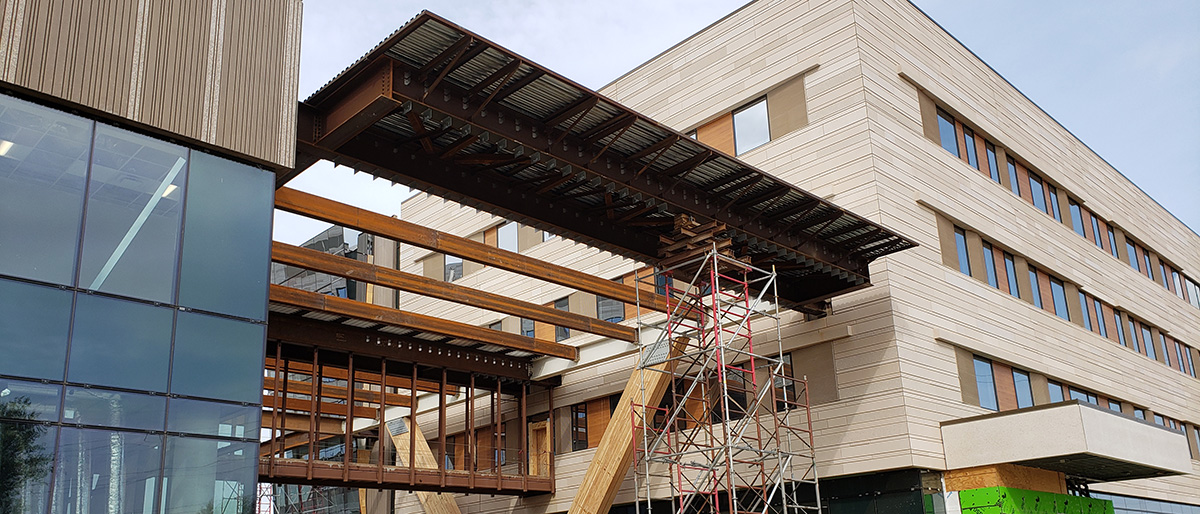 This story was originally posted on Center Times Plus on April 9.
---
One of the most striking features of the new UT Southwestern Medical Center at Frisco is the pedestrian bridge that connects to Texas Health Hospital Frisco – a fitting metaphor for the remarkable relationship between UT Southwestern and Texas Health Resources, partners in the Southwestern Health Resources network.
The city of Frisco, located 25 miles north of UT Southwestern's main campus in Dallas, is experiencing quite a growth spurt. Founded in 1902, Frisco intersects with three major North Texas roadways: State Highway 121/Sam Rayburn Tollway, Dallas North Tollway, and U.S. 380. The city, which sits in both Denton and Collin counties, boasts some beloved attractions, such as the National Videogame Museum and the Museum of the American Railroad. It also has ties to several sports giants – corporate headquarters for the Dallas Cowboys and the Dallas Stars and the stadium for Major League Soccer team FC Dallas are all located in Frisco.
Construction remains on track for the late fall opening of the new 120,000-square-foot building, located at the corner of the Dallas North Tollway and Cobb Hill Drive. The facility represents a unique opportunity to grow clinical operations and UTSW's brand. The four-story structure will offer on-site medical care for adults and children in a dozen specialty areas, along with a retail pharmacy and imaging and lab services.
Surgical services will take place right next door at UT Southwestern's partner site – the new 72-bed Texas Health Hospital in Frisco. Together, the two facilities will create a 20-acre collaborative medical campus dedicated to providing a seamless patient experience.
Additionally, patients will have access to numerous nationally ranked UT Southwestern specialties, including orthopedics, urology, ophthalmology, and gastroenterology.
Our faculty physicians, together with Texas Health's community physician colleagues, will serve the needs of the Frisco community through a coordinated network, ranging from primary care to the most specialized expertise, said Dr. Daniel K. Podolsky, President of UT Southwestern. In addition, patients will have the opportunity to go beyond even state-of-the-art treatments through access to participation in innovative clinical trials. This facility brings to Collin County some of the best that UT Southwestern Medical Center has to offer.
All physicians at the UT Southwestern Medical Center at Frisco will be members of the UT Southwestern Medical Group, the largest academic physician team in North Texas. The facility, which celebrated a "topping out" ceremony in July of last year, will enhance access to experts from UT Southwestern's Peter O'Donnell Jr. Brain Institute – the largest comprehensive neurology and neuroscience program in the Metroplex – and UTSW's Harold C. Simmons Comprehensive Cancer Center, the only National Cancer Institute-designated Comprehensive Cancer Center in North Texas.
The UT Southwestern Medical Center at Frisco looks forward to partnering with community and business leaders to address specific health needs and opportunities, said Dr. John Warner, Executive Vice President of Health System Affairs.
Frisco is among the fastest growing cities in the country, with 37 new residents dropping anchor there every day, according to U.S Census Bureau statistics. Iconic Texas companies such as Keurig Dr Pepper and the Dallas Cowboys have decided to move their headquarters to the north Dallas suburb. In November, UT Southwestern will join the caravan, contributing to the already remarkable job growth (see sidebar, right). The city is also a key bridge between UT Southwestern's main campus in Dallas to more rural areas such as Prosper, Celina, and Little Elm.