Lu Le follows research - and life - where it leads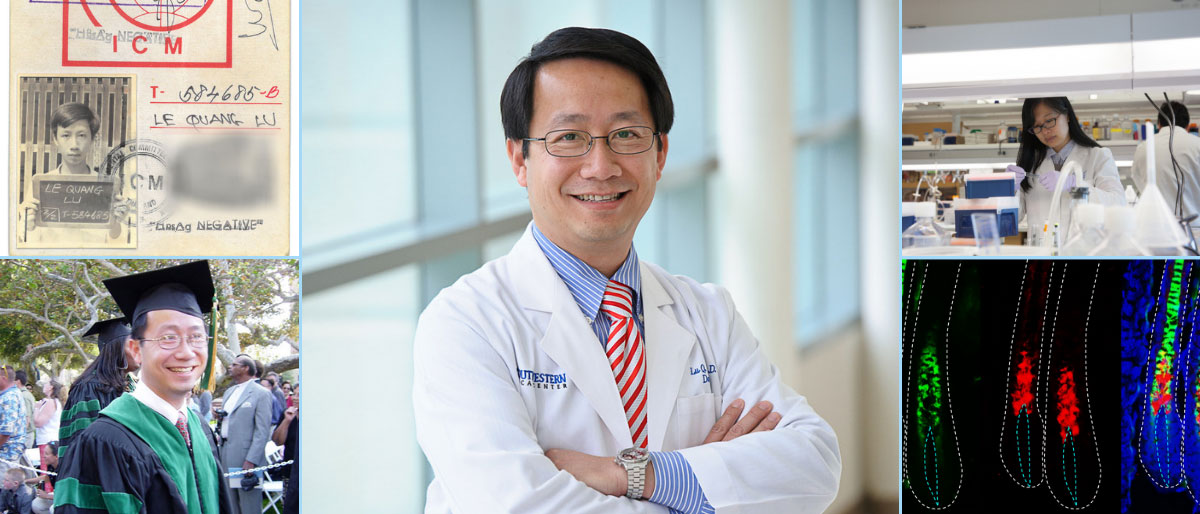 Serendipitous is the word Dr. Lu Le uses to describe how he earned international recognition for figuring out why mice – and possibly people – get gray hair and go bald as they age.
In 2017 the UT Southwestern dermatologist and cancer researcher had been investigating potential therapeutic targets for neurofibromatosis type 1 (NF1), a disfiguring disorder that causes masses of typically nonmalignant tumors to grow on or inside a person's body. When the hair of his lab mice started turning gray or falling out, Dr. Le immediately recognized the potential of his finding.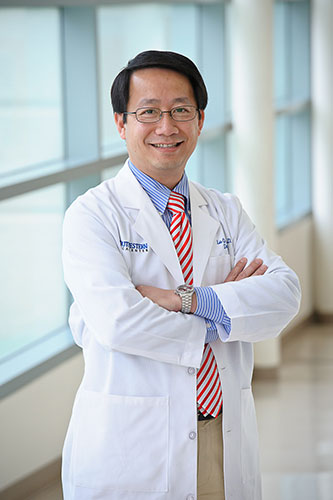 I never know what we will find, but I follow the data we generate wherever it leads us, says Dr. Le, who holds both an M.D. and a Ph.D. from the University of California, Los Angeles (UCLA). Same thing with my life. I experience events in life and follow wherever they lead me.
Now, as Dr. Le and researchers in his laboratory continue their quest to understand how mutations of the NF1 gene lead to tumors along nerves, another part of his lab focuses on the mechanism for hair graying and balding with an eye toward a possible treatment for these prevalent human conditions.
Perilous journey
Grasping whatever opportunity presents itself has been a lifelong strategy for this scientist who arrived in America after leaving his family at the age of 16 to flee by boat following South Vietnam's fall to communism in 1975.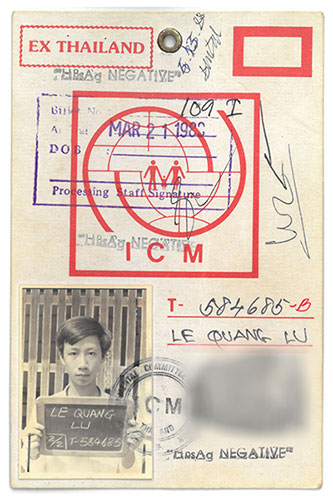 Settling in California, the then-17-year-old found a job at a McDonald's, where he worked until closing time to earn as much money as possible, then dashed 4 miles home after midnight through dicey Long Beach neighborhoods because the buses had stopped running for the night.
Despite his broken English, he made good enough grades to get into UCLA, where he dreamed of becoming an aerospace engineer. I was very interested in space, where we come from, the origin of the universe. Dr. Le's father had been an officer in the South Vietnamese Army and his mother an elementary school teacher, but his extended family was sprinkled with engineers.
The need to pay tuition and rent led him in another direction. A friend spotted a posting for a position in the laboratory of Dr. Owen Witte, a highly respected cancer researcher who went on to become founding Director of the UCLA Broad Stem Cell Research Center.
Dr. Le was a junior majoring in engineering, without any scientific experience. Dr. Witte looked at the young refugee struggling to speak English, then surveyed his outstanding grades before saying, Lu, I'm going out on a limb to hire you, Dr. Le recalls.
The job sparked my interest in medicine," says Dr. Le, now an Associate Professor of Dermatology at UTSW. "I walked into Dr. Witte's lab and I barely spoke English and had rarely held a pipette before. When I walked out of his lab, I had an M.D. and a Ph.D. in microbiology, immunology, and molecular genetics.
The road to UTSW
Dr. Le's doctoral work on positron emission tomography (PET) imaging of leukemia cells, done in Dr. Witte's lab, made the cover of Cancer Cell in 2002.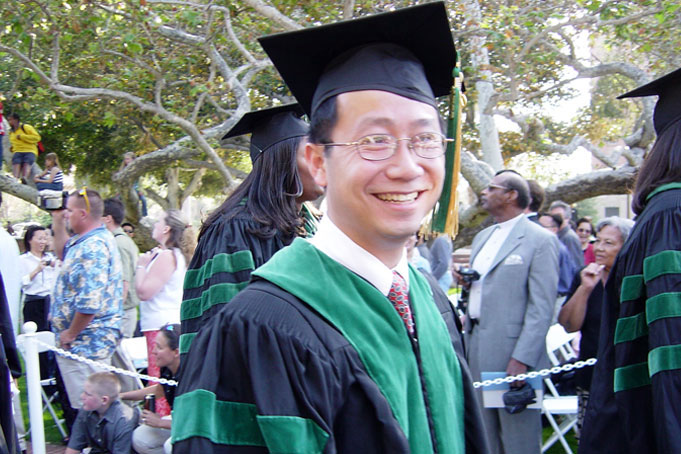 He completed an internal medicine internship in Long Beach, then headed to UT Southwestern for a residency in dermatology, followed by a UTSW postdoctoral fellowship with Dr. Luis Parada, now Director of the Brain Tumor Center at Memorial Sloan Kettering Cancer Center in New York.
UT Southwestern had the best dermatology residency training in the country, Dr. Le explains. Another reason that I moved to UT Southwestern is the basic science here is phenomenal. It's just unmatched.
In 2009, Dr. Le got his own lab and zeroed in on inherited mutations of the NF1 gene. Normally, this gene works like a restraining device to control cell growth. But for 1 in 3,000 people, the gene turns off that restraint, allowing cells to grow unchecked, like a car without brakes, Dr. Le explains, reaching for one of the similes he uses to make his research easier for others to understand.
Dr. Le focuses on the resulting neurofibromatosis tumors, delving into two basic questions: First, we're very interested in understanding where tumors come from – that is, the cell of origin for the tumors that develop in our body. In particular, we are very interested in understanding how certain types of cancer develop from adult stem cells.
Second, he works to understand the role of the tumor microenvironment – the interplay of conditions in cells surrounding a tumor that allows the cancer to take root and grow. Tumors are caused by cancer cells, but a cancer cell needs help to grow. For this help, tumors rely on the microenvironment provided by the normal cells that surround the cancerous ones.
"But the desire for a better future, the desire to go to school, just overcame everything."
One milestone leads to another
Dr. Le's first breakthrough in this area came with a Cell Reports paper in 2013. The most common tumors caused by the gene are those that grow on the skin, called cutaneous neurofibromas. About half of NF1 patients also develop internal tumors, called plexiform neurofibromas, which become malignant in about 10 percent of the patients, Dr. Le says.
His 2013 study found that malignant plexiform neurofibromas can be eliminated by inhibiting a protein called BRD4. Several drug companies are currently working to turn this finding into a treatment, he says. Within a few years, I think the BRD4 inhibitors will be tested in clinical trials.
Another milestone followed in 2014, with the publication of a Cancer Cell report describing the specific type of cell that gives rise to plexiform neurofibromas.
A paper published recently in Cancer Discovery describes the origin of both types of neurofibromatosis tumors – the ones inside the body and those that cluster on the skin. According to that study, a protein called Hox-B7 is a marker that scientists can use to track the development of NF1 tumors. Also, the study found that a parallel pathway – the Hippo pathway – can modify the growth of these tumors.
Dr. Le is a very, very creative, bright, and determined physician-scientist, says Dr. Kim Yancey, Professor and Chair of Dermatology. He left Vietnam as a refugee, found his way to the United States, gained entry to UCLA, and from there his exceptional career has emerged. Dr. Le's hard work has not only made a huge difference in his life, it has made a huge difference in other people's lives.
However, it was the finding that came by happenstance – the one that touched on two of mankind's most observable signs of aging – that created Dr. Le's biggest media splash.
As his lab worked with stem cells found in hair shafts and a protein called KROX20 that is commonly associated with nerve development (and hence of interest in their study of nerve-cell tumors), researchers found that these same cells were important for hair development and pigmentation. When we removed the stem cell factor in the KROX20-producing cells to study tumor development, serendipitously the hair of these mice turned gray. We would never have expected this result, says Dr. Le. Further, we found that if we deleted the KROX20-producing cell altogether, the mice were bald.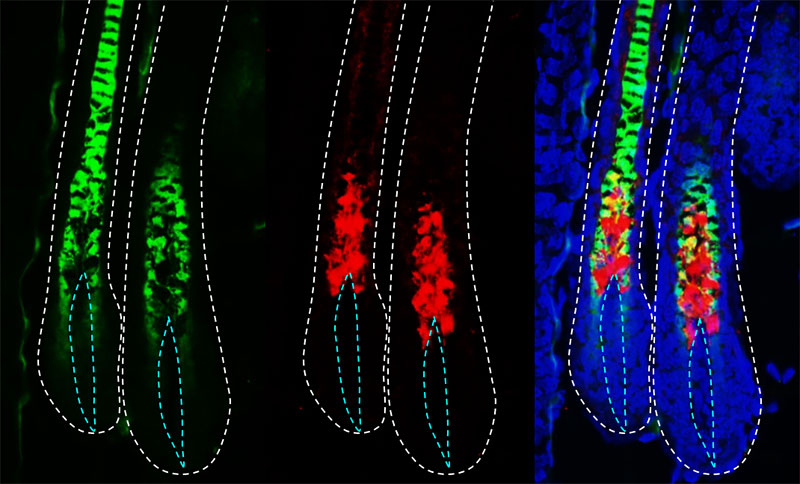 The study was published in Genes & Development and led to articles in Time, U.S. News & World Report, National Geographic, and Esquire magazines, as well as in newspapers around the globe. Television stations – especially those in California – highlighted the news, which was the most viewed story on UT Southwestern's newsroom website in 2017.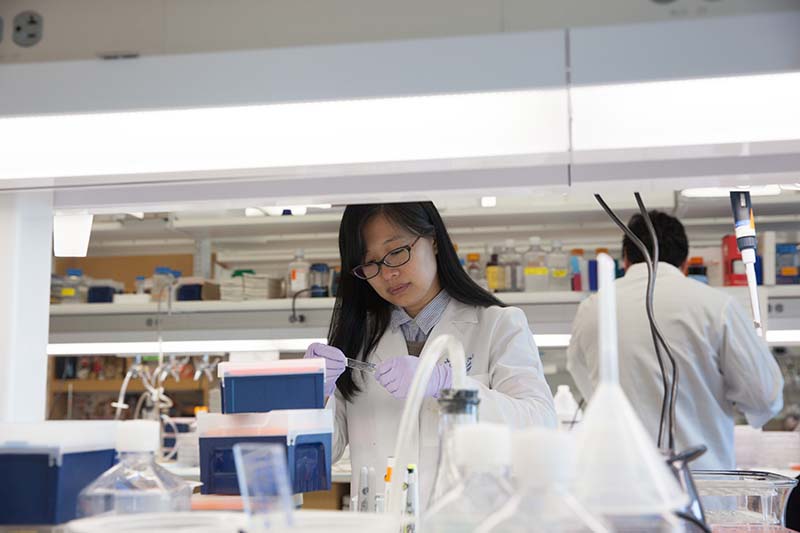 Looking back
Dr. Le seems amazed by his own journey – that of a 16-year-old who left home on his own, pitched in with three other young refugees to buy a 5-foot-wide boat, convert a motorcycle engine to power it, and then cross the gulf between Cambodia and Thailand, where he was placed in a refugee camp. He still has the plane ticket he used to fly to California from a second refugee camp. It took him years working while in college to repay the $1,200 that a refugee aid group lent him to buy the ticket and to relocate.
In 2017, he took his three children (ages 14, 13, and 9 at the time) to walk the route he used to run home from McDonald's – the restaurant is still there – albeit during daylight. He says he hoped to teach them the values of hard work and resilience.
Looking back, I would never do it again because it was too dangerous to cross the ocean in a small boat – and I did not know how to swim, he says of his journey. But the desire for a better future, the desire to go to school, just overcame everything.
It's a great story, says Dr. Yancey. I think you could also say it's a reflection on the many contributions that immigrants make to our country in that someone from Dr. Le's background has emerged as such a force in science and medicine.