Life after cancer - and then the miracle of childbirth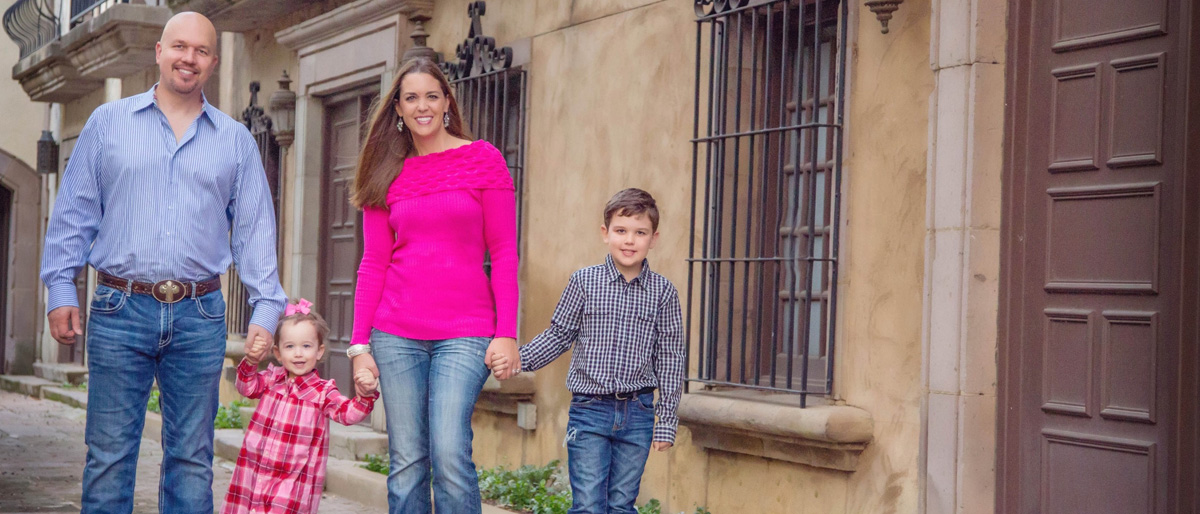 After five years of fertility treatments and frustration, Meredith Greenstreet got the gift she and her husband had been longing for – their first child. Then almost a year after Benjamin's birth in 2010 came another medical hurdle: Ms. Greenstreet started having trouble breathing while playing soccer, her favorite sport. The heartbreaking news was that she had an aggressive form of lymphoma.
I was first thinking, when I got the diagnosis, that this doesn't happen to people like me. I'm an athlete. I do everything right. And I was terrified. I mean, I had an 11-month-old, she said.
Ms. Greenstreet wanted the best treatment. So, two days after her diagnosis, she had her first meeting with UT Southwestern's Dr. Madhuri Vusirikala, a hematologist/oncologist who specializes in lymphoma and leukemia.
During that initial meeting, Dr. Vusirikala, Professor of Internal Medicine, asked if she was hoping to have more children and she replied that they'd been planning to start trying soon. Dr. Vusirikala gently told her they could wait 30 days to harvest eggs before beginning chemotherapy – or they could start chemo immediately, which would mean she would likely be unable to have more children.
You need to save my life, Ms. Greenstreet recalled saying without hesitation. I have a son and I need to be there for him.
Counting on chemo
And so the 8-month regimen of in-hospital chemotherapy began right away. Ms. Greenstreet would spend five to six days at Zale Lipshy University Hospital during each challenging round of chemotherapy, then head home to recuperate.
Chemotherapy works by killing fast-growing cells. Cancer cells grow rapidly, which is why chemotherapy kills them, but unfortunately healthy-growing cells are affected too. That's why you get hair loss, mouth sores, nausea. Sperm and eggs in the ovaries are affected, which is why you have an 80 to 90 percent infertility rate after high-dose chemotherapy, Dr. Vusirikala said.
T-cell acute lymphoblastic lymphoma is a cancer that typically occurs in children and adolescents in which the bone marrow makes too many immature lymphocytes, a type of white blood cell. It progresses rapidly without treatment, said Dr. Vusirikala, but responds well to treatment.
High-dose chemotherapy was followed by radiation and then maintenance chemotherapy, which was mostly oral medications.
Throughout her treatment, Ms. Greenstreet was still caring for Benjamin when she could. She wore a tube sock with the foot cut off over her arm to keep her young son from pulling out her picc line. When she developed severe neuropathy in her feet that made it difficult to walk, Dr. Vusirikala adjusted one of her chemotherapy medications because she insisted she needed to be able to chase after her son.
"Alexis is a miracle. Something that should have been impossible. I feel that because she conquered such incredible odds and so did I, that we're woven from a very, very similar cloth, and she's going to light up this world in a big way."
The good news throughout everything was that the treatment was working. "She went into remission right at the start of chemotherapy," recalled Dr. Vusirikala, who is a member of the Harold C. Simmons Comprehensive Cancer Center.
A new miracle baby
It's now been more than seven years since her diagnosis, and life is good for Ms. Greenstreet. Her hair flows past her shoulders and down her back, and she's out playing soccer every Sunday morning with the same old energy. As the proud mom talks about her job with the Leukemia and Lymphoma Society, she pulls out a photo of her family, everyone smiling. There's husband Raun; son Benjamin, now 8 years old; daughter Alexis, 4.
That's right, Alexis.
In 2014, Dr. Vusirikala gave Ms. Greenstreet the OK to try to get pregnant, though she cautioned her not to get her hopes up. This time, though, fortune was on her side.
It was a high-risk pregnancy and there were complications, most notably though not unexpectedly, low platelet levels. Alexis, born March 27, 2015, is today a healthy preschooler.
Because there's a risk of secondary cancers due to radiation and high-dose chemotherapy, Ms. Greenstreet will continue to see Dr. Vusirikala once a year. She said her cancer experience, difficult as it was, improved her life in some ways.
Bringing me to my absolute lowest point and then rebuilding changed me, making me value things I previously took for granted, she said. And Alexis is a miracle. Something that should have been impossible. I feel that because she conquered such incredible odds and so did I, that we're woven from a very, very similar cloth, and she's going to light up this world in a big way, she said.