The Wild Blue Yonder: 1995 Medical School alumna climbs high in Air Force to elite medical command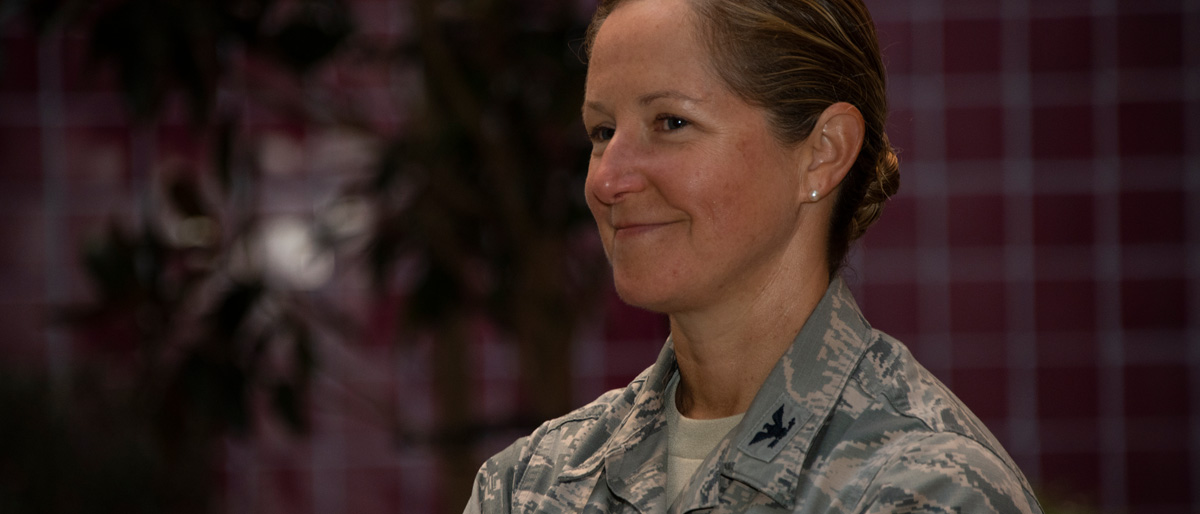 After nearly three decades of military service, Col. Kristen Beals, M.D., is back where she began.
Col. Beals, a 1995 graduate of UT Southwestern Medical School, leads the 60th Medical Group-David Grant USAF Medical Center at Travis Air Force Base in California. The first female commander of the largest medical center in the U.S. Air Force, Col. Beals completed her five-year general surgery residency in 2000 at Grant Medical Center.
"One of the many benefits of military service is being given the opportunity to lead programs, services, and other airmen at a relatively young stage or early time in your career," said Col. Beals, the first member of her family to serve in the military. "From the time I graduated from residency, I have been serving in progressive leadership roles, which has taught me so much about the complex business of medicine and leading people.
The accumulation of all of these experiences has led to my current role as the Hospital Commander [CEO] of the largest inpatient bedded facility in the Air Force, the very hospital that I trained at to become a surgeon. It's quite surreal! she said.
Col. Beals was born in San Antonio but considers Houston "home" after living there from the time she was in fifth grade until high school graduation. After majoring in biochemistry at UT Austin, she began her medical education at UTSW.
Soon, however, fiscal realities were weighing as heavily as classroom studies and tests.
I actually didn't commit to the military until halfway through my first year of medical school, she remembered. I had amassed $40,000 in student loans and was looking for scholarship options to help pay for school. My UT roommate's father was an Air Force physician, and he influenced my decision to apply for a Health Professions Scholarship in the Air Force.
On Dec. 5, 1991, with a scholarship assured, she was sworn in and commissioned on McDermott Plaza. Little did she know she still would be in uniform almost 28 years later.
The 60th Medical Group includes seven squadrons and serves more than 500,000 military beneficiaries. Col. Beals oversees a budget of $650 million, manages a 2 million-square-foot facility, and leads a health care team of 443 medical providers and 2,500 staff members responsible for more than a million patient encounters each year.
Her Air Force career has provided singular experiences and opportunities, Col. Beals said.
She worked more than a decade in Europe – including assignments to Italy, Germany, and England – and was deployed to spartan environments in Iraq and Afghanistan. She also served as the Surgical Team Leader/Surgeon for both Presidents George W. Bush and Barack Obama during their trips to Africa. For three years, she was assigned to the elite Special Forces as a surgeon, working out of safe houses and often operating out of a backpack.
Prior to her Travis AFB assignment, Col. Beals spent four years in Texas, most recently commanding the 359th Medical Group at Joint Base San Antonio-Randolph in San Antonio. Her responsibilities included directing health care delivery for 20,000 beneficiaries, as well as 3,600 pilot instructors and Remotely Piloted Aircraft students. She also supported four Graduate Medical Education training programs and led the Air Force's busiest Aerospace and Operational Physiology Training Unit.
I actually was surprised to have never been stationed in Texas until my 19th year in the military, when I moved from England to San Antonio, Col. Beals said.
The Air Force gives you an opportunity to serve something – a cause, a common goal, a mission – far greater than yourself or your family, she said. I am honored and blessed to have served our nation.
Decades of adventure in exotic, remote, and sometimes austere locales have left a lasting impression on Col. Beals. So has her education at UTSW. She still can effortlessly tick off fond memories of her days on campus.
"My time at UT Southwestern was an amazing experience. The students were connected, mutually supportive, and had various personal experiences and talents that we all got to share and appreciate," she said. "My years there were in the days before the cellphone, the internet, and mainstream use of computers in education, so we would bond by studying together in small groups in rooms around campus or at each other's houses, which brought us even closer together as a family.
"My best memories are of the big auditorium classrooms, the small lab study groups in our 'cubby holes,' great friends like Suzette Smith, the awful snacks left in the vending machine at 2 a.m., the echoes of 'Trauma Team to the Trauma Room' from overhead pages in Parkland while on call and how my heart would race hearing them, and the glorious walk across the stage in my cap and gown at graduation.
"I will always fondly smile when I visit UT Southwestern as I walk through the hallways and across the plaza," she said. "It was a great place to get a medical education and to grow as a person."