Neuroscience student receives Kirkpatrick Award for autism research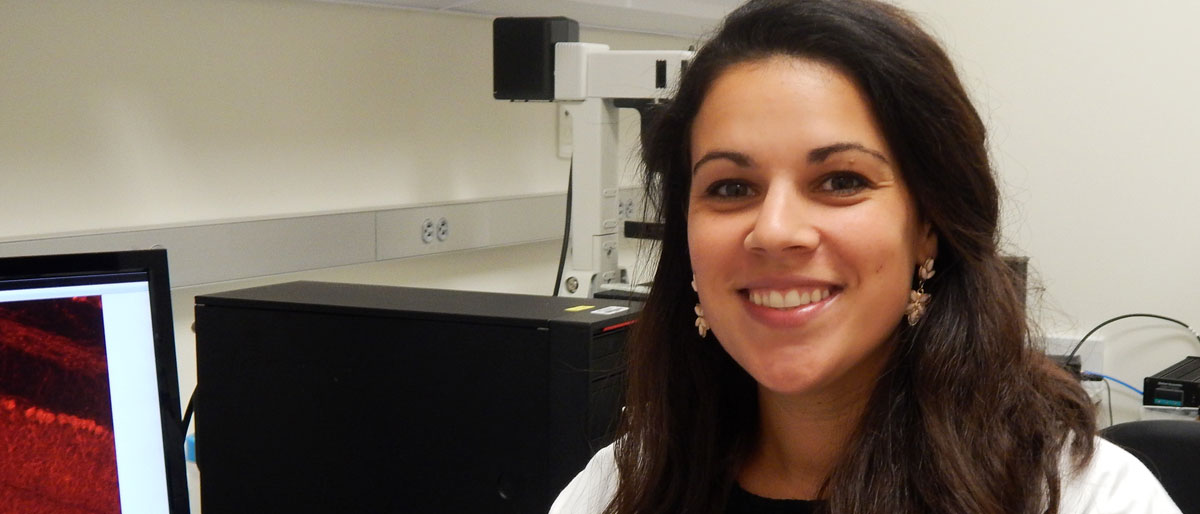 Neuroscience graduate student Elyza Kelly has received the William F. and Grace H. Kirkpatrick Award for her research investigating networks in the brain that are altered in autism spectrum disorders.
"I am absolutely thrilled," said Ms. Kelly, who is in the fourth year of her dissertation research under the mentorship of Dr. Peter Tsai. The $25,000 award will support her research titled "Investigating the Cerebellar Circuit Substrate for Modulating ASD Core Diagnostic Behaviors."
Selected by the Graduate School Awards Committee, the Kirkpatrick Award supports the most scientifically meritorious proposals submitted as a National Institutes of Health (NIH) F31 or equivalent individual predoctoral fellowship award application by a graduate student during the prior year.
"Although NIH funding is not a criterion for the award, in this case the peer review process worked, and I am proud to note that Elyza is PI (Principal Investigator) of NIH 1F31NS107004-01A1, with the same title," said Dr. Andrew R. Zinn, Dean of the UT Southwestern Graduate School of Biomedical Sciences, when announcing the Kirkpatrick honor.
The NIH award includes almost $112,000 over three years from the National Institute of Neurological Disorders and Stroke. Dr. Tsai, Assistant Professor of Neurology and Neurotherapeutics, Neuroscience, Pediatrics, and Psychiatry, and Dr. Kimberly Huber, Professor of Neuroscience, will serve as Ms. Kelly's co-mentors on the NIH award.
"I never would have imagined we would receive both the NIH award as well as the Kirkpatrick Award for this project," said Ms. Kelly, whose project focuses on uncovering the brain networks underlying social and repetitive behaviors that are altered in autism spectrum disorders.
"I use tools that manipulate activity in different parts of the brain to discover how our brain circuits work that control social and repetitive behaviors," she said. "Hopefully by understanding these pathways in the brain we can develop novel therapeutic strategies for patients."
After earning a bachelor's degree in neuroscience from Wheaton College in Massachusetts in 2012, the Vermont native spent three years at Boston Children's Hospital studying mouse models of autism spectrum disorders.
"I worked in the lab where Dr. Tsai conducted his postdoctoral research, and I was very inspired by his work in the field of autism research," she said. "He encouraged me to come to UT Southwestern for graduate school. I simply love how translational these studies are. I can envision how these experiments might inform future treatments for human patients, which is very exciting."
"Elyza is an outstanding neuroscience graduate student at UT Southwestern with whom I've had the pleasure of working for the past six-plus years," Dr. Tsai said. "She has been untangling the identities and functions of specific neural circuits that are important for behaviors relevant to autism spectrum disorders – including social impairments and repetitive/inflexible behaviors – and investigating the potential for modulation of those circuits to treat these disrupted behaviors.
"She is smart, curious, and passionate about her work, is a stellar example of the great graduate students at UT Southwestern, and is poised to become a leader in academic, translational neuroscience research," he added.