Alumna establishes scholarship fund for PA students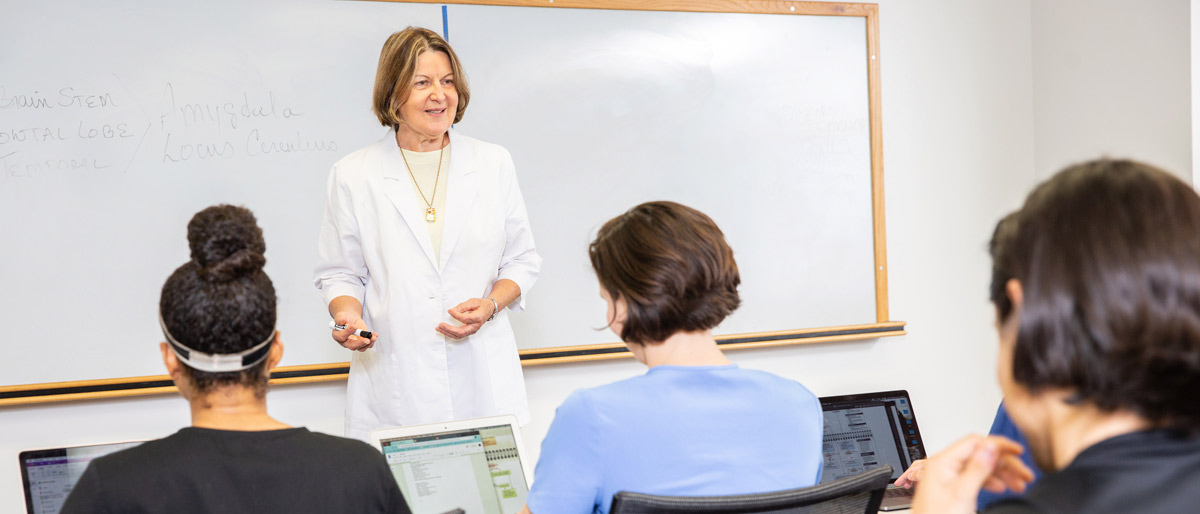 Catherine Judd, M.S., PA-C, has pledged $125,000 to support physician assistant (PA) students in the clinical phase of their training at her alma mater, the UT Southwestern School of Health Professions. From her gift, $100,000 will be used to endow the Catherine R. Judd Scholarship Fund, and $25,000 will be available immediately to increase the impact of the Fund. Ms. Judd has also joined UT Southwestern's Heritage Society to further contribute to the Scholarship Fund through a gift in her estate plan.
Currently, Ms. Judd is a Clinical Assistant Professor at the School of Health Professions, Psychiatry Preceptor at the UT Dallas PA Program, and recently retired from her position as Senior PA for Parkland Health and Hospital System's Jail Mental Health Program. In 2016, she received the School of Health Professions' Educator of the Year award, followed in 2018 with the recognition of Parkland Memorial Hospital's Distinguished Career Award.
Teaching and precepting PA students has become one of Ms. Judd's greatest passions. She was motivated to create the Catherine R. Judd Scholarship Fund through her mentorship of aspiring PA clinicians.
"Getting to know the experiences and the challenges that students face in order to attend the UT Southwestern School of Health Professions has been eye-opening," Ms. Judd remarked. "Their passion, determination, and commitment to becoming physician assistants and the obstacles many of them have to overcome to do so is laudable."

"Catherine's generosity and care for humanity are examples to us all," said Dr. Daniel K. Podolsky, President of UT Southwestern. "This scholarship will have a lasting impact on the ability of our PA students to provide better health care in the future. Through the support of our PA students, this gift will ultimately benefit legions of patients."
Fifty-four percent of UTSW School of Health Professions students receive financial aid. Having spent her career caring for underserved populations, Ms. Judd is mindful of the deserving students she encounters and the sacrifices many of them make to become PAs.
Ms. Judd carved out a career path in the field of mental health after graduating from the School of Health Professions in 1983. Following commencement, she accepted a job at the Dallas Veterans Affairs Medical Center, providing medical care on an acute psychiatric inpatient unit. This unique experience fueled her passion for psychiatry and neuroscience.
Throughout her career, Ms. Judd's desire to provide quality medical care to the marginalized led her to work internationally in Egypt, for the Peace Corps in Uzbekistan, with a private aid organization in Ghana, and most recently in Tanzania. Ultimately, her vision is that every scholarship awarded will support equally altruistic students who are committed to pursuing PA careers in service of the less fortunate.