In memoriam: Dr. Adi Gazdar: World-renowned UTSW lung cancer pathologist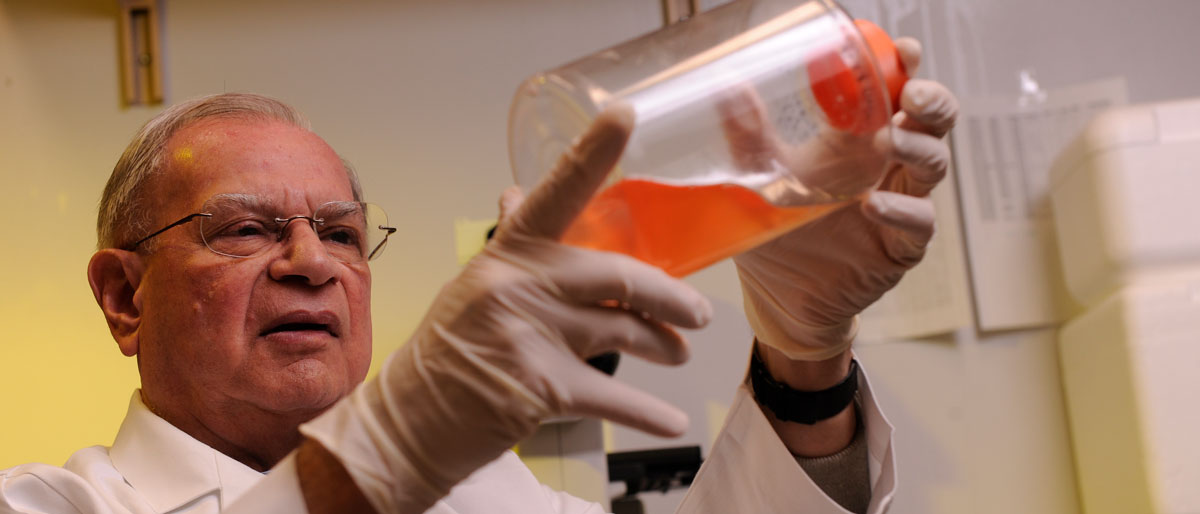 This story was originally posted on Center Times Plus on January 9, 2019.
---
Dr. Adi Gazdar, a pre-eminent pathologist and noted oncology researcher at UT Southwestern who shared valuable insights and discoveries of human cancers with the world, died in late December. He was 81.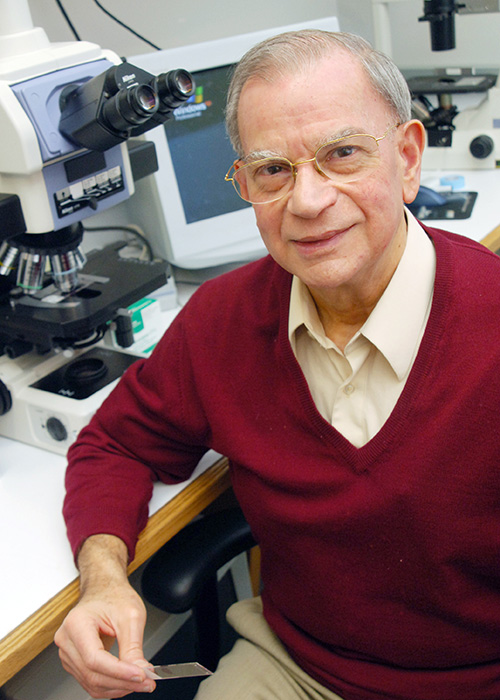 A member of the Nancy B. and Jake L. Hamon Center for Therapeutic Oncology Research and Professor of Pathology, Dr. Gazdar had a distinguished 27-year career at UTSW unlocking the molecular and genetic basis of human cancers and investigating prognostic and diagnostic therapies in the treatment of cancers, including lung, mesothelioma, breast, and cervical forms.
"Adi Gazdar was one of the first great lung cancer 'molecular pathologists' who combined great experience in clinical pathology with the development and application of molecular techniques to help characterize cancers, especially all types of lung cancer," said Dr. John Minna, Director of the Hamon Center and Dr. Gazdar's longtime research partner. "He also brought that rare ability to teach and communicate with us nonpathologists about the relevance of histologic findings to the biology of cancer."
During his remarkable five-decade career, Dr. Gazdar served 23 years with the National Cancer Institute (NCI) before being recruited in 1991 to UT Southwestern, where he held the W. Ray Wallace Distinguished Chair in Molecular Oncology Research.
Dr. Gazdar's efforts in the laboratory yielded the first large panel lung cancer cell lines, used by investigators around the world, and he developed molecular methods for detecting early lung tumors. He helped establish the Tissue Management Shared Resource, which provides materials for researchers with the Harold C. Simmons Comprehensive Cancer Center.
Dr. Gazdar also identified several genes involved in the pathogenesis of different cancers. In lung cancer, he uncovered mutated genes dysregulated by mutation and DNA methylation, provided some of the first work characterizing neuroendocrine cancers such as small cell lung cancer, and played a major role in the discovery of the mutated epidermal growth factor receptor (EGFR) gene as a therapeutic target in lung cancer arising in never-smokers. He also developed gene analysis tools that helped provide new lung cancer classifications and differences in sensitivity to chemotherapy in lung cancer. In addition to his long career working on lung cancer, early in his career he discovered the Gazdar murine sarcoma virus (Gz-MSV) and then developed the key T-cell line that was used in the isolation of the HIV/AIDS virus.
"Adi's tumor cell lines have been used by thousands of investigators around the world and have been one of the most important resources for cancer research in the past 30 years," said Dr. Minna, Professor of Internal Medicine and Pharmacology. "Besides lung cancer and breast cancer lines, his development of two human lines – a T-cell lymphoma line that produced the first human characterized retrovirus, HTLV-1, and another line that was the key resource to grow and isolate human HIV/AIDS virus – were of immense value for human retroviral discovery."
A prolific author, Dr. Gazdar generated more than 500 research and invited publications as well as three medical textbooks. The Institute for Scientific Information included him in a list of the world's most cited authors – comprising less than one-half of 1 percent of all publishing researchers – based on the important scientific developments of the past two decades.
His efforts resulted in the collection and analysis of more than 2,500 human tumor specimens as well as the establishment of many breast tumor cell lines for UTSW's Hamon Center. Dr. Gazdar's latest investigations were directed at revealing the molecular events that precede the onset of invasive cancers and the development of molecular technology for early detection of cancers.
"At the end of the day I think Adi Gazdar's really important traits were how he stimulated collaborations between widely different groups and taught and inspired the love of cancer research in more than 100 postdoctoral fellows," Dr. Minna noted, "while being intellectually and rigorously honest, always 'calling it as he saw it' despite what everybody else was thinking."
Dr. Gazdar's NCI experience included initially leading its Viral Pathology Section; the Human Tumor Cell Biology Laboratory for the NCI's VA Medical Oncology Branch from 1975 to 1981; and then the Human Tumor Cell Biology Section for the NCI-Navy Oncology Branch from 1981 to 1991, where his team collected, cataloged, and analyzed thousands of human cancer specimens with an emphasis on lung cancer and lymphomas.
Dr. Gazdar earned his medical degree from Guy's Hospital Medical School at the University of London and completed residencies in pathology at Peter Bent Brigham Hospital and New England Deaconess Hospital in Boston before joining the NCI in 1968.
His numerous honors and recognitions include a 2004 award from the prestigious Jacqueline Seroussi Memorial Foundation for Cancer Research in Israel and the 2003 Mary J. Matthews Pathology/Translational Research from the International Association for the Study of Lung Cancer.
Private services for Dr. Gazdar were held for family and friends. In his honor UT Southwestern is hosting a science and remembrance symposiumon Tuesday, Feb. 12, from 9 a.m.-3:15 p.m., in NG3.112 (T. Boone Pickens Auditorium).
Please RSVP to rsvp@utsouthwestern.edu via Email. For details and session times, view the program flyer. For those who can't attend in person, the event was broadcast on a livestream.