Putting down roots: How a construction superintendent saved UT Southwestern Frisco's first 'patient'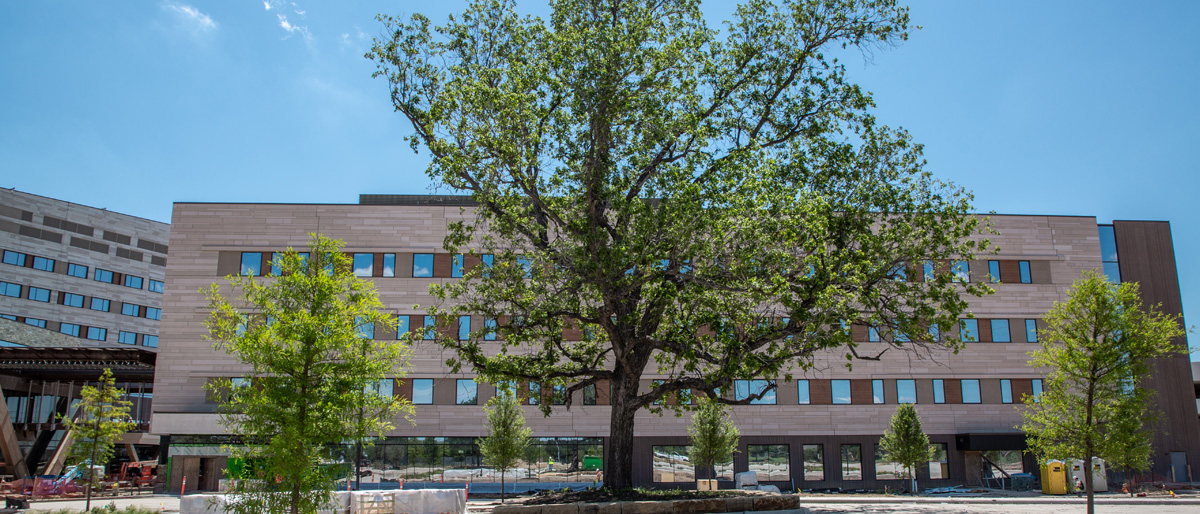 Bill Tate first noticed the pecan tree two years ago, when he was surveying the vast hayfield that would become home to UT Southwestern Medical Center at Frisco.
It was one of the biggest things out there, and one of the only trees left on site," he said. "You could see it as you got off the tollway.
As a construction superintendent for Austin Commercial, Mr. Tate's job is to build things – big, beautiful, new things. That typically means bulldozing existing land to make way for progress.
But every once in a while, he gets to preserve a piece of history.
Mr. Tate dug into the pecan's history and learned it was the backyard shade tree for Robert Cobb's family farm and homestead. The Cobbs' ancestors arrived in Frisco when it was prairie, and their name has become one of the most recognizable in the city.
Mr. Tate also dug into the plans for the 20-acre medical campus, which includes UT Southwestern's four-story specialty clinic, the adjoining eight-story Texas Health Frisco Hospital, plus a covered parking garage and plenty of surface parking.
Eventually he discovered that the lot behind the specialty clinic, as it was designed, would crowd the pecan tree, potentially choking its root system.
"I told the architect, I'm not doing it," he said. "I put my foot down, and said we need to lose some parking spaces to make enough room for those roots."
At age 43, Mr. Tate said he has gained much-needed perspective on trees and life.
"During my wonder years I was more reckless, and I probably damaged a few trees not knowing this stuff," he said. "The older I get, the more conservative I get with life, animals, and trees."
Mr. Tate worried he might get some pushback, but the architect quickly agreed, nearly doubling the footprint for the tree. A small park and walking trail have since been added to the grounds nearby, and so has a plaque honoring the history of the Cobb family.
Arborists have been out to check the health of the pecan, and after a few fertilizer injections it is strong and happy. After some pruning prior to the fall opening of UT Southwestern Frisco, Mr. Tate said he'll hand off his pecan to the groundskeepers.
"I kind of adopted the tree," he said. "And I want to make sure it's taken care of. A tree that size doesn't come around that often."
UT Southwestern Frisco is slated to open this fall, but Bill Tate has already saved the facility's first patient: a proud pecan tree that is rooted in Frisco's past.