Snakes and lizards and frogs, oh my! The weekend adventures of a UTSW staffer at the Dallas Zoo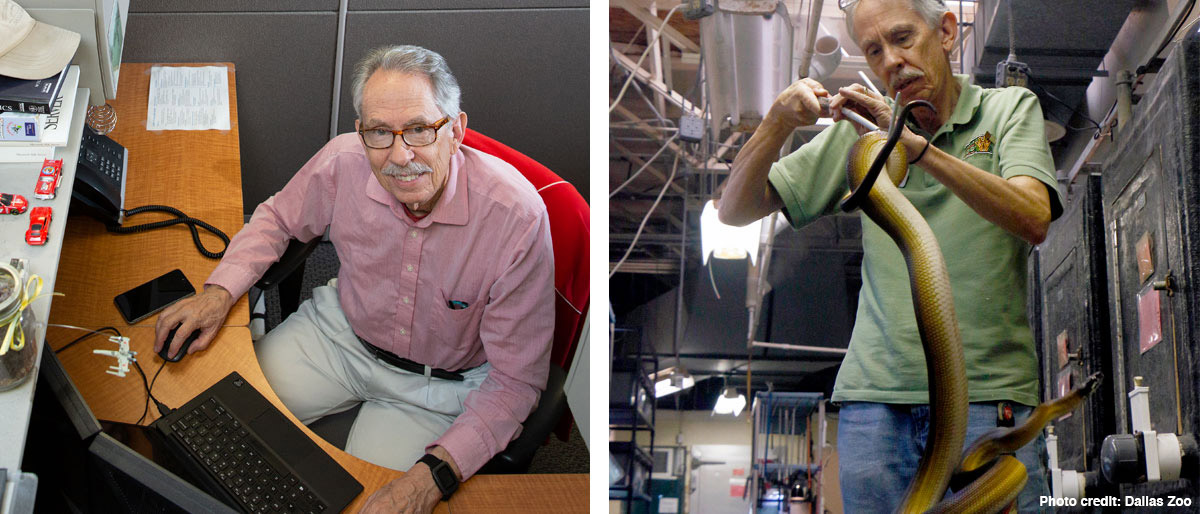 Buildings full of snakes, lizards, and frogs might sound like a biblical plague to some, but the scene just puts Bob Butsch at ease.
"I've been coming here so long; it's such a comfortable place to be. It's just as comfortable as my home," said Mr. Butsch, a UT Southwestern database analyst.
The place Mr. Butsch is talking about is the Dallas Zoo, where he's volunteered in the herpetology department for 32 years. Over the years he's seen his fair share of slimy, slithery creatures, so coming in contact with them now is just routine.
Mr. Butsch studied biology in both college and graduate school and began volunteering at the Dallas Zoo in 1987 as a way to keep connected to the science. Although the zoo didn't have an organized volunteer program back then, he was offered the role of answering questions in a visitors' booth in the reptile building. After several weeks, he was promoted to cage cleanings and feedings because the staff needed help.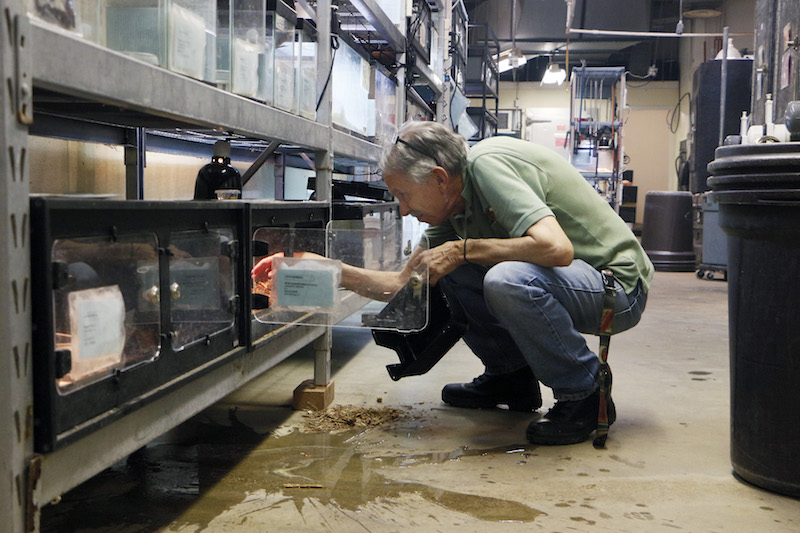 "When it comes to cleaning cages, the job I do beats working with the elephants or giraffes, where you just get a shovel and you're shoveling all that stuff out of there," Mr. Butsch said with a laugh.
The opportunity to observe exotic animals up close is a major perk. In 1987 he witnessed bushmaster snake eggs hatch, marking the first successful breeding of the animal in any zoo.
The birth of a new animal is always exciting for staff, Mr. Butsch added.
His volunteer work has also reconnected him to an animal he was fond of as a child. The zoo's herpetology department is conducting research in Abilene on the Texas horned lizard. Although still common in the Panhandle, the official state reptile began to decline in numbers about 50 years ago.
"When I was a kid we saw them everywhere. It was something we would just pick up, you know, and let them go; but you don't see them anymore."
Mr. Butsch said he doesn't have a favorite zoo animal. But he's developed a love-hate relationship with some of the feistier ones.
As a volunteer, he learned to follow some important rules – like standing back when zookeepers move venomous animals or watching where he puts his hand around a cage. Working with animals has called upon different problem-solving skills than his day job, he said with a smile.
After 25 years working with reptiles, Mr. Butsch moved to the amphibian exhibits a few years ago, which he said has been a nice change. His volunteer chores have nothing in common with his day job, so there's a nice balance, he said.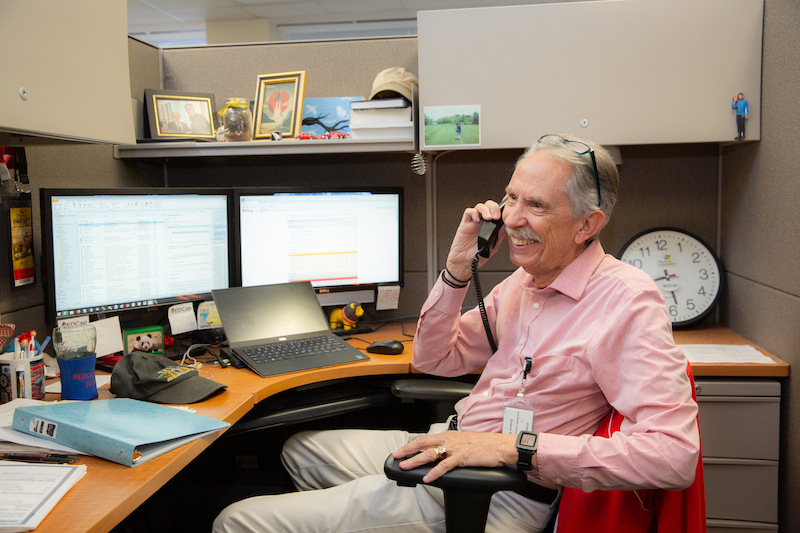 This is Mr. Butsch's 31st year at UT Southwestern. He said he veered into the computer science field by chance.
After earning a bachelor's degree in 1970 from UT Arlington and a master's in 1974 at the University of North Texas, Mr. Butsch began his professional career with the Department of Veterans Affairs in 1974, working in a cardiology research lab.
He had taken a computer course as an undergraduate, which came in handy when the lab began to use computers. So he added some continuing education computer courses. The expertise provided a life raft when his VA job was eliminated.
In 1988, he arrived as a part-time computer programmer at UT Southwestern, becoming a full-time programmer in 1989 and a database analyst in 1999.
"The projects I work on have a lot of variety and it's interesting work, which is one of the reasons I am not retired yet," said Mr. Butsch, 71.
When he does retire, Mr. Butsch said he'll likely increase his volunteer hours at the zoo. Right now he goes there on Saturdays, averaging about four hours per week, or 200 hours each year.
He said he comes back year after year because he simply enjoys it. "When you're content and happy at a place … well, that's what I get out of it."