UT Southwestern celebrates Clements University Hospital expansion milestone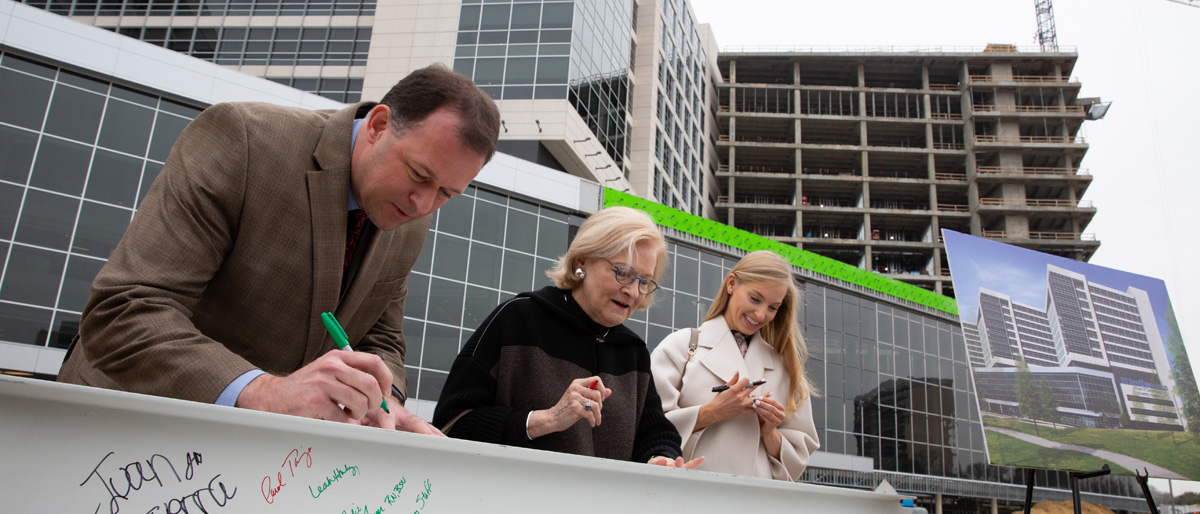 This story was originally posted on Center Times Plus on March 13, 2019.
---
On a cold March 1, less than five years after the opening of William P. Clements Jr. University Hospital, UT Southwestern officials, physicians, nurses, and clinical staff gathered with architects and construction executives – as well as descendants of the hospital's namesake, the late Texas Gov. Clements – to celebrate a milestone toward completion of the hospital's third tower.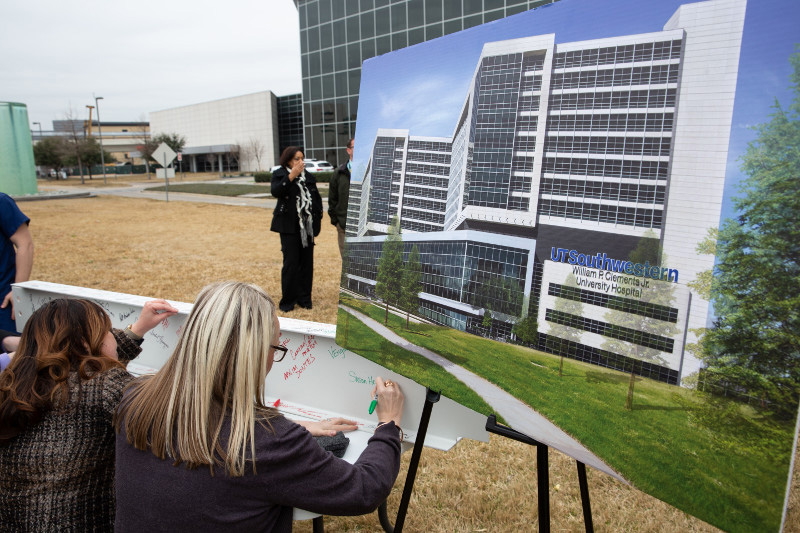 About 150 people in attendance signed a painted metal beam that will be kept as a memento of the event. The "topping off" ceremony marked completion of the addition's exterior framework. The tower is expected to open in September 2020.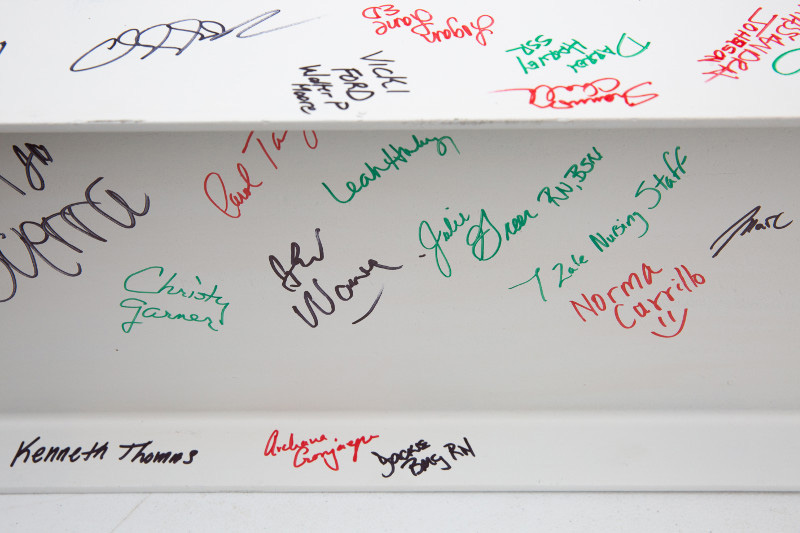 The $480 million, 12-story tower will add operating rooms and an expanded Emergency Department to the existing 460-bed Clements University Hospital and become the inpatient home to the Peter O'Donnell Jr. Brain Institute. It will also increase the number of inpatient rooms, allowing consolidation of patients now treated at Zale Lipshy University Hospital, all under the Clements roof.
"This new 12-story tower will allow us to bring together all of our University inpatient services in one location on the UT Southwestern campus," said UT Southwestern President Dr. Daniel K. Podolsky. "It will allow health professionals to work more closely together as they care for patients."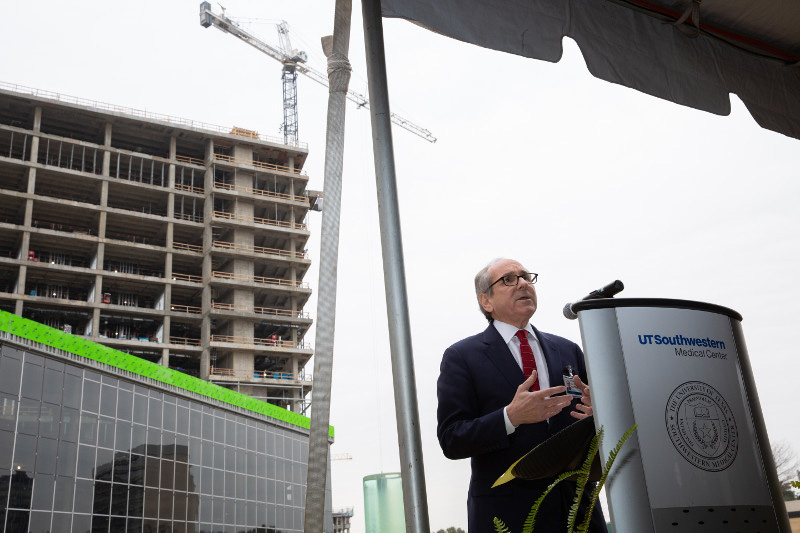 "We're truly delighted that you're all here to celebrate our milestone," he told those gathered in a heated tent on the Clements front lawn.
Zale Lipshy University Hospital began UT Southwestern's legacy of service to patients when it opened in 1989, said Dr. John Warner, Executive Vice President for Health System Affairs.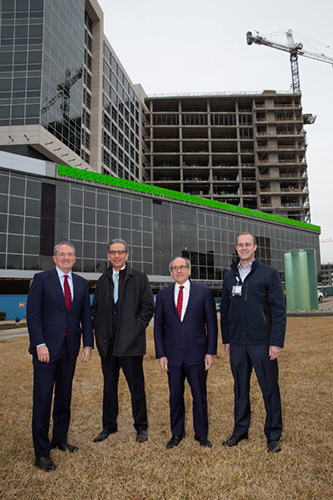 Clements University Hospital opened on Dec. 6, 2014, with patients transferred from the older St. Paul University Hospital building, which then closed following more than 50 years of service.
The additional space in the new Clements tower will allow for "the coming together of these two excellent clinical care communities," Dr. Warner said.
Several nurses from Zale Lipshy were at the event. Byron Carlisle, Nurse Manager in the Neuroscience ICU, thanked planners for bringing Zale employees into the process, inviting them to review floor plans, and asking for their feedback.
"We can't wait to come here," he told the crowd.
"It's sparkling new. We are excited," said Meena Punnoose, Assistant Nurse Manager in the Zale Surgical Specialty Unit.
A final decision about Zale's future use has not been made, said Kevin C. Bailey, Senior Project Manager, Facilities Management.
While nurses like Mr. Carlisle and Ms. Punnoose look forward to caring for patients in the brand-new facility, Nancy Seay and her granddaughter, Nancy Neuhoff – both members of the art selection committee – are gearing up to find the hundreds of pieces needed for public areas and patient rooms.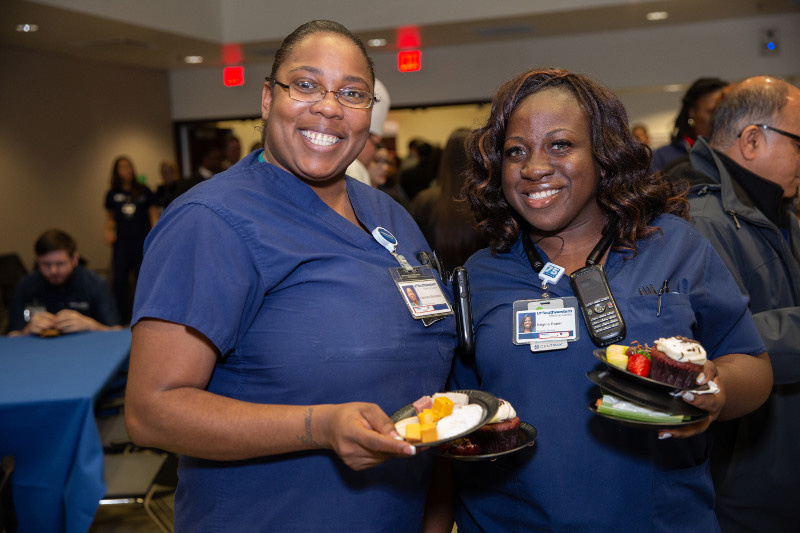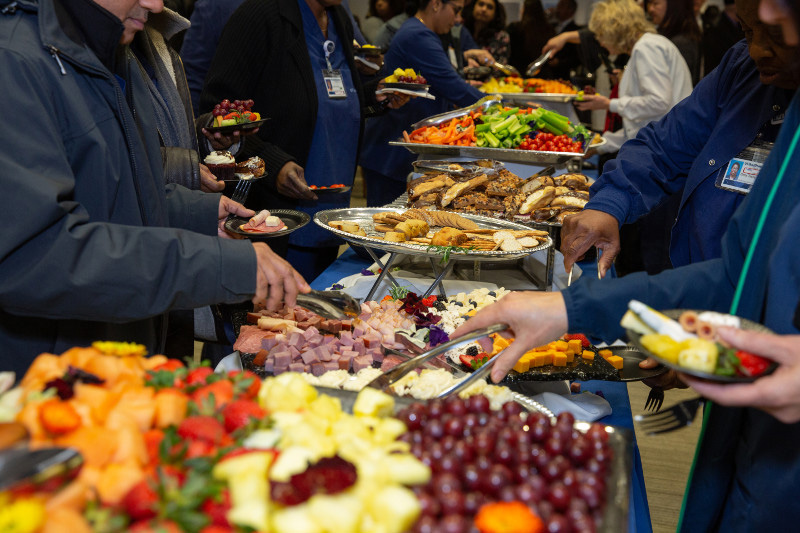 Ms. Seay is the daughter of Gov. Clements, who donated $100 million to UT Southwestern in 2009. As one of many who added their signatures to the construction beam at the ceremony, she included a special note: "Hey Dad, the hospital is wonderful. Nancy."