Conzen appointed Chief of Hematology and Oncology Division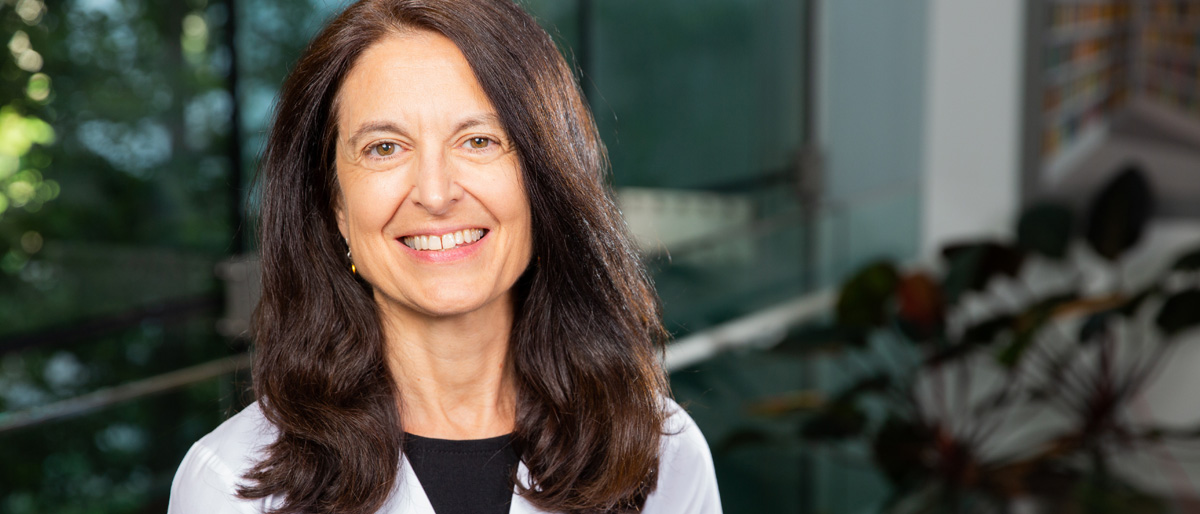 When Dr. Suzanne Conzen arrived at UT Southwestern in July, she had a mission: initiate breast and prostate cancer clinical trials with several faculty members during her first week on the job. She didn't falter from her goal. The new Chief of the Division of Hematology and Oncology attributes her success to the collaborative spirit on campus.
I was incredibly impressed from my first visit to UT Southwestern with the level of scientific and clinical expertise, Dr. Conzen said. There's a real expectation that faculty and trainees here push the envelope of original research. That sort of fearless thinking is what is going to make important discoveries for cancer prevention and treatment that help patients to both reduce risk and promote better outcomes after a cancer diagnosis.
Dr. Conzen was recruited to UT Southwestern's Harold C. Simmons Comprehensive Cancer Center from The University of Chicago. She was awarded a $6 million recruitment grant from the Cancer Prevention and Research Institute of Texas (CPRIT), as well as $2 million from the UT System's Science and Technology Acquisition and Retention Program. The latter funding is for lab renovation and equipment purchases. She also brings three National Institutes of Health awards to her new position.
Dr. Conzen has four patents and two intellectual property licenses. She wrote chapters in seven medical textbooks and was a Senior Editor for the American Association for Cancer Research's journal Cancer Research. She also reviews manuscripts for journals such as Cell, Science, and Nature Medicine. She did her undergraduate work at Brown University and went to medical school at Yale, while earning a Master of Science from the London School of Hygiene and Tropical Medicine. She then started her career as a physician-scientist at The University of Chicago, where she stayed for 23 years.
Dr. Conzen's outstanding career in Chicago made her the top candidate for taking a leadership role in the Division of Hematology and Oncology, said Dr. Carlos L. Arteaga, Director of the Simmons Cancer Center and Associate Dean of Oncology Programs. Her scientific work led to a pioneering repurposing of endocrine agents as cancer drugs. This use was based on mechanistic basic science, but it is also the kind of visionary translational research we're looking for.
Almost as soon as she arrived at UT Southwestern, Dr. Conzen was named a co-leader of the prostate cancer Specialized Program of Research Excellence (SPORE) application. SPORE grants are funded by the National Cancer Institute and are among the most comprehensive multidisciplinary research mechanisms available for translational research in an NCI-designated cancer center.
Dr. Conzen has studied mechanisms of the mammalian physiological stress response in both cancer initiation and progression. Her work has shown that hormonal changes in response to adverse, stressful environments cause activation of receptors and downstream molecular and epigenetic pathways that impact both nascent cancer cells and their surrounding cells. In addition to her molecular and genetic studies demonstrating mechanisms downstream of stress hormone signaling, her work also uncovered implications for how chronic environmental stressors may play a role in increasing the risk for triple-negative breast cancer among African American women living in Chicago.
Chronic stressors and the ensuing unrelenting cortisol response they produce can contribute not only to cardiovascular and endocrine disease, but our lab data suggest that stress hormone signaling also contributes to cancer cell viability. It's a complex and multifactorial gene-environment interaction in an individual patient, but yes, I believe that the stress response can play a role at the cellular level in cancer development and therapy resistance, she said. The good news is that the stress response can be blocked at many levels, including at the level of mitigating the exposure to the stressor, reducing the stress response, and blocking the stress hormone receptor using a pharmacological agent.
Her evidence-based, multidisciplinary approach to cancer risk and treatment considerations for vulnerable populations complement the Simmons Cancer Center's increasing efforts to reach underserved communities with novel cancer prevention and treatment strategies in the context of community-based participatory research.
Dr. Conzen's discoveries with the glucocorticoid and androgen receptors have also led to drug developments currently in clinical trials for breast, prostate, pancreatic, and ovarian cancer. She is currently planning a clinical trial at UT Southwestern to study a subset of triple-negative breast cancers that expresses both androgen and glucocorticoid receptors.
Dr. Conzen's work on nuclear hormone receptors has many implications for cancer biology and cancer care. Her discoveries underlie the latest treatments, and she will discuss this novel reach at the Reves Breast Cancer Symposium, Dr. Arteaga said.
The Wendy and Emery Reves International Breast Cancer Symposium at UT Southwestern Sept. 20-21 will focus on the latest clinical trials, drug resistance, new standards of care, and other breast cancer care issues.