Health System event celebrates excellence and innovation to advance patient care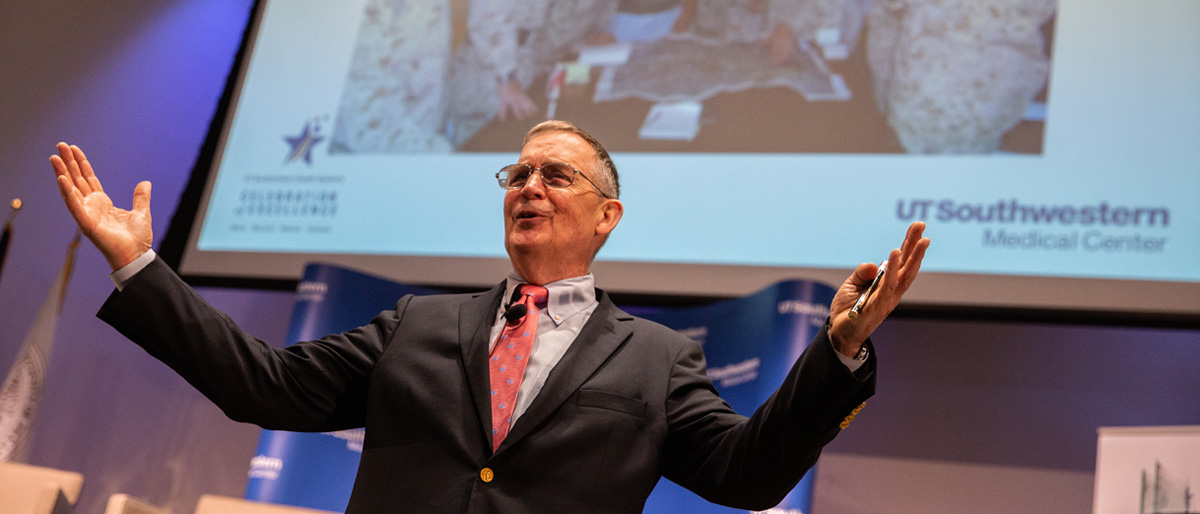 This story was originally posted on Center Times Plus on April 10.
---
UT Southwestern employees recently gathered for the inaugural UT Southwestern Health System Celebration of Excellence to highlight and recognize UTSW's top achievements in quality improvement over the past year. Open to the entire campus, the event emphasized how teamwork, innovation, and compassion all contribute to providing excellent patient care.
President Dr. Daniel K. Podolsky welcomed the group, saying he was delighted by the enthusiastic response to this celebration of Health System progress and excellence. He noted that UT Southwestern has come a very long way on its Clinical Transformation journey, but also commented that the quest for quality improvement and clinical excellence is ongoing and never-ending.
Opening remarks from Dr. John Warner, Executive Vice President for Health System Affairs, highlighted how recent quality improvement efforts have afforded UT Southwestern remarkably improved rankings through Vizient health care quality and accountability scorecards. With a goal of making it into the top 10 ranking overall next year, Dr. Warner emphasized the focus on UT Southwestern's values to make that happen.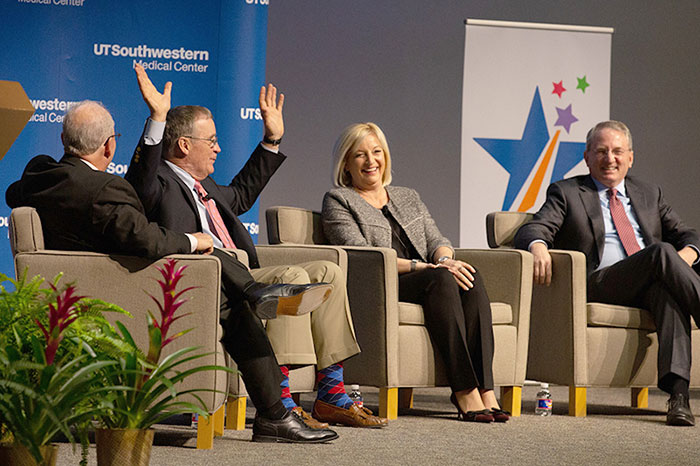 "I'm frequently asked, when people view our results and organizational achievements, what our secret is at UT Southwestern," Dr. Warner said. "And I always say two things. First, it's teamwork. This is a place where teams of people collaborate and produce an excellent quality of work, and they do so in an environment that doesn't focus on who gets the credit, but the product itself. The other thing I love talking about is our culture of innovation. This is a campus built on discovery; we are in an environment that's interested in trying new things."
The event's keynote speaker was retired U.S. Marine Lt. Gen. John F. Sattler, who served as the Director of Strategic Plans and Policy for the Joint Chiefs of Staff from September 2006 until his retirement in August 2008. Lt. Gen. Sattler commanded all forces in Al Anbar province in Iraq from September 2004 through March 2005. With more than 37 years of Marine Corps experience in leadership, command, and staff positions, Lt. Gen. Sattler ignited the crowd with motivational stories from his time serving in the Marines.
"Trust permits organizations to move rapidly," Lt. Gen. Sattler said. "If I tell you to do something and you don't trust me, you might look at me and ask for that in writing. But I see the 127 posters on display here today and see why your leaders are so proud – each of these is an example of a team that trusts and then lives the values of your organization."
He focused on the UTSW values – excellence, innovation, teamwork, and compassion – and how they serve as a foundation for developing a culture that leads to organizational success.
"Innovation and excellence mean that we don't wait for other people to come up with new processes and procedures, but protect and own our work," Lt. Gen. Sattler said. "It is our responsibility each and every day to be more competent at the end of the day than when we got up that morning. You never arrive. If you think you have arrived, you have become complacent."
Following his keynote remarks, Lt. Gen. Sattler sat with Dr. Will Daniel, Vice President and Chief Quality Officer; Susan Hernandez, Chief Nursing Executive; and Dr. Warner to discuss the importance of the UTSW organizational values.
Attendees also enjoyed a video that told the story of transplant patient Andrea Joyner, who was on the verge of dying when she became the recipient of UT Southwestern's first combined heart and liver transplant. Two years later, the singer-songwriter still remembers not only the names of the surgeons who saved her, but also the nurses, nutritionists, cleaning staff, and everyone else on her care team whose pursuit of excellence, compassion, teamwork, and innovation returned her to health. Ms. Joyner joined the event and greeted attendees.
"Her story shows why UT Southwestern is among the top 10 percent of academic medical centers in the country in patient experience and outcomes," Ms. Hernandez said. "When I walk into William P. Clements Jr. University Hospital, I might see someone helping get a wheelchair for a patient with kindness in her voice. Sometimes it's about meeting with groups of team members and just listening to them talk with each other about trying to give the best care that they can for a patient. Sometimes it's simply someone in the lunch line giving you a smile, but it plays out all the time here."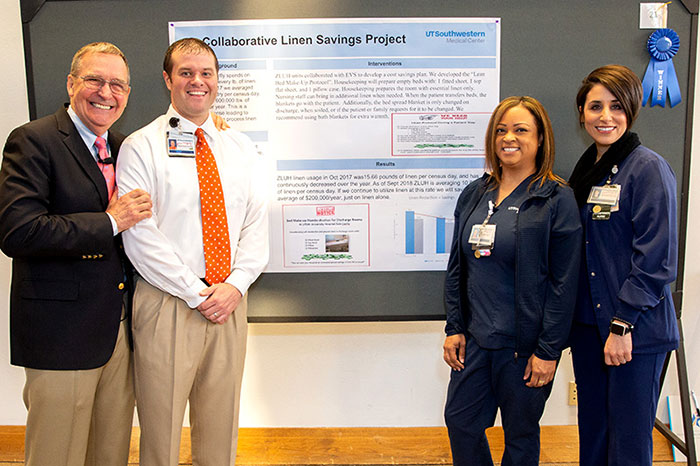 Throughout the event, attendees perused quality project posters outside Tom and Lula Gooch Auditorium and McDermott Lecture Halls. Several posters were honored in categories of Quality, Patient Experience, People, and Financial Stewardship (see sidebar, right).
Afternoon sessions held at the William P. Clements Jr. University Hospital Learning Center featured high-performing teamwork presentations by Lt. Gen. Sattler and quality improvement project leaders. Lt. Gen Sattler's presentation, titled "Purpose and Commitment: What is a King (Leader)?" touched on what makes a true leader in any organization.
"You don't become entitled overnight," he said. "Leaders will garner their team's loyalty by taking on the hardest burdens and doing the heaviest lifting. That's what distinguishes a leader."