Community health fair at Rusk provides health information, free screenings, sports physicals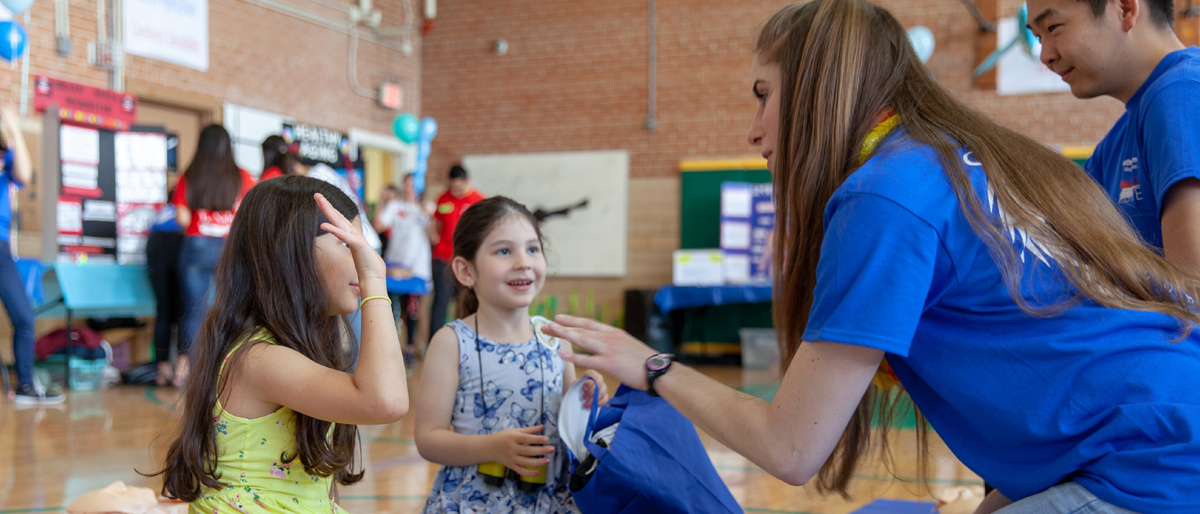 Alexander Sanchez and Carlos Mendoza rolled up their eighth-grade sleeves and got down to the puzzle at hand: extracting DNA from strawberries.
We're interested in engineering, but this was cool, said Carlos, a student at Thomas J. Rusk Middle School.
This must've been music to the ears of Mehraban Kavoussi, a first-year student at UT Southwestern Medical School. He was working with the two Rusk students at UT Southwestern Medical Center's annual Carnaval de Salud.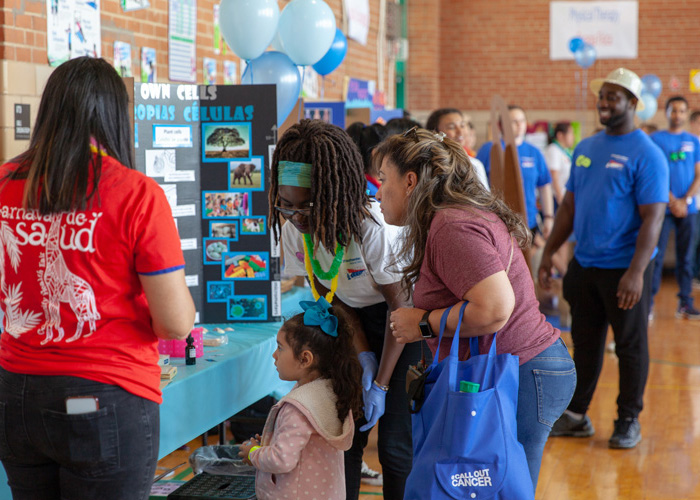 The April 27 event, organized and run by UT Southwestern students and faculty and staff volunteers, is in its 15th year of providing free health care services, information, and lifestyle strategies to hundreds of families from underserved populations in Dallas. It is part of the UT System's "United to Serve" initiative.
Through projects like the strawberry DNA and other interactive booths, UTSW's educational mission was effectively delivered, allowing students to learn more about science, health, and the human body – perhaps without even realizing it.
The Science Zone offers a unique opportunity to learn about the science of the human body, face to face with UT Southwestern students, said Alice Jean, a fourth-year medical student and one of this year's event co-directors. That type of relaxed and interactive environment really makes the subjects approachable and fun for patrons of all ages.
Carnaval de Salud keeps growing by the year, as nearly 200 people lined up prior to the 9 a.m. opening at the school. By midafternoon that Saturday, the hallways were still bustling and more than 600 people had taken part in UTSW's community outreach.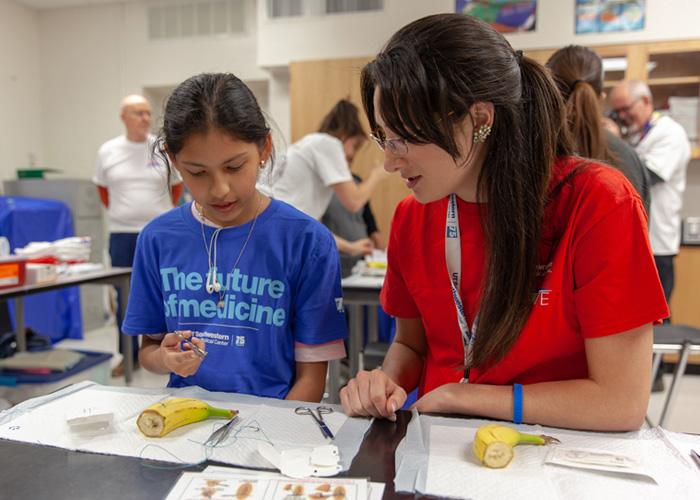 It's absolutely wonderful, said Elisa Simmons, who brought along daughters Alecia, a sophomore at Lancaster High School, and Jasmin, a student at Cedar Valley College. There so much useful information, and it's presented in a family-friendly way.
Jacqueline Escobar, meanwhile, wasted little time in Rusk's East Gym, first getting a hands-on feel for CPR before moving to the first-aid station to bear hug a mannequin for Heimlich experience. Her youngest, 20-month-old Samantha, had already given Mrs. Escobar and older daughter Kimberly, 11, ample reason for practical training.
"She's twice had choking incidents," Mrs. Escobar said. "At Samantha's age everything, not just food, goes in the mouth. You never know when you'll need it, but getting this experience helps."
Students from the Medical School, UT Southwestern Graduate School of Biomedical Sciences, and UT Southwestern School of Health Professions plan and coordinate the fair, which featured about 75 stations and involved more than 500 volunteers this year. Afterward, students proactively follow up with community members who participated.
Carnaval de Salud provides a welcoming environment where patrons can undergo basic health screening, learn about common medical conditions, and enjoy fun and educational activities for the whole family, said Claire Mauvais, a fourth-year medical student and event co-director.
UT Southwestern students work together to reach all ages, emphasizing preventive care and providing resources to encourage healthy lifestyle choices in our community. It's great for everyone involved.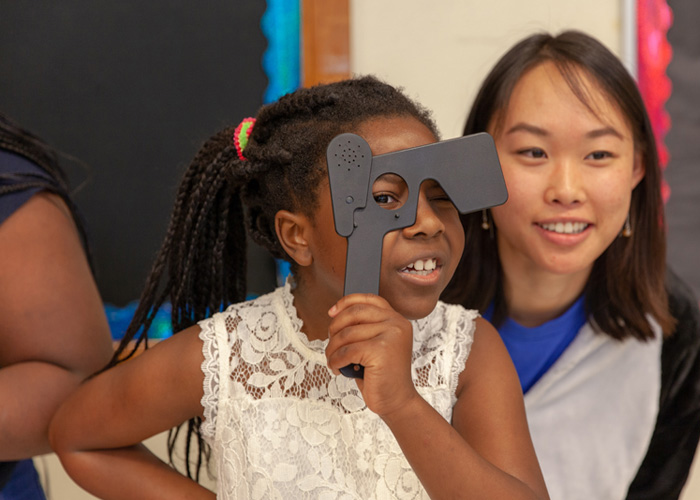 This year's event, themed "Into the Wild," featured free health screenings for several common conditions such as diabetes, high blood pressure, and high cholesterol. Dallas ISD student-athletes like Jukeen Bellows who needed a health screening could get a free sports physical and learn about local health resources. Jukeen, a junior at Emmett J. Conrad High School, got his football physical even before summer training. We're here, it's free, and he's now ready to go, said his mother, Janeeka Bellows.
For young kids, the fair had carnival activities, arts and crafts, and more than 20 drop-off boxes for a chance at prizes.
Participants milled around two tables featuring some of the day's popular giveaways: the UTSW Police gave out flying discs and wristbands, and a team from the School of Health Professions offered healthy recipes and ingredient options.
I've gotten some great recipes and tips, said Tiffany Thomas, who is raising her nephews, middle-schoolers Nicolas and Cadyn Rogers. I've told my nephews that if you go too hard you can lose steam and not achieve your goal. We've been shown practical approaches to meals that take little dietary steps. Now we have a better chance to succeed.