Bukulmez appointed to new Professorship in Reproductive Endocrinology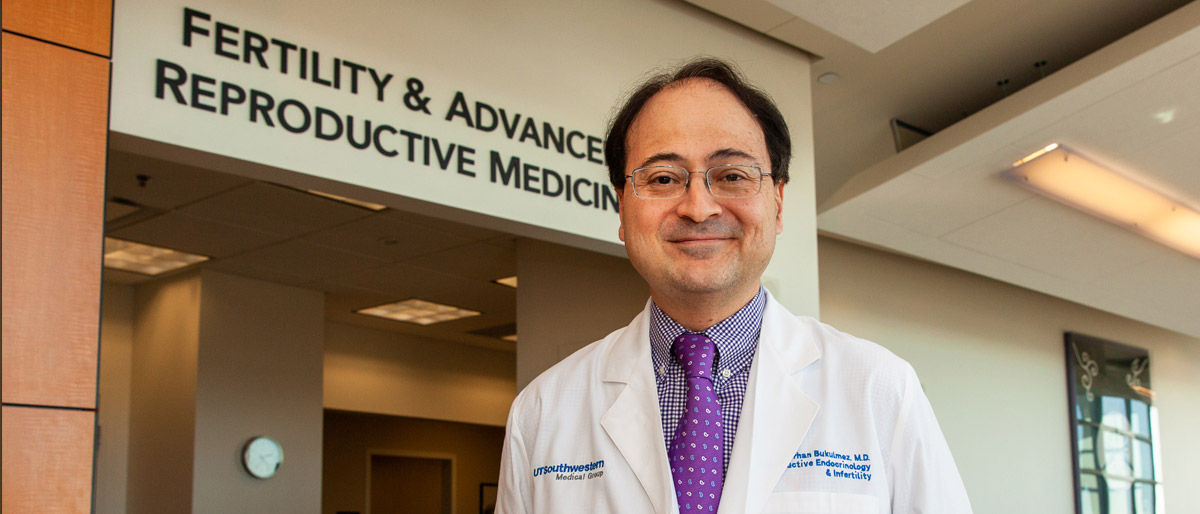 Dr. Orhan Bukulmez, who specializes in helping families with fertility issues become new parents, has been named the first holder of the Professorship in Reproductive Endocrinology and Infertility, in Honor of Bruce R. Carr, M.D. Doctors who trained under Dr. Carr helped fund the new Professorship.
Dr. Carr, Professor of Obstetrics and Gynecology and Director of the Reproductive Endocrinology and Infertility Fellowship Program, is legendary for shepherding many of the country's infertility specialists during fellowship, Dr. Bukulmez said, as well as for helping develop treatments for endometriosis and uterine fibroids, conditions that can cause pain and infertility.
Dr. Bukulmez, who began practicing in his home country of Turkey, trained under Dr. Carr during a UT Southwestern fellowship from 2004 to 2007. "It's a great honor for me to carry the title of Bruce Carr," said Dr. Bukulmez, Associate Professor of Obstetrics and Gynecology. "He was a mentor for me."
Money from the endowment will allow him to continue developing the program he leads at UTSW's Fertility and Advanced Reproductive Medicine Clinic, he said. One goal is to add the ability to freeze ovarian tissue for transplant later – a service important for women undergoing cancer treatment, for example, or to those who want to ensure their fertility at a later time. Research into ways to rejuvenate women's ovaries in order to extend female fertility is another area of interest, he said.
"I would like to see UT Southwestern develop the reputation as a center of reproductive technologies," Dr. Bukulmez said.
The clinic now offers in vitro fertilization (IVF), donor eggs, gestational carriers, egg and embryo freezing, and pre-implantation genetics testing.
After completing his UTSW fellowship and working three years at the University of Florida College of Medicine, Dr. Bukulmez returned as Chief of the Division of Reproductive Endocrinology and Infertility at UT Southwestern in 2010.
Since then, "Orhan has almost single-handedly rebuilt our in-vitro fertilization program," Dr. Steven L. Bloom, Chair of the Department of Obstetrics and Gynecology, said in recommending Dr. Bukulmez for the endowed professorship. "Our IVF program enjoys a reputation for providing care to the most challenging couples – especially those women who have significantly diminished ovarian function."
That condition is most common among women in their mid-30s and older, who have fewer viable eggs to be fertilized as they age. Dr. Bukulmez specializes in treating such patients without resorting to donor eggs. He recently wrote a book addressing how best to treat these patients: Diminished Ovarian Reserve and Assisted Reproductive Technologies. The use of high doses of fertility drugs to stimulate production of more eggs is often counterproductive in these cases, he said, because it leads to eggs of poorer quality that do not result in a successful pregnancy.
Using his methods, the clinic has achieved a better than 27 percent ongoing pregnancy rate in women over age 42 with diminished ovarian reserve, compared with the typical national rate of around 5 percent, Dr. Bukulmez said.
Dr. Bukulmez, a father of two children, said he delights in the photographs patients later send him of themselves holding a newborn. "We see the look on the faces of the patients. Our reward is their happiness in having a healthy child."