Postdoctoral researcher receives Brown-Goldstein Award for protein discovery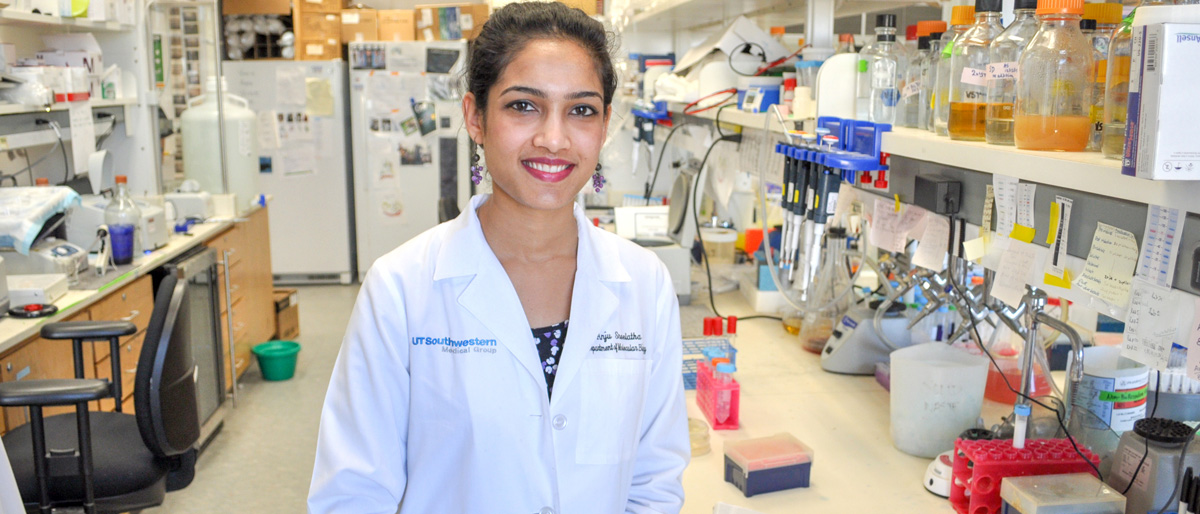 For the past four years, biochemist Dr. Anju Sreelatha has studied the protein kinase superfamily. About two years into her research she made a discovery that could result in new therapies to treat cancers, neurodegeneration, and even aging – if her experiments prove further successful.
Dr. Sreelatha, a postdoctoral scholar in Molecular Biology, is the 2019 recipient of the Brown-Goldstein Award for Excellence in Postdoctoral Research. The award is the highest honor for research accomplishments given by the Graduate School of Biomedical Sciences for a postdoctoral trainee.
It is a great honor to win the Brown-Goldstein Award, as many of the previous award recipients are very inspirational scientists. I was excited to even be one of the finalists for the competition, so you can imagine my excitement when I found out I was actually awarded the Brown-Goldstein Award, Dr. Sreelatha said.
Dr. Sreelatha's project, Protein AMPylation by an Evolutionarily Conserved Pseudokinase, focuses on understanding how a family of enzymes works within a cell. In part, she discovered a new enzymatic activity for a predicted inactive pseudokinase, Selenoprotein O (SelO). SelO is one of only 25 selenoproteins in humans that contain the essential micronutrient selenium in the form of an amino acid, selenocysteine.
What is unique about our discovery is that we found a new activity for this enzyme that is involved in how your cells respond to oxidative stress. So, when your cells have a burst of reactive oxygen species, for example, you have oxidative stress within your cells and this protein protects your cells from consequent damage, Dr. Sreelatha said.
Dr. Sreelatha and her UTSW collaborators are still trying to understand the protein's physiological importance in humans and how it affects different cell types. Dr. Vincent Tagliabracci, Assistant Professor of Molecular Biology, is Dr. Sreelatha's mentor for the project. He described Dr. Sreelatha as an outstanding biochemist with an innate ability to think differently about problems in biomedical research.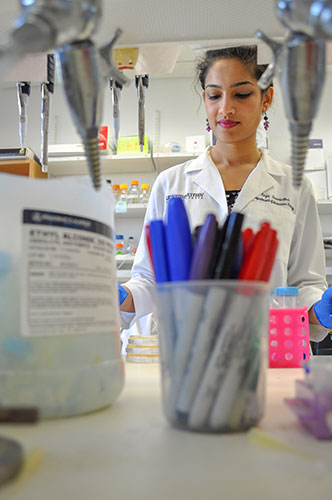 Research is tough. Most of the time experiments fail, which could be mentally exhausting for trainees and PIs. So being recognized with an award like the Brown-Goldstein Award is special and gives scientists well-deserved recognition and confidence to make the next discovery, Dr. Tagliabracci said.
The Brown-Goldstein Award recognizes traits of the successful researcher – creativity, productivity, and presentation skills – as well as originality, depth, and impact of the honoree's research project. The award is named for Nobel Laureates Dr. Michael Brown and Dr. Joseph Goldstein, who shared the 1985 Nobel Prize in Physiology or Medicine for their discovery of the underlying mechanisms of cholesterol metabolism.
The Brown-Goldstein Award also provides recipients an opportunity to present a lecture to their peers. Dr. Sreelatha said it was both a terrifying and an exciting experience, but that she's pleased with all the support she's received from the UT Southwestern community. She hopes to obtain a faculty position in academic research and mentor the next generation of scientists in her own lab one day.
The Graduate School also recognized the achievements of three award finalists: Drs. Brandon Faubert, Catherine Makarewich, and Cunqi Ye, postdoctoral researchers in the Children's Medical Center Research Institute at UT Southwestern, Department of Molecular Biology, and Department of Biochemistry, respectively, who all received Dean's Discretionary Awards.