UT Southwestern's new GammaPod advances breast cancer care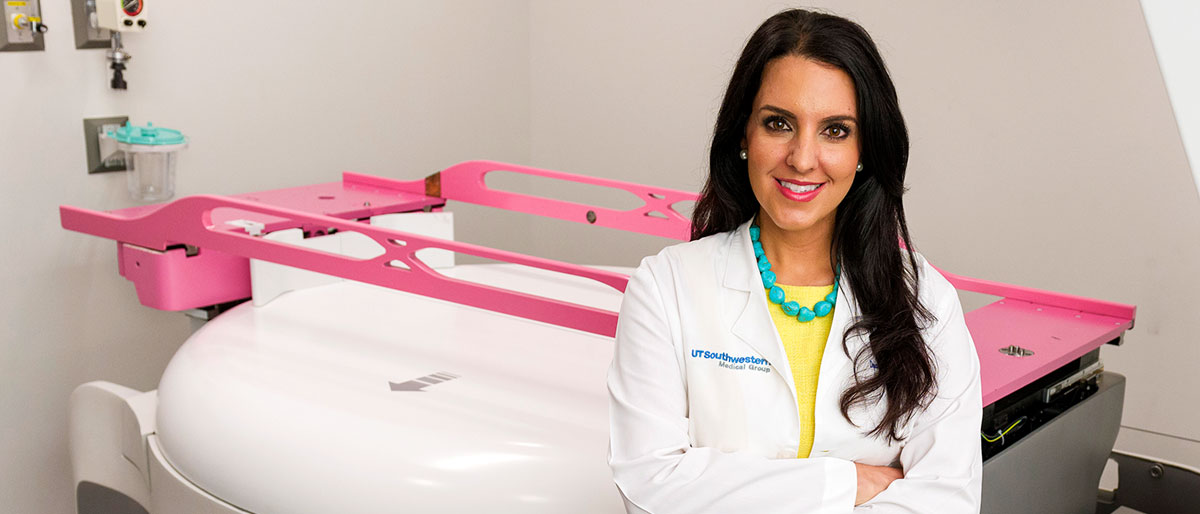 UT Southwestern now offers more precise radiation treatments for breast cancer with a new, cutting-edge device that is only the second of its kind in the world. The GammaPod delivers higher doses of radiation to a narrowly targeted area, meaning breast cancer patients will have fewer treatments over shorter periods of time.
"It's going to be a great service to the community and offer a lot to women who are facing breast cancer with the busy lives that they have today," said Dr. Asal Rahimi, Associate Professor of Radiation Oncology and Director of Clinical Research. "Our mission is to try to provide very effective treatment in as little time as possible."
The GammaPod breaks new ground with vacuum suction that temporarily immobilizes the breast, holding it perfectly still so radiation hits its target and spares healthy tissue. The suction pulls the breast up against the wall of a fitted plastic cup, much like a breast pump for breastfeeding. The sensation is nearly the same. Before stereotactic radiation is delivered, a CT scan pinpoints the tumor's exact location within the breast held by suction.
With the location positively identified and entered into a computer, the patient then presses up against the GammaPod's large vertical, rectangular table. There is a hole where the breast cup slides through. The foam padded table tilts 90 degrees to a horizontal position, so the patient is lying face down for treatment. The breast is downward, thereby eliminating radiation near the heart or lungs.
The GammaPod's unique configurations allow oncologists to narrow radiation down to a range of just 3 millimeters, or less than that of three stacked pennies. Standard radiation treatment for breast cancer patients typically lasts four to six weeks, but with the stereotactic radiation delivered by the GammaPod, treatment can be shortened to just one to five days and potentially lower the toxicity of treatment.
One of UT Southwestern's first GammaPod patients, Patricia Salcido, 60, of Grand Prairie, Texas, said she was a bit nervous before her first treatment and completely at ease after it.
"I feel that I could feel it inside working. The new technology is wonderful. I totally believe in it," Ms. Salcido said, as she faced the GammaPod, waiting for her third treatment. "I fly up there, lie on my cheek and just let the machine do the work, and the results will come later."
She said the most memorable sensation is pressure on her cheek as she lies with her face turned to the side. There is no pain. Ms. Salcido is a typical GammaPod patient, requiring five roughly 20-minute treatments.
Dr. Rahimi said possible side effects could be minor blistering and bruising. Ms. Salcido said she's not had any of that.
"I have had no side effects. None! I sleep like a baby," she said smiling.
Dr. Rahimi Co-Chairs the GammaPod Consortium with a doctor from the University of Maryland, where the GammaPod was initially developed. She said clinical trials are ongoing and more are planned. Doctors will likely mix the GammaPod's advantages with other resources in the Department of Radiation Oncology to personalize treatment to the size of patients' breasts and tumors.