$10M NIH grant funds study of brain's link to metabolism, fitness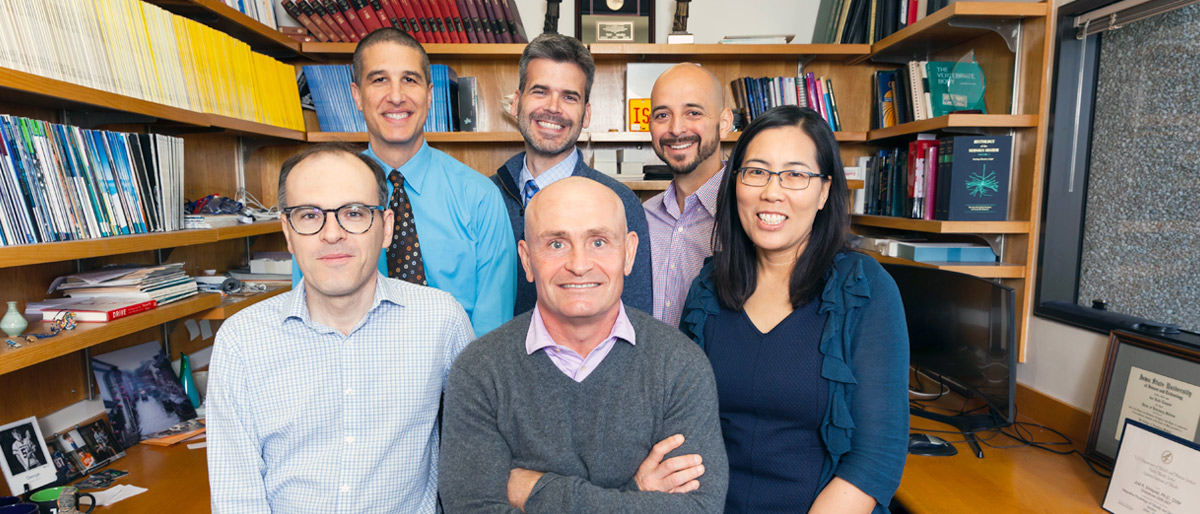 UT Southwestern researchers have been awarded more than $10 million from the National Institutes of Health to study how exercise-induced brain activity leads to changes in metabolism and body composition.
The five-year program, funded by the National Institute of Diabetes and Digestive and Kidney Diseases, is led by a multidisciplinary team of researchers that will examine the brain's role in metabolism, appetite, and physical endurance. Among other goals, the researchers aim to understand why exercise alone is often not enough to lose weight.
"While the physiological responses to exercise have been well documented, especially in humans, the cellular mechanisms and neural circuits underlying these responses are poorly understood," said Dr. Joel Elmquist, Professor of Internal Medicine and founding Director of the Center for Hypothalamic Research at UT Southwestern as well as Principal Investigator for the grant project. "Our team believes that understanding these mechanisms will lead to improved strategies to target circuit mechanisms and, ultimately, new treatments for conditions such as obesity and diabetes."
The grant will fund three primary projects exploring relationships between exercise and the brain, each of which is headed by faculty in UT Southwestern's Center for Hypothalamic Research in the Department of Internal Medicine.
Three cores will support the grant projects. Dr. Syann Lee, Assistant Professor of Internal Medicine, serves as the research coordinator and will assist Dr. Elmquist – who has additional appointments in Pharmacology and Psychiatry – in the administration and operation of the grant.
Project 1: CNS neurons regulating metabolism
Dr. Elmquist and Dr. Carlos Castorena, Instructor of Internal Medicine, will collaborate with Dr. Nick Betley of the University of Pennsylvania to study how exercise changes the signals sent by neurons in the central nervous system to influence the beneficial effects of exercise. Dr. Castorena of the Elmquist laboratory and former lab member Dr. Teppei Fujikawa previously found that mice lacking the steroidogenic factor 1 (SF1) protein in the hypothalamus region of the brain have blunted metabolic responses to exercise. The two teams will now explore the hypothesis that exercise induces changes to hypothalamic neurons that regulate food intake, body composition, exercise endurance, and insulin sensitivity. These studies will rely on several unique mouse models and high-tech strategies such as neuronal imaging and optogenetics.
Project 2: Hormonal changes following exercise
Dr. Jeffrey Zigman, Professor of Internal Medicine and Psychiatry, will lead research investigating the hormonal and neuronal mediators that influence appetite, energy expenditure, and exercise endurance. The investigation follows up on a mouse study published last year by Drs. Zigman and Elmquist suggesting that exercise raises levels of the hormone ghrelin and that inability to respond to the increased ghrelin markedly diminishes food intake after exercise. Dr. Zigman's team will use a unique collection of genetically engineered mouse models to study the mechanisms regulating exercise-induced ghrelin release. They also will investigate the neuronal sites and other mechanisms by which ghrelin influences metabolic responses to exercise and endurance.
Project 3: Neuronal changes after exercise
Dr. Kevin Williams, Associate Professor of Internal Medicine, will investigate the mechanisms underlying exercise-induced adaptations of neurons that influence metabolism. The research will expand on a 2018 mouse study by Dr. Williams that showed exercise rapidly alters the activity in a neural circuit regulating body weight and blood-glucose levels. In particular, a single exercise session altered the activity of this circuit to suppress appetite and improve glucose metabolism, lasting from hours to days. This work highlights the flexibility of hypothalamic neurons in response to exercise.
Cores: Neuroanatomy, histology, and exercise
Dr. Laurent Gautron, Assistant Professor of Internal Medicine, will direct the neuroanatomy and histology cores that will provide skilled histological and surgical services to grant investigators. Notably, the core will be an essential component of the characterization and validation of proposed mouse models, including gene-specific deletions studied. Dr. David Wasserman, Professor of Molecular Physiology and Biophysics at Vanderbilt, will direct the exercise physiology core.