A passion for service: Family, health crises inspired Ho Din winner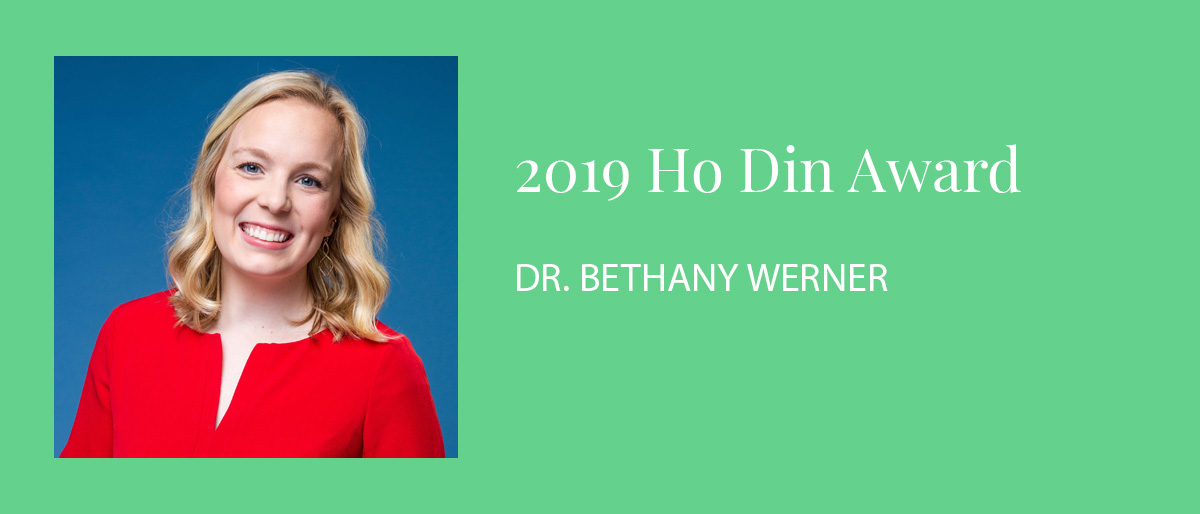 Maybe Dr. Bethany Werner, this year's winner of the prestigious Ho Din Award, was always meant to be a doctor.
Dr. Werner decided on her future career while still in elementary school, listening to her paramedic father talk about his days rescuing people after traffic accidents and heart attacks and rushing expectant moms to the emergency room. He would talk about different patients he had seen and taken care of, but his stories always ended with, 'and then we dropped them off at the hospital.' Looking back, I realize I was always curious about what happened to those people after getting to the hospital, the newly minted UT Southwestern Medical School graduate and Ob/Gyn said.
She got that chance in 2008 – in a dramatic way – at age 14 when she suddenly started having trouble breathing. Her left lung had collapsed, the result of an air blister on her lung that had burst. I was petrified, Dr. Werner said. Three days in the hospital, a fairly simple procedure to allow her lung to reinflate, and a comforting explanation from a hospital physician about the blisters (called "blebs"), and how she may have been born with the defect, seemed to put her back on track and able to return to playing high school volleyball.
Then it happened again the following school year, when she was a sophomore. The first time, the bleb healed and her lung was reinflated with a chest tube. This time her doctors decided she needed video-assisted thoracoscopic surgery so surgeons could repair the defect in her lung.
That summer, just before her 16th birthday, she found out her mother had a sarcoma cancer in her thigh. From that point and continuing into 2011, Dr. Werner helped her mom navigate the health care system. She traveled with her from their home in Plano to Dallas for doctor visits and served as an at-home caretaker when her mother underwent chemotherapy. Today, her mom, who holds an MBA and owns her own business, is in remission.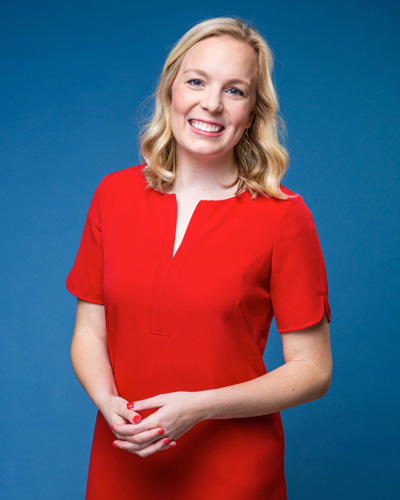 Those experiences showed Dr. Werner how important a caring physician is during stressful times. "When you're involved with something like that, you really need someone to be the captain of the ship. I really saw my mom's physicians do that. I was just incredibly impressed and grateful for all their work in caring for her."
After graduating from UT Dallas magna cum laude with a degree in biology, then heading to medical school, Dr. Werner was able to repay some of that debt during her surgery training at UT Southwestern.
A teen girl – about the same age Dr. Werner was when she underwent her own lung surgery – came in with a collapsed lung and was headed to the OR. She was very nervous, on-the-verge-of-tears nervous.
Dr. Werner, then a second-year medical student, took the teen under her wing, explaining what was about to happen. After the surgery, she talked to the girl and her family about what to expect during recovery. It's those types of experiences where you know that you've made a difference that make me so excited to become a doctor so I can continue to have that sort of impact, Dr. Werner said.
Bethany Werner is an absolute star, Dr. Angela Mihalic, Dean of Medical Students and Associate Dean of Student Affairs, said in explaining why Dr. Werner was chosen to receive the Ho Din, the Medical School's oldest and most prestigious student award, presented each year by Southwestern Medical Foundation. It was established in 1943 to recognize those with the attributes inherent in great physicians and comes with a Ho Din medal, certificate, and scholarship of $10,000.
Dr. Werner, she said, has a track record of excellence in her academics; clinical acumen; a high level of maturity, empathy and compassion; and leadership skills.
Dr. Werner also received the Annelle M. Ahmed, M.D. Women's Health Care Award, given in honor of its namesake faculty member, who worked in the Department of Obstetrics and Gynecology before dying of breast cancer at age 39.
I knew Annelle Ahmed during her time here at UT Southwestern. She would be as proud of Bethany as I am, said Dr. Mary Pearson, Professor of Obstetrics and Gynecology. Bethany was knowledgeable. She demonstrated true heart in caring for her patients. She was a great team player. And she did all this without flash; she just put her head down and did what was needed.
Dr. Werner plans to complete her residency at UT Southwestern in obstetrics and gynecology, a field she chose because it offers the opportunity for close doctor-patient relationships as well as the chance to perform some surgery and deal with complex and intellectually stimulating medical issues, weighing the benefits and risks for two patients at the same time.
I just love the relationships that you can build with women, Dr. Werner said. Ob/Gyn is a specialty that's very dependent on the trust between the patient and the provider.
One of Dr. Werner's goals is to increase access to health care for women. Working with low-income women at Dallas County's public hospital system, Parkland Health & Hospital System, and volunteering at free clinics, Dr. Werner said she developed a deep respect for the women who remain optimistic as they struggle to find a way to pay for prenatal care and cover food and rent.
Maybe the first time they're getting care is when they're pregnant, Dr. Werner said. They were always so grateful to receive the care.
Teaching at an institution like UT Southwestern one day is another goal, she said.
Dr. Werner's younger sister, Geneva, also excelled in science but headed to the Massachusetts Institute of Technology for an engineering degree – something Dr. Werner said she never considered.
I just felt like my career purpose in life was to be a physician, she said.