World-renowned imaging expert named Director of AIRC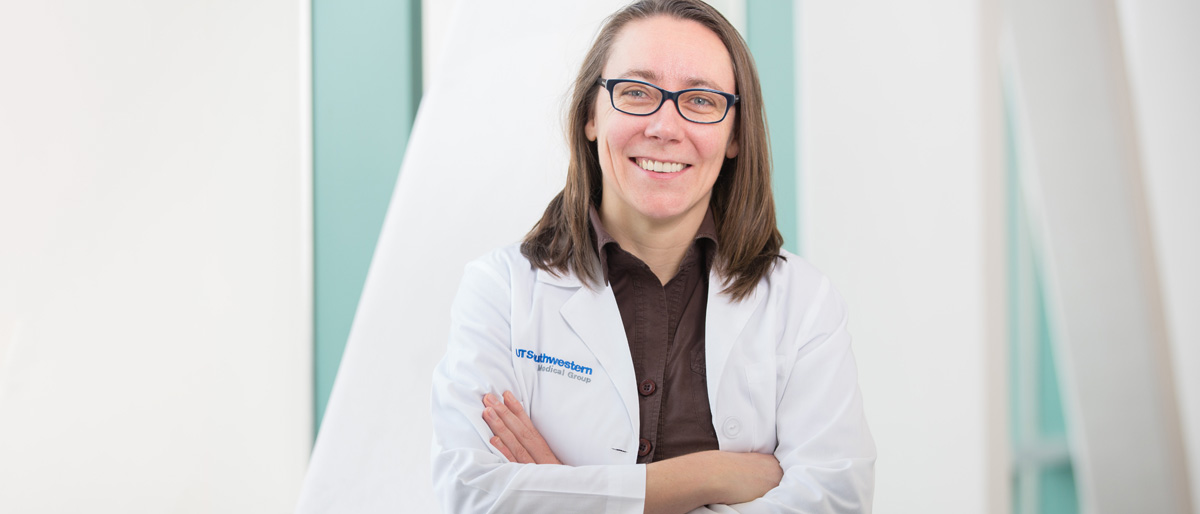 Dr. Anke Henning, an internationally recognized expert in the latest medical imaging technologies, has joined UT Southwestern as Director of the Advanced Imaging Research Center (AIRC).
One of Dr. Henning's goals is to expand her laboratory interests as a Cancer Prevention and Research Institute of Texas Scholar in Cancer Research to include imaging glioblastoma – an aggressive, incurable type of brain cancer – to enhance treatment. She joined UTSW Jan. 1.
A former research group leader at the Max Planck Institute for Biological Cybernetics in Tűbingen, Germany, Dr. Henning developed novel MRI methods for noninvasive visualization of disease-related structural and metabolic changes in the brain, spinal cord, and heart. She also led clinical research involving heart imaging, brain imaging for psychiatric disorders, and spinal cord imaging in traumatic injury.
"Dr. Henning has led outstanding brain and spinal cord imaging programs from both research and clinical perspectives," said Dr. David Russell, Vice Provost and Dean of Research at UTSW.
Dr. Henning said her first faculty position in the U.S. presents far-ranging opportunities.
"Through collaborations with clinical departments, I hope to positively impact health care by developing better diagnostic imaging approaches that can better define brain diseases," she said. "The AIRC directorship position presented a unique chance to pursue my research interest in ultra-high-field and metabolic MRI."
Dr. Henning succeeds charter AIRC Director Dr. A. Dean Sherry, a Professor of Radiology at UTSW who established the Center in 2005. Under his guidance, the AIRC became a world leader in the development of nonradioactive MRI tracers and techniques to reveal the aberrant markers of cancer, diabetes, obesity, Alzheimer's disease, schizophrenia, depression, and diseases of the heart, lung, and liver.
With Dr. Henning's arrival and new investment into imaging instrumentation, the scope of technical development will broaden to novel brain imaging approaches. AIRC researchers, in collaboration with UTSW clinical groups, plan to work together to map the brain's anatomy, function, and metabolism in unprecedented detail, providing new understanding of the normal brain as well as of abnormalities such as neurogenerative disorders, traumatic brain injury, and psychiatric disorders. This initiative complements work at UT Southwestern's Peter O'Donnell Jr. Brain Institute.
A brainchild of the late UTSW Nobel Laureate Dr. Alfred Gilman, the Center is used for both basic and clinical research. Hence, the AIRC also provides access to advanced imaging instrumentation and methodology to the UTSW research community and is the preferred location for UT Dallas and UT Arlington imaging investigations.
Dr. Henning's Ph.D.-directed endeavors included magnetic resonance spectroscopy (MRS) work inspired by Drs. Kurt Wüthrich and Richard Ernst – both Nobel Laureates in Chemistry – while she was at the Swiss Federal Institute of Technology Zurich (ETH). Her major accomplishments have involved research on brain and spinal cord MRI at the high magnetic field measurements of 7T and 9.4T (tesla), including development of novel metabolic MRI technology.
"My group was the first to enable high-resolution imaging of 12 metabolites – including neurotransmitters in the human brain – exploiting a unique 9.4T MRI scanner," she said.
Dr. Henning grew up in Stralsund, Germany, and as a child experienced life in communist East Germany and the fall of the Berlin Wall. She earned a master's degree in physics from the Chemnitz University of Technology in her home country and her doctorate in physics from the ETH. She joined the Max Planck Institute in 2012 and in 2017 became a Professor of Medical Physics at the Ernst Moritz Arndt University of Greifswald in Germany.