West Campus building opens with dedication ceremony, tours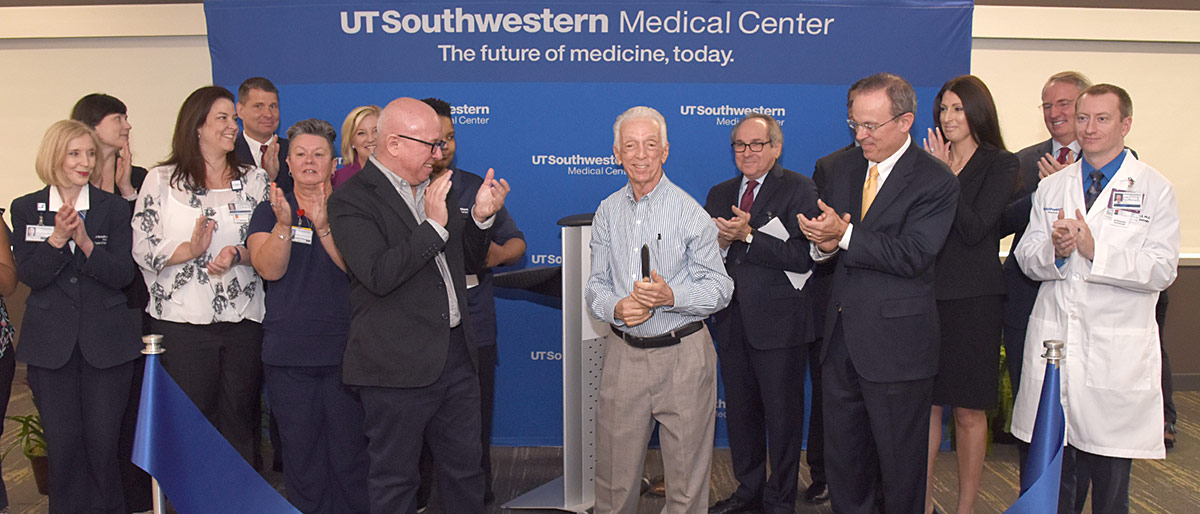 The UT Southwestern campus community got its first look inside the sparkling new West Campus Building 3 at a recent dedication ceremony for the building, which includes a state-of-the-art Simulation Center.
The 305,000-square-foot clinical and academic building at 2001 Inwood Road – called West Campus Building 3 (WCB3) – represents the first time UT Southwestern has brought together its clinics with their corresponding academic offices. Many providers and staff who moved into the building relocated from the James W. Aston Ambulatory Care Center on South Campus.
One of the building's hallmarks is its Simulation Center, which occupies the entire second and third floors. Designed for training medical students, residents and fellows, UT Southwestern faculty, and other clinicians, it is one of the most advanced simulation centers in the country.
Other occupants of the new space are Urology, the Clinical Heart Center, Vascular Surgery, Otolaryngology, and Internal Medicine Subspecialties. By Aug. 6, all clinics had opened.
UT Southwestern leaders, invited employees and guests, and two UT Southwestern patients attended the July 25 dedication ceremony. Employees were treated to a day of tours, giveaways, and snacks – including sugar cookies branded with a rendering of the new building.
The dedication featured remarks from UT Southwestern President Dr. Daniel K. Podolsky and Dr. John Warner, Executive Vice President for Health System Affairs.
At the afternoon dedication, Dr. Podolsky told the crowd that members of the campus community are here at a special time.
"We are fortunate to be at UT Southwestern, where we are experiencing great momentum," he said. "This building is necessary because more and more patients have come to trust us with their care.
"Not many institutions will have the experience that we've had this week," Dr. Podolsky said, referring to the building dedication, which followed – by one day – the topping off of the forthcoming UT Southwestern multispecialty clinic and Texas Health Resources acute care hospital complex in Frisco.
"This is the first phase of the continual revitalization that will go on over the next 15 to 20 years, making this a hub for outpatient care and continuing education at UT Southwestern."
Dr. Warner acknowledged several UTSW leaders who played crucial roles in bringing WCB3 to fruition, and said he was proud of the building's core representation of our three missions – patient care, research, and education of the next generation of providers.
He said he's been mulling the new structures that have risen in the last several years – the William P. Clements Jr. University Hospital; the UT Southwestern Monty and Tex Moncrief Medical Center at Fort Worth; the William P. Clements Jr. University Hospital Radiation Oncology Building; and now the new West Campus Building 3.
"All of these buildings are spectacular in their architecture and in the improvements they make to our facilities," Dr. Warner said, "but the legacy they are already creating is the way they have supported our ability to make significant improvements in the care and service – really the entire patient experience – that we can provide to those who entrust us with their care. In fact, we asked patients to help us think through how the building is organized, how and where we could give it those special touches, and how we can make sure that the care they're receiving is the care that they want and need. The voice of the patient has been very prominent in all of our projects."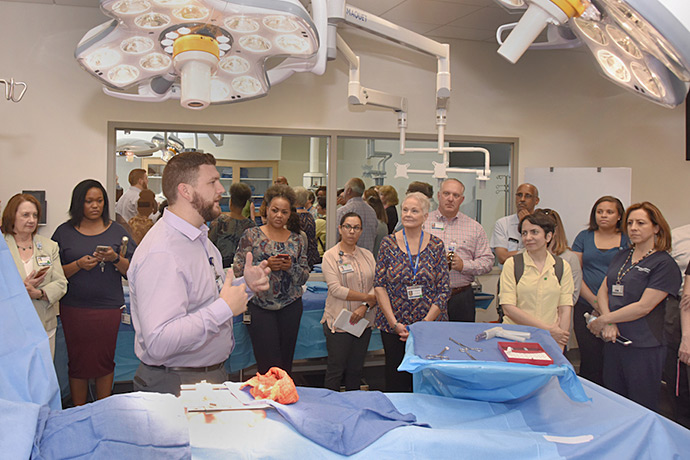 During the building tours, employees admired the open-concept office spaces and gazed out at the striking skyline panoramas on view through the corridors.
Dr. Bradley Marple, Chair of Otolaryngology-Head and Neck Surgery and Associate Dean for Graduate Medical Education, said his Department was looking forward to the much-needed move to WCB3 to accommodate growth.
"Our ambulatory clinic has historically grown through expansion into adjacent spaces vacated by other departments," Dr. Marple said. "WCB3 represents the first time that we have had the opportunity to create an ambulatory environment that addresses the needs of our patients."
Dr. Marple applauded the building's look, including its stunning artwork. The WCB3 collection includes more than 80 pieces of original art by a diverse group of artists working in a variety of media.
At the ribbon cutting, UT Southwestern's clinical care mission was underscored by the appearance of two former patients. One was Dallas artist John Pomara, a Professor in the School of Arts and Humanities at UT Dallas.
As Mr. Pomara told the assembled guests in his remarks, nine years ago he received life-changing news: He was diagnosed with an aggressive form of prostate cancer.
He was treated by Dr. Claus G. Roehrborn, Professor and Chairman of Urology, and quickly underwent surgery. To his relief, Dr. Roehrborn was there when he awoke from surgery with a welcome announcement: Mr. Pomara was in the clear, and the cancer had likely been caught in time.
"I want to thank Dr. Roehrborn and his staff for what they did, because they gave me nine more years of living a fuller, more meaningful life," Mr. Pomara said. He noted three "amazing experiences among many" that he might not have otherwise had: "I got to walk my daughter down the aisle," he said, "and two years ago I got to watch my granddaughter being born."
His third experience was finishing a set of paintings he'd been working on when he was diagnosed with cancer.
"The goal was to make the most beautiful, the most uplifting paintings of my lifetime," he said.
Those paintings now hang in the William P. Clements Jr. University Hospital Radiation Oncology Building – another one of UT Southwestern's innovative new structures dedicated to patient care.