Watson Award honoree Cadeddu emphasizes commitment to patients, privilege of practice
This story was originally posted on Center Times Plus on Dec. 19, 2018.
---
For Dr. Jeffrey Cadeddu, every encounter with a patient is a special privilege, and he strives to treat each patient like a family member.
Combine that clinical dedication with his drive toward innovation, and it's evident why he was selected as the 2018 recipient of the prestigious Patricia and William L. Watson Jr., M.D. Award for Excellence in Clinical Medicine, UT Southwestern's highest clinical honor.
Under the leadership of Dr. Cadeddu, UT Southwestern Medical Center performed the first single-incision robotic surgery in Texas. The new technique allows for all the surgical tools to enter the body through one small incision, rather than several – reducing risk and scarring.
"The more incisions in a patient, the more risk we face in their healing," said Dr. Cadeddu, Professor of Urology and Director of the Clinical Center for Minimally Invasive Treatment of Urologic Cancer. "In improving our surgical procedures, we seek to give our patients a less painful, simpler surgical experience."
Dr. Cadeddu, whose specialty is laparoscopy and robotic surgery, also recently performed the first magnet-assisted surgery in Texas. He said it is likely that some procedures will be performed using a combination of magnet-controlled tools and the robot.
He focuses his research and clinical practice on the laparoscopic and minimally invasive treatment of kidney tumors, prostate cancer, and kidney obstruction.
Dr. Daniel K. Podolsky, President of UT Southwestern, presented the Watson Award medal and certificate to Dr. Cadeddu at a special ceremony on campus Dec. 6.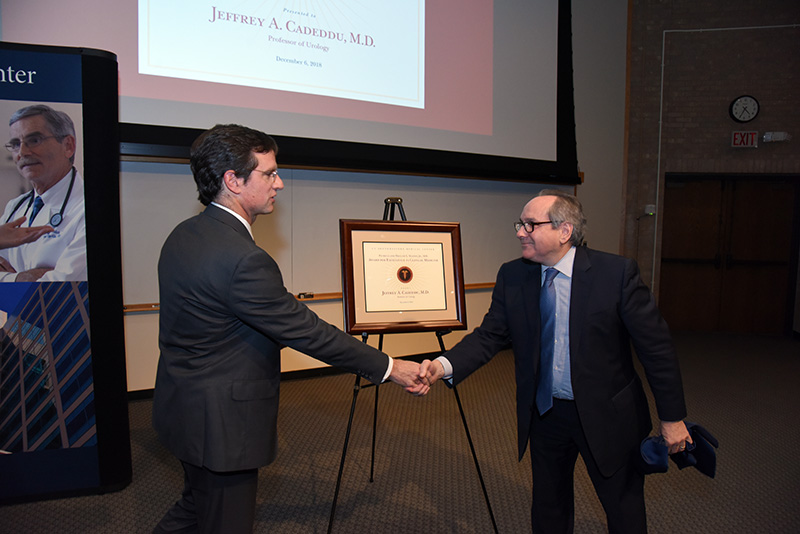 "He has had a profound impact on his patients, as well as on his students and residents, and all those he's had a chance to work with," Dr. Podolsky said. "In the almost 20 years he has been at UT Southwestern, he has made his mark as a brilliant diagnostician and a gifted, innovative surgeon. I know personally of the appreciation and affection patients feel for him, and he has earned great respect for his commitment to students, residents, and fellows."
Made possible through a generous gift from UT Southwestern alumnus Dr. William Watson and his wife, Patricia, the annual Watson Award and accompanying Watson Lecture provide the campus community an opportunity to recognize a faculty physician who has had a profound impact on students, trainees, colleagues, and patients through excellence in clinical care. Dr. Watson, who maintained a private practice in Waco until his retirement in 1992, died in 2012.
Dr. Cadeddu is the 10th Watson Award recipient. He is highly respected as a gifted and innovative surgeon who has contributed to significant advances in the treatment of kidney cancer through the development of innovative minimally invasive surgical techniques and technologies.
"This is the most meaningful recognition I've ever received in my life," Dr. Cadeddu said. "The award shows a physician's commitment to his patients and is chosen by fellow faculty, and for that I am humbled."
As a clinician, Dr. Cadeddu has a reputation as a brilliant diagnostician. He was described by one nominator as a "magnificent surgeon, accomplishing surgical feats that few in the world would attempt, let alone succeed at."
Upon receiving the award, Dr. Cadeddu expressed gratitude to his entire team, especially his nurse, Kevin Sherman: "This is such a unique opportunity for me to say thank you – especially to the physician assistants, nurses, and operation room staff with whom I work in William P. Clements Jr. University Hospital every day. My patient outcomes are a testament to their hard work."
Fascinated by science and technology as a young boy, he knew what he wanted to pursue as a career. He was further motivated to train as a physician by his desire to work hard and solve problems that help people.
"I specifically chose urology because of the combination of surgery and the often complex use of advanced technology such as laparoscopy and robotics," Dr. Cadeddu said. "This is in addition to the opportunity to have rewarding and lasting relationships with patients not afforded to all surgical specialties."
Dr. Cadeddu is also widely known and highly regarded for his commitment to the education and training of medical students, residents, and fellows. As a testament to his commitment to innovation, he currently holds the title to 11 U.S. patents. His contributions to research and clinical care have been recognized with multiple honors and awards throughout his career.
He received his undergraduate degree in biomedical engineering and materials science and engineering in 1989 from the G.W.C. Whiting School of Engineering at Johns Hopkins University. He remained at Johns Hopkins for the next 10 years, receiving his medical degree, followed by a residency, and then fellowship training in urology at The James Buchanan Brady Urological Institute.
A member of the UT Southwestern faculty since 1999, Dr. Cadeddu holds a joint appointment in Radiology. He has served as a faculty member on the Joint Graduate Studies Committee on Biomedical Engineering since 2000; as Director of UT Southwestern's Center for Minimally Invasive Surgery from 2002-2005; and as an Associate Member of the Harold C. Simmons Comprehensive Cancer Center since 2003.