UTSW educators recognized for inspirational teaching at Excellence in Education Awards ceremony
This story was originally posted on Center Times Plus on November 5, 2018.
---
Moments of inspired teaching, thoughtful educational strategy, and grateful student accolades punctuated UT Southwestern's Excellence in Education Awards ceremony showcasing the educational leg of UT Southwestern's mission.
"From the time UT Southwestern was a row of Quonset huts, we have been dedicated to the highest quality in health care, scientific research, and education. The Excellence in Education Awards recognize and applaud the dedication and passion of the very best teachers on our campus," said Dr. Dorothy Sendelbach, Assistant Dean of Undergraduate Medical Education, Professor of Pediatrics, and President of the UT Southwestern Academy of Teachers (SWAT). "UT Southwestern relies on its creativity and energy to maintain our well-deserved reputation as a superb institution of learning. It is a pleasure to have the opportunity to honor and thank the awardees at this ceremony."
Dr. Sendelbach and Dr. James de Lemos, Professor of Internal Medicine, received 2018 Regents' Outstanding Teaching Awards.
More than 30 educators from across UT Southwestern's Medical School, Graduate School, and School of Health Professions were recognized for their inspirational teaching skills and methods, including Dr. Gary Iwamoto and Dr. Celia Jenkins, who were honored with Distinguished Educator Awards. Dr. Iwamoto, Professor of Cell Biology, was also recognized with the Katherine Howe Muntz Award.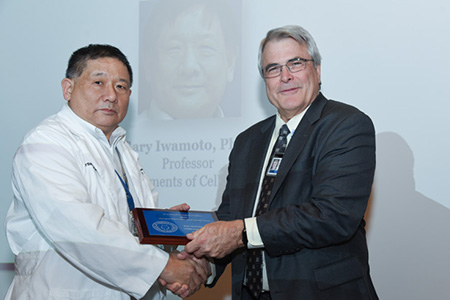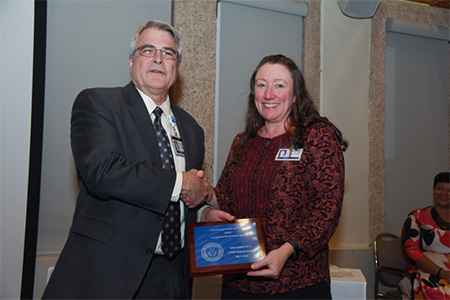 "It is my privilege to serve in a role that allows me to explore the data on teaching on this campus," said Dr. James Wagner, Chair of the SWAT Teaching Evaluation and Recognition Committee, Professor of Internal Medicine, and Associate Dean for LCME Accreditation and Educational Outcomes. "We look at use of learning objectives, construction of testing items, student performance on tests on taught concepts, as well as student evaluations of lectures. What our committee finds is the cream of the crop, so we can recognize them and hope they pass their expertise along to others, so all educator boats can be raised."
The annual recognition ceremonies are sponsored by the Southwestern Academy of Teachers, a group of elite UTSW educators who strive to provide an academic and organizational environment that fosters excellence in teaching at all levels, rewards superb teachers, stimulates innovation in education, and promotes scholarship in education.
The SWAT Outstanding Educator Awards
Graduate School
Dr. Jennifer J. Kohler, Associate Professor of Biochemistry
Dr. Richard C. Robinson, Associate Professor of Psychiatry
Health Professions
Dr. Beth K. Deschene, Associate Professor
Medical School, Biomedical Science Educator
Dr. Bret Evers, Assistant Professor of Pathology
Medical School, Clinical Educator
Dr. Kathie Trello-Rishell, Associate Professor of Psychiatry
The SWAT Distinguished Educator Awards
Biomedical Science Educator
Dr. Gary Iwamoto, Professor of Cell Biology
Clinical Educator
Dr. Celia Jenkins, Professor of Psychiatry
2018 Regents' Outstanding Teaching Awards Recognition
Dr. Dorothy Sendelbach, Assistant Dean of Undergraduate Medical Education, Professor of Pediatrics
Dr. James de Lemos, Professor of Internal Medicine
2018 Small Grants Recipients
Dr. James Cutrell, Assistant Professor of Internal Medicine, "SPICE-ID: Use of Spaced Interval Curriculum for Education in Infectious Diseases"
Dr. Elizabeth Heitman, Professor of Psychiatry, and Dr. Stuart Ravnik, Associate Dean of the UT Southwestern Graduate School of Biomedical Sciences and Assistant Professor of Cell Biology, "Design and Evaluation of a Responsible Conduct of Research (RCR) Course for Postdoctoral Fellows in Laboratory Research"

Dr.

Lindsey Jackson, OB/GYN Resident, "Anal Sphincter Laceration Model vs. Educational Video: Is There a Difference in Resident Education and Performance?"

Dr.

Shan Renee Luong, Assistant Professor of Internal Medicine, and Dr. Jaini Sutaria, Assistant Professor of Internal Medicine, "Incorporating Standardized Simulation-Based Teaching and Evaluation of Entrustable Professional Activities in Internal Medicine Sub-Internship"

Dr.

Janine Prange-Kiel, Associate Professor of Cell Biology, "Effects of 'The Origami Embryo,' a Hands-on Exercise, on the Understanding of Early Embryonic Development"

Dr.

Karuna M. Raj, Assistant Professor of Radiology, "The Image of Radiology: Increasing Knowledge and Confidence of Appropriate Imaging Utilization in the Fourth Year of Medical School Through Interactive Web-Based Modules"
Susan Rodder, Assistant Professor of Clinical Nutrition, "Teaching of Recommended Dietary Patterns to Reduce Cardiac Risk to First-Year Medical Students"

Dr.

Caitlin Siropaides, Assistant Professor of Internal Medicine, and Dr. Dheepa Sekar, third-year resident in Internal Medicine, "Adapting VitalTalk for Residents: A Longitudinal Resident Curriculum to Improve Communication Skills in Conducting Late Goals of Care Discussions"

Dr.

Animesh (Aashoo) Tandon, Assistant Professor of Pediatrics and Radiology, "Using Virtual Reality in Cardiac Anatomy Education"
Elected to UT Kenneth I. Shine, M.D., Academy of Health Science Education in 2018
Dr. Kimberly Hoggatt Krumwiede, Associate Dean for Academic Affairs – School of Health Professions

Dr. Mary Jane Pearson, Professor of Obstetrics and Gynecology

Dr. Craig D. Rubin, Professor of Internal Medicine, Chief of the Division of Geriatric Medicine
Inducted as SWAT Members
Dr. Michael C. Morriss, Professor of Radiology

Dr. Joyce J. Repa, Associate Professor of Physiology and Internal Medicine

Dr. Kathie Trello-Rishel, Associate Professor of Psychiatry

Dr. William W. Turner Jr., Professor of Surgery

Dr. Alisa J. Winkler, Associate Professor of Cell Biology
Class of 2021 Pre-Clerkship Teaching Awards
Dr. Brigham Au, former Assistant Professor of Orthopaedic Surgery

Dr. Melanie Sulistio, Associate Professor of Internal Medicine and Associate Dean for Student Affairs at UT Southwestern Medical School

Dr. Gary Iwamoto, Professor of Cell Biology

Dr. Heather (Wickless) Goff, Associate Professor of Dermatology

Dr. Angela Mihalic, Dean of Medical Students and Associate Dean for Student Affairs at UT Southwestern Medical School and Professor of Pediatrics

Dr. Peter Michaely, Assistant Professor of Cell Biology and Assistant Dean for Undergraduate Medical Education

Dr. David Greenberg, Associate Professor of Internal Medicine and Microbiology

Dr. John Phelan, Associate Professor of Cell Biology

Dr. James Amatruda, Associate Professor of Pediatrics, Internal Medicine, and Molecular Biology

Dr. Helen Hobbs, Director of the Eugene McDermott Center for Human Growth and Development and Professor of Internal Medicine and Molecular Genetics
Class of 2020 MS2 Teaching Awards
Dr. Bret Evers, Assistant Professor of Pathology

Dr. Aditee Ambardekar, Associate Professor of Anesthesiology and Pain Management

Dr. Amit Pandya, Professor of Dermatology

Dr. Joel Goodman, Professor of Pharmacology

Dr. Jaime Almandoz, Assistant Professor of Internal Medicine

Dr. David Greenberg, Associate Professor of Internal Medicine and Microbiology

Dr. Craig Powell, an Adjunct Professor in the Departments of Neurology & Neurotherapeutics and Psychiatry

Dr. Benjamin Greenberg, Associate Professor of Neurology and Neurotherapeutics and Pediatrics

Dr. Julie Champine, Professor of Radiology

Dr. Peter Michaely, Assistant Professor of Cell Biology and Undergraduate Medical Education
2019 OME/SWAT Fellows
Dr. Adriane M. dela Cruz, Assistant Professor of Psychiatry

Project: Neuroscience in Frontiers in Medicine and Brain and Behavior Courses

Dr. Karuna M. Raj, Assistant Professor of Radiology

Project: Online Radiology Modules for Residency Essentials Course
Katherine Howe Muntz Award
Dr. Gary Iwamoto, Professor of Cell